11 January 2021
Scottish Cycling chief executive, Craig Burn, has been appointed as the Director of Strategy, Policy and Impacts for the 2023 UCI Cycling World Championships and will leave the governing body at the end of March after a successful nine years at the helm.
Under his leadership, Scottish Cycling has undergone transformational change resulting in significant growth and modernisation. This has delivered substantial increases in membership, participation and revenue as well as supporting the development and implementation of a talent system that continues to deliver sustained medal success from Scottish athletes on the world stage. In recognition of its work, Scottish Cycling was also awarded Governing Body of the Year in 2018.
Craig is a vocal advocate with a huge passion for cycling and is determined to ensure 2023 UCI Cycling World Championships can add value to the great work already going on across the cycling landscape in Scotland and importantly deliver an inspiring policy led event that positively impacts across the four key policy drivers of participation, transport, tourism and economy.
Trudy Lindblade, 2023 UCI Cycling World Championships CEO, said: "I'm delighted to have Craig join the Cycling Worlds senior management team as Director of Strategy, Policy and Impacts. His extensive experience and in-depth understanding of the policy drivers, political landscape and priorities of the key partners and agencies in Scotland make him the ideal candidate to drive forward our plans for delivering a major event that delivers sustained positive impact across four key policy areas of participation, transport, tourism and economy.
"We have big ambitions for the 2023 UCI Cycling World Championships to not only deliver an outstanding event but to also celebrate the unique power of the bike and all it can bring to our everyday lives. Craig's work will be vital in achieving this as we work in collaboration with cycling and wider partners to amplify and unify their existing work and activity that will give everyone the opportunity to experience the freedom riding a bike can bring to their life."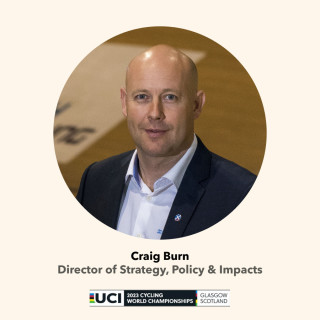 Craig Burn said: "I have loved my time at Scottish Cycling and believe we have made significant progress over the last few years thanks to the hard work of the many excellent Board and staff colleagues, as well as the hundreds of volunteers that help to turn our plans into reality on the ground with our members and clubs.
"However this is a hugely exciting new challenge and by joining the 2023 UCI Cycling World Championships team as Director of Strategy, Policy and Impacts I genuinely believe there is an opportunity to ensure that through this event, cycling in its widest sense, can bring even more solutions and positive change to individuals and communities across Scotland and the sport can go from strength to strength.
"Not only will the Championships shine a spotlight on Scotland and the UK, but it will provide a unique platform and catalyst for government, its agencies and wider stakeholders to collaborate on initiatives and key policy areas where cycling can bring about tangible, positive change before, during and after the event for decades to come.
"First and foremost, we must deliver a world class sporting event for the athletes, spectators, stakeholders and sponsors. However, the Championships must also inspire the nation to get involved and Scottish Cycling members and clubs are ideally placed to help profile our fabulous sport and encourage others to enjoy the many benefits that cycling brings.
"After nearly a decade with Scottish Cycling it will be a great opportunity for someone new to take up the reins at this exciting time and I look forward to working with them in my new role."
Congratulating Craig on his new appointment, Martin Cooke, Chair of Scottish Cycling said: "Craig was instrumental in persuading me to join the board of Scottish Cycling in 2015 and I quickly discovered that his infectious enthusiasm, resilience and dedication to the cause were real attributes which had not only helped rescue Scottish Cycling from near oblivion almost a decade ago, but have also contributed to substantially increasing its membership, firmly establishing it at its new home in the Sir Chris Hoy Velodrome, and delivering medal success.
"I am sure that these talents will be of great benefit not only to 2023 UCI Cycling World Championships, but for cycling in general, and I look forward to continuing our working relationship, albeit with different hats on."
Taking place in Glasgow and across Scotland in August 2023, the UCI Cycling World Championships will be the biggest single cycling event in history, bringing together 13 existing individual World Championship cycling disciplines into one mega event, for the first time.
The Championships is more than just an event. It will celebrate the unique power of the bike and all it can bring to our everyday lives, whether it's physical and mental health benefits, easing congestion on the road to help the environment, or simply making it easier for people to get around.
The Championships is being delivered in collaboration between the UCI, Scottish Government, Glasgow Life, UK Sport, British Cycling and VisitScotland with its EventScotland team, with the partnership creating a blueprint for future editions by ensuring the inaugural event is authentic, innovative and distinctive.
With the launch of its corporate strategy 'Developing a Nation of Cyclists' in late 2019 and a strong Board and leadership team in place, Scottish Cycling is well placed to continue its development and is already preparing to use the 2023 Cycling World Championships as a catalyst to accelerate progress in a number of key areas.
Scottish Cycling will now begin a recruitment process for a new chief executive.