The Glasgow Go-Ride programme, a partnership between Glasgow Life, Scottish Cycling and British Cycling with the support of HSBC UK - has got the wheels in motion again
In October the opportunities to work with our various partners started to allow activity to commence again and we sought new partners to work with to expand the diversity of our programme. Bike for Good, Bikes for Refugees, Linkes Partnership and Achieve More! Scotland are some of the organisations which we've been offering our support to, providing coached sessions to introduce cycle skills from the various disciplines cycle sport has to offer.
We've put on sessions for women and girls at Knightswood Pump track, as part of the Active Girls Day, finishing off a popular week of events provided by the Club Development and Participation Team. Local Breeze Ride Champions and Linkes' Street Play girls got some coaching on BMX riding skills to rail the berms and pop the jumps at the venue, one of several pump tracks located in and around Glasgow.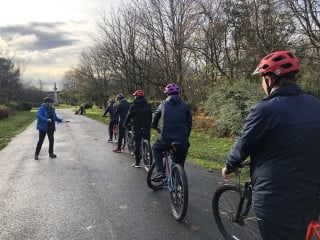 Bikes for Refugees and Bike for Good charities regularly provide cycling opportunities at their local bases and we've started supporting these to provide additional coaching of techniques for safer cycling and discipline specific coaching skills to allow the riders involved to expand their cycling goals.
We've also been back to Glasgow schools as part of their curriculum, a positive new development offered because of schools' new working arrangements to keep pupils safe, physically active and mentally well. These sessions have included working with Achieve More! Scotland staff in support of their work with several primary schools in Glasgow.
Currently we are providing sessions at Haghill and Cadder Primary schools; and will be moving onto others through the winter. We usually split participants at these schools into those that can already ride and those that are learning to ride to give the best experience for the children. It's planned to leave each school with no-one unable to ride a bike and everyone else moved along the safer, more skilled and 'keen to ride' more pathway.
A key aim of our work is to develop cycling activity opportunities in the schools we work with. This has been a challenging area for Glasgow Go-Ride but we're now working specifically on this with two secondary schools; St Andrew's, Cranhill and St Mary Margaret's, Castlemilk.
There are staff at the schools keen to develop school cycling clubs and we'll be supporting them doing so. We'll support these staff in gaining qualifications, developing their riders and providing opportunities to use a variety of venues to allow their pupils to take part in various disciplines at Glasgow's amazing cycling venues.
During these challenging times, we recognise that the mental health of everyone, including children and young people has been impacted. To that end, we are looking forward to soon supporting the great work that FARE Scotland are doing in disadvantaged communities in Scotland.
Follow more of our work by following us on Facebook and Twitter.