The Great Britain Cycling Team's track riders put themselves straight onto the medal table at the UEC European Track Championships in Plovdiv, Bulgaria, today with Matt Walls winning gold in the elimination race and the women's team sprint taking silver in the first ever three-woman team sprint.
Matt Walls was the first British rider to visit the podium, taking the title of European elimination race champion.
Speaking after the race, Walls said: "I'm really happy – it was a bit of an unknown coming here as I hadn't done a race in a long time. I came here in pretty good form, I was just seeing if my tactics and race speed were there, so I'm glad to come away with a win. I've got the omnium and Madison coming later in the week, so I'm looking in good form for that."
In the women's team sprint, the trio of Milly Tanner, Lusia Steele and Lauren Bate qualified second fastest in a time of 48.646. In the first round, Blaine Ridge-Davis replaced Bate and the team posted a time of 48.116 which secured them a spot in the finals against Russia. The same trio went on to cross the line in 48.531, just behind Russia who took gold in a time of 46.852.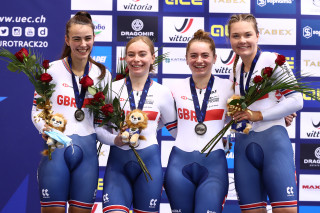 Milly Tanner said: "It feels amazing, we came here to see what we could do and to get the ball rolling for the Paris cycle and we've all come away with PBs and worked on our focus points, so it feels great to come away with a silver medal."
In the women's scratch race, Neah Evans just missed out on the medals, finishing in fourth place with Italy's Martina Fidanza taking gold.
In the women's team pursuit, the quartet of Katie Archibald, Elinor Barker, Neah Evans and Laura Kenny qualified fastest in a time of 4:13.923 and went on to catch the Spanish team in the first round putting them comfortably through to the gold medal final tomorrow.