14 October 2020
A number of Scottish Cycling Performance Programme Squad got back on track last week as they recommenced training at the Sir Chris Hoy Velodrome. The COVID-19 pandemic has been a challenging time for all our athletes and coaches, especially those whose training facilities have been closed all summer. Therefore, the team are thrilled to be back on the boards and adjusting to life in 'the new normal'.
Throughout the lockdown period riders have taken advantage of the wealth of expertise available from Scottish Cycling and the Scottish Institute of Sport who facilitated online workshops, webinars and home training plans to maintain physical fitness whilst unable to train on the track. This benefitted physical condition but also highlighted the importance of maintaining social activity among riders. The whole the team were delighted to be able to put this hard work to the test as they become reacquainted with the steep banks of the velodrome.
Keeping our athletes safe remains the number one priority for the coaches as they prepared to return. Through working in partnership with GlasgowLife and sportscotland, Scottish Cycling carried out a series of extensive risk assessments, thorough checks and developed new protocols designed to mitigate any risk of infection.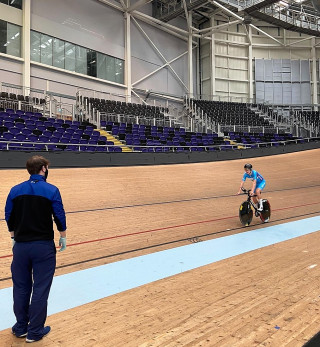 Dave Daniell, Scottish Cycling Sprint and Para Coach has been working tirelessly with athletes to maintain their form throughout lockdown and ensure they have a safe training facility available to them. Speaking at their first session back in the velodrome he commented.
"The riders are delighted to be back on the boards in Glasgow. For 6 months, the athletes have been working hard at home and have adapted well to using turbo trainers, roads and home-made gyms, however, the benefit of being back at the Sir Chris Hoy Velodrome is huge."
This sentiment is being echoed by Matti Dobbins Senior Endurance performance development programme rider.
"Being able to get back into the velodrome means a lot. It's always been a massive part of my training and the large gap without it has it had definitely had an impact. The track creates a great platform in where I can train with my coaches and peers, which makes for a very supportive and competitive atmosphere"
The future looks bright for the squad as they have sights set on PB's and podiums. It is time to knuckle down to some hard efforts and focused training in preparation for goal races. Remarking on his plans for the next few weeks and ambitions for the future Dave said.
"We are able to start working on technical elements and support the athletes to get the training in at a higher quality, leading into the British Track Championships in January and the wider long-term focus."
Ellie Stone, Senior British Cycling Academy sprinter was one athlete eager to get back to the routine of track sessions.
She said, "This first week back has been awesome! Despite the new guidelines the training environment is still mega productive and positive, really thankful to all the people who worked super hard to get us back and training again.
The Sir Chris Hoy Velodrome remains closed to the general public. More information can be found HERE.
For the latest guidance from Scottish Cycling regarding cycling activities during COVID-19 click HERE.