International bike racing is back and the Scottish Cycling mountain bike squad delivered in Switzerland where a group of riders embarked on a fortnight of training and racing.
It has been a challenging year for cyclists across the country and the Scottish Cycling Performance Development riders are no different. Faced lockdown restrictions, their training and racing progression was under threat. Thankfully, under the guidance of Scottish Cycling MTB Coach Paul Newnham, the riders have been building form and were keen to test their fitness and get back on the start line.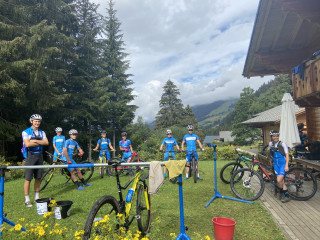 Racing to Success
The first event in this block of racing and training was the Proffix Swiss Bike Cup Gstaad and UCI Junior Series XCO on 21 August. Team Scotland Commonwealth Games athlete Isla Short took on a strong international field of women to place eighth overall and Anna McGorum 25th. Charlie Aldridge and Sean Flynn found their racing legs in the elite men's category, while Rory McGuire finished in the top 20 in the junior race with Corran Carrick-Anderson also putting in a good performance.
The junior riders were next on the start line at the Strabag Czech MTB Cup and UCI Junior Series XCO on 29 August. It was raining in Brno on the morning of the race, but the track dried up quickly, so riders weren't faced with muddy conditions on the course. Some more brilliant results for our riders - 11th for Rory Mcguire and 21st for Corran Carrick-Anderson. Looking resplendent in her Edinburgh Road Club kit, Anna Flynn rode herself to a top 10 place with 9th and Elena McGorum in 13th.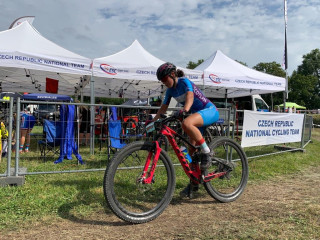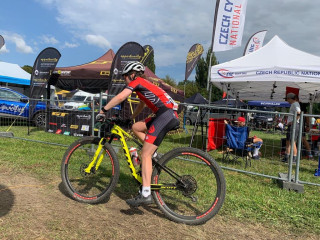 The final race of the trip was the Argovia Vittoria-Fischer Cup 2020 on 30 August. Taking place in Langendorf this was an opportunity for Isla, Anna, Sean and Charlie to have a final burn before heading home. Despite enviable weather throughout the trip, race day brought distinctly Scottish conditions with low cloud, rain and mud. Perfect for our hardy Scots! 2019 junior men's cross-country mountain bike world champion Charlie Aldridge battled the mud to claim 18th in the elite men's race and Sean Flynn also claimed a top 20 spot. In the women's race, Anna McGorum was 7th elite and 3rd u23. But the ride of the day came from Isla Short who won the elite women's race topping of a fantastic block of racing and training.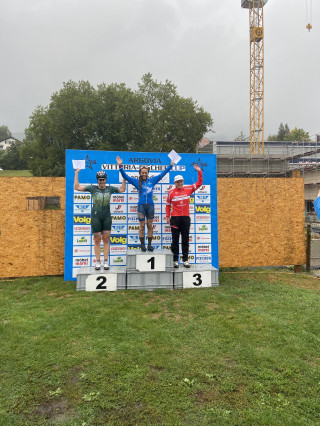 Rider Report
Four time National Champion and Youth Olympics bronze medallist Sean Flynn loved his time back with the Scottish Cycling squad. He said, "It was great to be back racing and training as a squad after a lot of hard work and solo training over lockdown. The first couple of races didn't go as smoothly as I'd hoped but I'm moving in the right direction and looking to build towards the World Cups and World Championships coming up in the next month. Our week of training in Switzerland was great fun in the high mountains with some of the best riding I've ever done. It should stand us in good stead for the rest of the season!"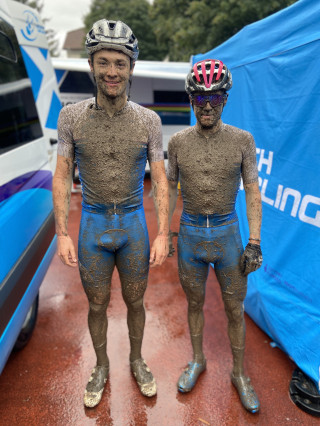 Rising star Anna McGorum enjoyed every aspect of her Swiss adventure, despite the essential COVID restrictions. "Our trip to Switzerland was everything that I had missed during lockdown; the chance to explore new trails, train with the team and get between the tape again. Despite having to be super vigilant about social distancing and our health, the trip felt no different to any others and it was really rewarding to see the hard months of training finally pay off. After our first race in Gstadd, we spent the week with some big days in the mountains, an entertaining pits practice and plenty of recovery before the following race in Langendorf. I am already looking forward to seeing what the rest of the year brings."
Check out Isla's vlog from the trip.
Well done to all our riders. We look forward to seeing them progress throughout the season.