The Smarter Choices, Smarter Places (SCSP) Open Fund aims to encourage people to change their behaviours to walk or cycle as part of their everyday short journeys.
The Smarter Choices, Smarter Places (SCSP) Open Fund aims to encourage people to change their everyday travel behaviours. Grants are available to encourage people to use buses and community car clubs for longer journeys; walking and cycling for short journeys, and home-working to replace daily commutes.
The Open Fund is available to support public, third and community sector organisations. The fund aims to help cut Scotland's carbon emissions and improve our air quality. It will also help reverse the trend towards sedentary lifestyles and will tackle health inequalities.
Grants available are between £5000 and £50,000 and need to be match funded.
In its first two years the Open Fund awarded £4.3 million in grants for 177 different projects all over Scotland.
Falkirk Junior Bike Club became the first cycling club to be awared funding from the open fund as part of its 'Cycling to School, Cycling for Sport' project which was run during the 2019/20 academic year. We've provided an overview of the project below, and included a link to the fund which is currently live and accepting applications.
Concept
The idea was simple, to incentivise the members of the club to ditch the car and cycle, walk or scoot to school over three tracking periods throughout the year. The club also engaged the local Active Travel
Hub to run Dr Bike sessions at club sessions so that everyone's wheels kept turning smoothly!
Overview
The club ran three tracking periods throughout the funded period. Riders were given a tracker card at the previous weeks club session and would use this to record their journeys throughout the week and then return them to club sessions the subsequent week.
The club recognised that they had a captive audience as all of their members are united by a shared love of cycling. Club volunteers can be hugely influential in the lives of young people, encouraging them to adopt positive behaviours in all aspects of their lives. The club wanted to harness this influence to encourage them to think again about the way in which they travelled to and from school.
The project led to the club having a greater level of engagement with their wider club community – Parents/Guardians/Carers – as they bought into what the club was aiming to do. Their buy-in was essential to the success of the project, adapting their daily routines to ensure that the club members could participate.
Such has been the positivity off the back of our engagement with the parents/guardians/carers, the club is expanding the project next year so that it now includes them too. The club will be extending its sphere of influence to now encourage them to consider how they travel to work and hopefully encourage a modal shift to active travel.
The club ran Dr Bike sessions in partnership with Falkirk Active Travel Hub and Recyke-a-bike at a range of club events and sessions. The club encouraged participants to share their journeys on our social media channels, taking pictures of their walk, cycle or scoot to school.
The club sourced a range of incentives which were available to everyone who participated.
These included Big Bobble Hats, branded buffs and a t-shirt in the final period. All entries were entered into a prize draw to win a bike, with five runner up prizes offering members a selection of cycling accessories.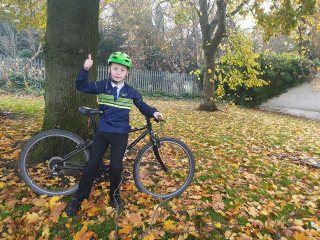 Outputs
In October tracking period 12 members walk/scooted/cycled to school for 1 day of the week, 20 members for 3 days of the week and 50 members for 5 days of the week.
In November tracking period, 16 members walked/scooted/cycled to school for 1 day of the week, 28 members for 3 days of the week, and 56 members for 5 days of the week.
In March tracking period, 14 members walked/scooted/cycled to school for 1 day of the week, 47 members for 3 days of the week, and 50 members for 5 days of the week.
Dr Bike sessions reached audience of over 1200
117 images shared throughout project from participants
Images shared through our social media channels to audience of more than 2000 across Facebook, Twitter and Instagram
Quotes from members
"Both my boys thoroughly enjoyed participating in the walk/scoot/cycle to school initiative. The added incentive of a prize for doing so gave them the motivation to be active both to and from school. It's great to see FJBC promote these initiatives and encourage healthy choices for its members. The boys don't want to take the car to school now as it's quicker and less stressful to walk - even in the rain!"
Gemma McAusland - Club Committee Mmeber and Parent of two club members
"We all enjoyed taking part in the project, we try to avoid using the car whenever possible but this motivated us to keep going on even the worst weather days. Our journey to school is quite long and goes through Falkirk Town Centre, this provided one of the biggest challenges for us as the mindset of the pedestrians and car users we encountered were very anti cycling and dangerous at times. I hope that the club can work with the local authority to highlight these issues as it is so important that we encourage people to get around without using cars as the main form of transport!"
Kenneth Mullen, Parent of two club members
The Paths for All Smarter Choices Smarter Places Open Fund is open now for applications
If you want to make an application to the fund, please read their guidance first.
If you believe you have a project that they could fund the first step is to complete an Expression of Interest on their grants portal.
More information is available here