The best of British track cycling descended on the National Cycling Centre in Manchester this weekend for the HSBC UK National Track Championships. Among the Olympians and defending champions were many Scottish riders keen to show their form on the British stage.
Hot Pursuit
Following Thursday's qualifiers, the real action kicked off on Friday with the individual pursuit, won by defending champion John Archibald. Fellow Scot and team mate Jonny Wale took silver with a suberb ride. Speaking after the event Archibald said: "I'm very happy to win, to defend. Jonny did a great ride, which didn't surprise us." The HUUB Wattbike p/b Vita Coco team also went on the defend their team pursuit title for the second year running posting an impressive 3:57.962.
Easy Breezy
Jenny Holl showed great form in the scratch race bringing home a bronze medal and a silver in the points race. Holl was also part of the qualifying team pursuit ride for Team Breeze in 4:32.054. The team swapped in young Scottish talent Anna Shackley for the final and went on win gold. Shackley returned on day three of the championships to take victory over Holl in the points race by a single point.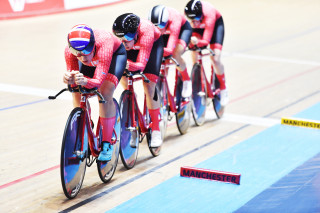 Redemption for Wale
After a silver medal in last year's kilo event, Jonny Wale set out with a point to prove. Prove it he did, laying down and impressive time of 1:01.770 to claim gold. Scottish favourite Kyle Gordon also put the hammer down to take the third spot on the podium in this hotly contested event.
Commenting after his ride Wale said "I've never really won a kilo – I'm known as a kilo rider, but I don't ride good kilos! So it was a bit of a relief to actually get the gold. It's pretty awesome; it's a real honour."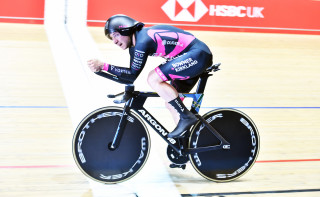 A Sprint for Success
20-year-old Scottish sprinter Lauren Bell won 500m time trial gold and team sprint bronze to take her overall weekend medal haul to four. In the 500m, Bell set a blistering time of 34.305, while Scottish sprinting talent Ellie Stone claimed bronze in 35.441. Once she had recovered from the effort Bell commented, "It's been the best weekend ever, really. There's such a strong pool of girls at the minute, that I wanted to just come here and get the experience of racing the best girls and see how it went. This is mad!"
Later, Bell and Stone joined forces to win bronze in the women's team sprint, with long time Scottish pairing Lucy Grant and Lusia Steele settling for a silver medal.
British Cycling Reports:
A huge well done to all the Scottish riders who competed at the HSBC UK National Track Championships. Be sure to Tweet @ScottishCycling #SCResults and let us know how you got on.