Scottish Cycling, through our Women's Development Group and our Young People's Panel are working together to increase the number of opportunities for girls to get involved and remain in the sport of cycling.
The Scottish Cycling Active Girls Fund was launched on sportscotland's Active Girls Day (Friday 4th October 2019) to give affiliated clubs the opportunity to put their ideas into action to increase and retain the number of girls within their clubs and the sport.
Clubs had the opportunity to bid for up to £1000 and their project had to meet one, or more, of the following objectives:
Introduce the sport to girls who are not currently engaged in the sport or not currently a member of a club
Increase the number of girls within the club
Address barriers which prevent girls from participating in the sport
Increase the number of female volunteers, coaches and leaders within clubs
Increase the retention of teenage girls in the sport
#SPORTFORALL
December is sportscotland's SPORT FOR ALL month. To celebrate we are announcing the clubs and projects who will recieve support from the Active Girls Fund.
| | | |
| --- | --- | --- |
| Club Name | Project Title | Summary |
| Arran High School MTB Club | Volunteer Female Leader | The club will recruit and train a new Female MTB Leader. This will allow the club to offer an additional opportunity to engage girls in the sport, allowing the club to run an extra weekly session. |
| Black Isle MTB Club | Black Isle MTB Active Girls | The project aims to introduce more girls to the sport, and encourage them to thereafter become members. The club will run a taster session where current members will be encouraged to invite a friend along. |
| Clydesdale Colts (Royal Albert CC) | Coltinies | The purpose of this project is to offer the girls at the Clydesdale Colts between the age 12 -17 years old an all-female group which would be coached by females. In order to do this, we need to encourage and help more females complete their required coaching qualifications. |
| Cranked CC | Cranked CC Girls Project | Our project will start a new teenage girls-only section of our club and retain and increase the number of girls who are currently within the club. This new section will allow teenage girls to have their own space, feel comfortable and have fun in a social cycling/mountain bike environment without pressure to ride fast or train for races. |
| Edinburgh RC | Women Coaches Development | We will upskill an existing female coach from within our Go-Ride section. We will identify opportunities for them to work with our women's coordinator to provide opportunities for girls and women to have free taster sessions. |
| Falkirk Junior Bike Club | FJBC – Gets Girls Cycling | Our project will encourage girls to try out cycling, support girls to join our club and work with girls to ensure their sustained participation in the sport. It will also encourage girls to develop healthy lifestyles through active living. |
| Glasgow Riderz | Glasgow Riderz Level 1 Female Coach Project | We have invited applications from girls aged 15+ to be trained as British Cycling UKCC Level 1 coaches. We have received 5 applications from girls who specialise in a range of disciplines, some of whom have already been coaching informally for the club and all of whom ride to a high standard, some at a national and international level. |
| Johnstone Jets Youth CC | Female Role Models | The Johnstone has always been proud of our female athletes, with over 20 female titles since 2008. We have 2 female coaches. In the last year we have established a successful rider and parent club run programme involving a significant number of women. A number of these have expressed an interest in taking this forward to coaching. |
| Kelso Wheelers | Come and Try Girls Only / Training Female Coaches | We have identified several women who are currently ride leaders who want to progress into coaching. We intend to run a six week block of come and try sessions, aimed at High School aged girls and encourage them thereafter to join the club and attend our weekly sessions. |
| KICC | Adventures on Bikes | KICC will run annual bike packing trips for the girls in the club. Female leaders will run a series of twilight team building and skills sessions in the run up to a weekend expedition undertaken by the girls in the club and girls who are either prospective members or those known within the club community as likely to benefit from the experience. |
| Orkney CC | Orkney CC – Girls 'Race Dayz' | The club will run two free fun days over a single weekend (one in Kirkwall and one in Stromness). Both days would have the same content. Each day would contain some basic bike handling skills, to include but not limited too: mounting/dismounting, braking, riding in a group, cornering, ascending and descending. |
| Stepping Stanes Youth CC | Building our girl gang | We want the girls! Our project will allow training and kitting out of a new volunteer MTB Leader to allow more girls to join the club. We are prioritising girl members when spaces are available in order achieve a better gender balance within the club. |
| West Highland Wheelers | See it to be it | WHW currently has a very successful Kids that meets on Saturday mornings. Only 18/80 of our members are girls. With few female coaches as role models we feel it is easy for girls to be outnumbered. The club wants to train more female leaders to act as role models and encourage our younger female riders to continue riding as their skill and confidence grows. |
| West Lothian Clarion CC | WLC Project 'G' | We want to focus on attracting more girls who are 10 years old and above. We currently have 12 girls over 10 years old on our waiting list and the plan is to offer them a place when we start back in March. We will keep them as one group for 6 weeks and integrate our existing girls into this group part way through. Following this we would have a girl's away day to Glentress for both the new members and existing girls. |
| Wolfpax | Increase female membership | We want to increase the number of female volunteer MTB Leaders to act as role models to increase the number of girls who are members of the club. |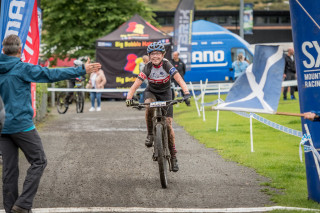 A huge thank you to all the clubs who took the time to apply for funding. We were thrilled to see so many great applications and look forward to seeing how the successful projects develop.