With 19 Championship Categories to be decided over three days, there was no shortage of thrilling racing at the Sir Chris Hoy Velodrome this weekend. The event was delivered by Ben Proctor, who has just been announced as organiser of the 2020 British Youth & Junior Track Championships, to be held in Glasgow next Summer.
Friday
Friday's racing started with the Women's 500m Time Trial, with 14 riders challenging for the title. All three of last year's podium riders were in attendance. First up was Elizabeth Winton (Caledonian Sprint Team), setting a fastest time of 36.390 (49.4kph). Two rounds later Lucy Grant (Peebles CC) took the lead with a time of 35.540 (50.6kph), and a new Scottish Record for the event. 2018 champion Lauren Bell (RPM) was in the final heat and clearly had no intention of relinquishing her title as she stormed to victory in 35.020 (51.3kph) to claim the gold and break the Scottish Record set only a few minutes previously. Bell, Grant, Winton: the same podium positions as last year but with all three riders making significant improvements to their times.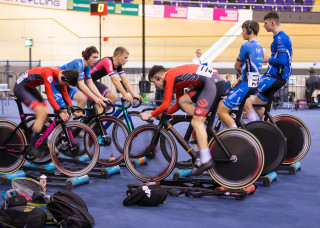 After a fantastic start to the weekend, next on track was the Veteran Male Individual 3000m Pursuit. Fifteen riders went head to head in eight heats to decide the fastest four to contest the medals. A strong field included two World Masters Champions, Martin Lonie (Nuun-Sigma Sports-London RT) and Andy Bruce (Bioracer Moriarty Bikes). Times were fast during the heats with Lonie setting a time of 3:29.662, over three seconds faster than last year's winning time. However, 2018's winner, Bruce, had already set a blistering 3:29.114. In the bronze medal heat, it was Karl Farmer (VC Glasgow South) against Jason Roberts (Bioracer-Moriarty Bikes). Farmer claimed bronze in 3:38.536, ahead of Roberts in 3:44.884. despite posting a time that would have won last year's race, Lonie was unable to match his qualifying time, having to settle for the silver medal with a final time of 3:30.051, leaving Andy Bruce to retain his title and better his qualifying heat time with 3:28.805.
In the qualifying rounds of Veteran Women Individual 2000m Pursuit, another World Masters Champion, Carol Scott (VC Astar Anderside) was aiming to better the bronze medal she won here last year. Setting a time of 2:41.955 in qualifying, she made her intentions clear, setting up a gold medal ride against 2018 champion Patricia Baird (Invercyde Velo). In the bronze medal race, Alison Winship MacKay (VC Astar Anderside) saw off Donna Clayton (VC Astar Anderside) with a time of 2:45.991 against Clayton's 2:48.128. In the gold medal race, Baird would have to settle for the silver medal this year, coming home in a time of 2:49.940, Scott claiming the gold medal with an impressive 2:41.112.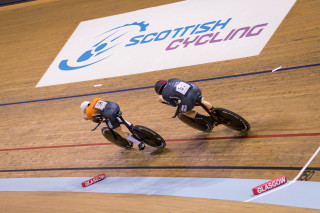 The Open Keirin saw 14 riders in two heats. Last year's silver medallist Kyle Gordon (HUUB_Wattbike Test Team (UCI Track Team)) was hoping to get his weekend off to a winning start, and this looked entirely possible when he stormed to victory in Heat 1, ahead of Glasgow Track Racing Club duo Niall Monks and Jeremy Franks. Joining them in the final were Jamie Penny (Caledonian Sprint Team) and another GTRC duo, Ali Fielding and Kallum Stewart. In the final, once the derny had exited the track, Fielding led them out until Monks jumped at the bell. Down the back straight, Gordon was closing fast but Monks held on by half a wheel to claim gold. Gordon silver, Fielding got the bronze.
In the Women's Keirin, last year's bronze and silver medallists, Lauren Bell (RPM) and Lucy Grant (Peebles CC) won their respective heats to go into the final with Iona Moir (Welwyn Wheelers CC) and Sylvi Misztal (Glasgow Track Racing Club). With the derny out the way, Misztal led but not for long, as Bell moved to the front ahead of Grant. In another final straight sprint, Grant claimed the gold medal by a few inches pushing Bell into the silver medal position, with Moir right behind them to claim the bronze medal.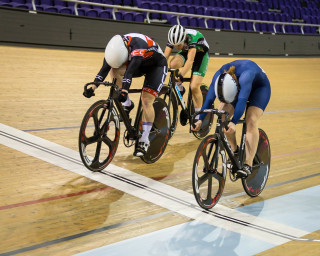 The Women's 3000m Individual Pursuit saw last year's champion Sophie Lankford (Team Jaden Weldtite-Vive le Velo) retain her title in the gold medal ride with a time of 3:41.880, ahead of Jenny Holl (Team Breeze) who took silver with a time of 3:51.252. In the bronze medal ride, Victoria Smith (AeroCoach) claimed the bronze medal with a time of 3:48.542 ahead of Abi Smith (Capinese – Velo Performance) with a time of 3:51.416.
The final race of Friday was the Open 30k Points race, with 25 riders challenging for the title. Hot favourite was Andy Brown (Velocity 44 RT), last year's silver medallist, but there were plenty of challengers with World Masters Champions Lonie and Bruce, as well as Scotland's fastest final year Junior Men all in the mix. It was one of the Juniors, Logan MacLean (Spokes Racing Team) who took the first sprint with his team-mates Aaron King and Adam Mitchell winning the second and third sprints respectively. Not to be outdone by the youngsters, Brown picked up the next two sprints and, by the halfway point, had also gained a lap, earning him a valuable 20 points. Also picking up sprints were Calum Johnston (Zappi Racing Team), Kyle Thomas (Edinburgh RC), Finn Crockett and his team-mate Cameron Richardson (Wheelbase CabTech Castelli). With a thinned out field, Brown took the penultimate sprint, with Aaron King taking ten points for the final sprint. Because of his early work in the race, Brown took the gold medal with 35 points, Logan MacLean was second with 18 points, and Finn Crocket picked up bronze, also with 18 points.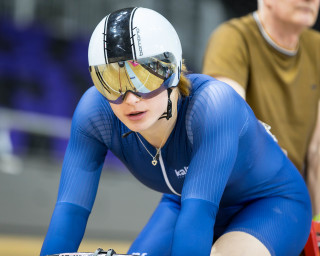 Saturday
Saturday got underway with the Open Sprint 200m qualifying time trial. Sixteen riders progressed to the Round 1 draw, out of which four would move on to the final two heats. Contesting the bronze medal were Ryan Lateward (SES Racing) and Kallum Stewart (Glasgow Track Racing Club). Lateward took the bronze medal, just pipping Stewart on the line. Taking the gold medal was Ali Fielding (Glasgow Track Racing Club) comfortably holding off silver medal winner Jamie Alexander (SR Albannach). During the qualifying heats, one of Fielding's wins was over team-mate Don Milesh Pieris who told him, "If you win the Olympics, I'll be able to say I raced you once." On this performance he may just get that opportunity.
The next event was the Open 4000m Individual Pursuit, which saw Kyle Gordon cruise into the gold medal ride with a 7 second gap between himself and second place qualifier Michael Gill (Aerolab Ward WheelZ). Tim Shoreman (Bioracer-Moriarty Bikes) and Cameron Richardson contested the bronze, with Shoreman taking the medal in 4:30.092, ahead of Richardson's 4:36.278. In the gold medal ride, Gordon made sure of victory, catching Gill in 2:10.65 to claim the gold medal, Gill taking silver.
In the Women 4000m Team Pursuit, Glasgow Nightingale CC riders Anna Anderson, Julie Fitzpatrick, Clare McNulty and Elizabeth Wisdish set a time of 5:35.089 which was good enough to claim the bronze medal. In the gold medal heat, Glasgow Track Racing Club riders Rebecca Howard, Natalie Hunter, Sylvi Misztal and Gemma Penman would take on the VC Astar Anderside team of Gillian Anderson, Donna Clayton, Carol Scott and Alison Winship MacKay. Both teams improved their already impressive qualifying times and, in the process, provisionally smashed the Scottish Record*. Glasgow Track Racing Club took the gold medals, and set a new provisional Scottish Record, with a time of 5:17.890, just ahead of the VC Astar Anderside team in 5:18.441. To put both team's performances into perspective, the previous record from 2017 was 5:30.314. Incredible!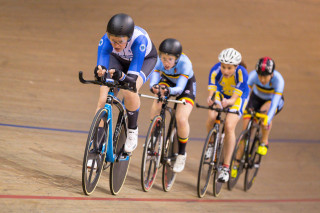 The Women Team Sprint was an all-Glasgow affair, with two teams from Glasgow Track Racing Club (GTRC) battling it out with the duo of Kathleen McCormac and Elizabeth Wisdish (Glasgow Wheelers). The GTRC team duo of Zosia Martin and Sarah Williams earned the bronze medal with a time of 0:44.951. In the gold medal ride, the gold medals went to GTRC riders Rebecca Howard and Sylvi Misztal in 0:36.964, ahead of McCormac and Wisdish who claimed silver in 0:42.741.
Next up was the Women 10km Scratch race. From the start it was clear that this race belonged to Sophie Lankford (Team Jaden Weldtite - Vive le Velo). Looking comfortable throughout the race, she was able to move through the pack at will. With 3 laps to go, Anna Anderson (Glasgow Nightingale CC) had been allowed to pull away, Lankford heading up the other riders some 20m behind. In the penultimate lap Anderson was quickly reeled in, with Lankford powering ahead, Abi Smith (Campinese – Velo Performance) in hot pursuit. Lankford won gold, with Smith claiming silver, only a bike length adrift. Another sprint was shaping up behind them, with Beth Morrow (Edinburgh RC) claiming the bronze medal, just ahead of Sarah Walker (Team Boompods).
Last event of the day was the Open 20k Scratch race. Another strong field battled it out for the medals over 80 laps. By lap 68, Tim Shoreman (Biorace-Moriarty Bikes) had moved himself up to the front of the pack and then powered away. Nobody followed. That would prove to be a pivotal move in the race, because by lap 60, Shoreman had gained a lap on everyone. Despite lots of moving around within the chasing group, nobody seemed willing or able to replicate Shoreman's earlier move, but with 20 laps to go, Andy Brown (Velocity 44 RT) and Kyle Thomas (Edinburgh RC) pulled away, trying at least to get themselves on the podium. With four laps to go they were joined by Cameron Richardson (Wheelbase CabTech Castelli). Brown pulled four bike lengths clear by the line to claim silver, with Thomas following for bronze. Gold to Shoreman whose earlier audacious move had paid off.
Sunday
With freezing temperatures outside, the riders were glad to get inside the velodrome and onto the rollers! First on the Sunday schedule was the Open Kilometer Time Trial Final. Junior rider Aaron King impressed with a 1:06.199, good enough to put him ahead of Ryan Lateward with his 1:07.176. Only two riders could better King's time which earned him the bronze medal. Michael Gill covered the distance in 1:05.622, but this would only be good enough for the silver medal. The man to beat was Kyle Gordon, who stormed home in 1:03.806, to add another gold medal to his collection.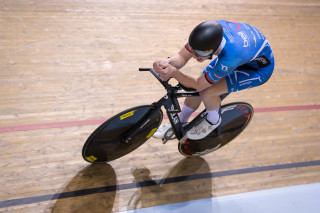 Next up was the Women's Sprint. Lauren Bell qualified in top spot, just ahead of Lucy Grant, with Elizabeth Winton and Sylvi Misztal challenging for the bronze medal. In both Match A and Match B, Winton was the victor, with consistent times of 12.734 and 12.704 respectively, giving her the bronze medal. It was a similar affair between Grant and Bell, Grant taking both Match A and B, again with very consistent times of 12.116 and 12.103 respectively to earn her the gold medal, last year's winner Bell taking the silver medal this time.
Third event on Sunday was the Open 4000m Team Pursuit. In the finals, challenging for the bronze medal, it was the Torvelo Racing team of Keir Greatorex, Corin Halliday, Calum McVie and Murray Soutter against the VC Glasgow South team of Karl Farmer, Kyle Johnston, David Morrison and Alexander Wilson. VC Glasgow South team claimed the bronze with a time of 4:37.647, ahead of Torvelo Racing's 4:39.021. In the gold medal race, the Dooleys Cycles team of Kevin Barclay, Ben Norris, Aidan Quinn, Gavin Shirley faced off against the Bioracer-Moriarty Bikes team of Andy Bruce, Robert Friel, Richard McDonald and Jason Roberts. Friel and Roberts already hold the Scottish record in this event, set by the Pro Vision Scotland team in 2017. Andy Bruce prepared to explode out the gate after the last beep, but nothing happened. The start gate had failed to release Bruce's rear wheel and a re-start was called. "That was going to be a really good start too" said Bruce, as the starting gate was being checked over. "No, it wasn't," quipped retired derny bike rider David Urquhart, "You never moved!" At the re-start, Bruce shot out the gate to lead out his Bioracer-Moriarty Bikes team-mates, who caught the Dooley Cycles team after 4:00.446 but rode on to complete the distance in a time of 4:25.060. It wasn't a new record, but it was pretty close, and good enough to claim the gold medals, the silver medals going to Dooleys Cycles.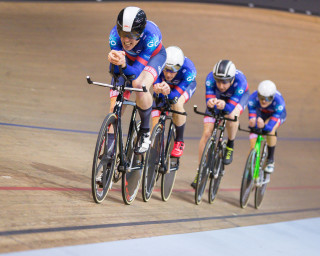 This year's championships saw the first tandem entry in the WB Tandem 1000m Time Trial. Natalie Jamieson (Fullarton Cycling Club) was piloted by Lucie Hrnickova (Edinburgh RC), covering the distance in 1:29.130, and crossing the line to warm applause from an appreciative crowd. Let's hope we see more tandems at future events!
In the Open Team Sprint, the bronze medal ride saw the Bioracer-Moriarty Bikes team of Andy Bruce, Robert Friel and Jason Roberts take on the Glasgow Track Racing Club 2 team of Luthais Arthur, Jason Lafferty and Anthony Young. With barely enough time to catch their breath after winning gold in the Open 4000m Team Pursuit, the Bioracer-Moriarty Bikes team covered the distance in 0:50.932, just pipped by the GTRC2 team with their time of 0:49.411 to earn them the bronze medal. The gold medal ride saw the SR Albannach team of Jamie Alexander, Colin Davenport and Craig Hamilton face off against the Glasgow Track Racing Club team of Ali Fielding, Niall Monks and Kallum Stewart. The SR Albannach team set an excellent time of 0:48.698, but this would only earn them the silver medal, as the GTRC team crossed the line in 0:46.717 to win the gold medals and set a new Scottish Record!
In the Women's 25km Points race, Abi Smith quickly asserted herself, taking the first two sprints with Anna Anderson taking the third. Smith, followed by Beth Morrow, clearly felt the way to win was to rack up some big points and both set off to gain a lap, which they did by the halfway point in the race. Winning the fifth sprint as well gave Smith 38 points, Morrow 28, with Anderson back on 10 points. Smith also won the 7th, 8th 9th and final sprint, as she and Morrow gained yet another lap. 83 point in total gave Abi Smith the gold, Beth Morrow took silver on 55 points, and Carol Scott got bronze with 20 points.
Many thanks to Chief Commissaire Helen Probart and her team of officials and volunteers, for their hard work to ensure the event ran smoothly. Great performances from the riders with improvements across the board, and more records broken.
*all Scottish National Records are subject to ratifications