Scottish National Veteran Women's Road Race Championship: Sally Anne Low Memorial
Kincraig | Sunday 8th September 2019
The Scottish National Veteran Women's Road Race Championship is the championship race for the V40 and V50 women. It is organised this year by Cairngorm CC as part of the Cairngorm CC Weekend, which includes a time trial, women's road race, hill climb and many more events to test riders of all strengths and abilities. The Sally Anna Low Memorial Road Race is a regular fixture in the Scottish women's racing calendar – and is also the final round of the Scottish National Women's Road Race Series. With 27 talented women entered it's sure to be an aggressive race, with many riders keen to test their legs in this late season event. Last year's winner in the V40 was Amanda Tweedie taking her first Scottish Championship with and Gillian Corsie in the V50.
Good luck to all riders and thanks to Cairngorm CC for organising such a great event.
Inter Regional Youth Circuit Championships
Castle Coombe | Sunday 8th September 2019
The Castle Coombe circuit is the venue for the British Cycling Inter Regional Youth Circuit Championships this weekend hosted by British Cycling South region. This Sunday see's eight Scottish Riders from five different clubs representing Scotland with the girls team comprising of Kirsty Johnson (Edinburgh RC), Imani Pereira-James (East Kilbride RC), Morven Yeoman (East Kilbide RC) and Eva Young (Pedal Power RT). Whilst the boys team is made up of Ross Birrell (Edinburgh RC), Fraser Gault (Aberdeen Wheelers CC), Alex Gibb (Edinburgh RC) and Daniel Kain (Squadra Scozzese). They will compete in both with a team time trial and a circuit on Sunday. This is an exciting opportunity for the riders to measure themselves against the other regions in Great Britain and put into practice the work that has taken place in R.A.C.E National sessions throughout the year.

OVO Energy Tour of Britain 2019
Glasgow and Kelso | Saturday 7th and Sunday 8th September 2019
The OVO Energy Tour of Britain, the UK's most prestigious and longest-running race, kicks off in Scotland this weekend with Stage One departing from Glasgow and Stage Two heading to Kelso.
Full event preview available HERE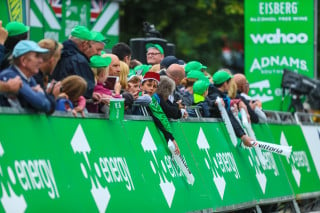 Ras na mBan Stage Race
Ireland | 4th - 8th September 2019
Ras na mBan is the premier women's cycling event in Ireland, running over five days with six stages and a total of over 400km of racing action. Riding for the Great Britain team is last year's second stage winner in Castlecomer Rhona Callander alongside fellow Scottish riders Jenny Holl and Anna Shackley, the latter having finished best British finisher in the Women's Tour of Scotland.

More information of the event available HERE
Are you racing this weekend? Don't tag to follow @ScottishCycling #SCResults and let us know how you get on.