Images & Words: 5311 Media
The Bioracer - Moriarty Bikes squad of Rob Freil, Richard McDonald, Andrew Bruce and Jamie Davidson were the fastest male team at the Scottish Cycling National Team Time Trial Championship in Forfar on Saturday. They retained their title for yet another year posting a time of 1.16.39 , 1 second faster than the previous year.
Bruce didn't have the best of time on the course leaving his team mates on the run up to the final miles to finish the job, a good 2 minutes ahead of their nearest rivals.
The battle for the runner up spots was intense, with just 7 seconds separating the eventual medalists. Dooley Cycles - James Cusick, Gavin Shirley, Aiden Quinn and Ali Mcnicol traded in their bronze from last year with silver, recording a time of 1:18.47 just ahead of Hawick CC - David Beattie, Liam Beaty, Shaun Inglis and Tommy Murray in bronze with their 1:18.54.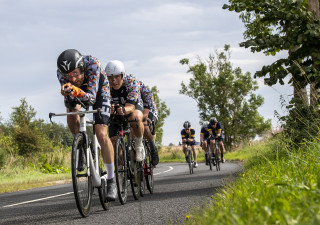 Also winning by around two minutes and retaining their title for another year were the Dooleys Cycles female trio of Lynsey Curran, Laura Nicolson and Mireille Captieux. Their time of 1:31.22 was just 27 secs short of their course record set two years ago.
It was another close battle for the runner up positions once again between RT23 and Stirling Bike Club, The RT23 quartet of Pamela Craig, Amanda Tweedie, Anna Fairweather, Aileen Clyde, retained their silver position for another year taking the team to yet another podium in a Scottish Cycling National Time Trialing event. They were delighted with their time of 1:33.52, closing the gap on the dominant Dooleys Cycles team. Stirling Bike Club team consisting of Scottish National MTB women's Champion, Kerry MacPhee, a team time trail list novice, alongside Christina MacKenzie not long back from her valiant attempt at the Lands End to John O'Groats record, Brenda Callander and Christine Fischer posted 1:34.31 to take the bronze for the second year in a row.
As well as Championship medals, all teams that made the podium were rewarded with a fantastic bridie, a delicacy originating from the local area, provided by the excellent event organiser, Martin Harris (Discovery JCC) most defiantly worth all the effort on the undulating course.
A strong entry of 7 women's teams alongside 17 men's team made it a thrilling championship for all involved. Many thanks to all the commissaries, timekeepers, marshals and volunteers without whom this event could not take place.
Results:
Men
Bioracer - Moriarty Bikes: Rob Friel, Richard McDonald, Andrew Bruce, Jamie Davidson - 1.16.39
Dooleys Cycles: James Cusick, Gavin Shirley, Aiden Quinn, Ali Mcnicol - 1.18.47
Hawick CC: David Beattie, Liam Beaty, Shaun Inglis, Tommy Murray- 1.18.54
Women
Dooleys Cycles : Lynsey Curran, Laura Nicolson, Mireille Captieux - 1.31.22
RT23: Pamela Craig, Amanda Tweedie, Anna Fairweather, Aileen Clyde - 1.33.52
Stirling Bike Club: Kerry MacPhee, Christina MacKenzie, Brenda Callander, Christine Fischer - 1.34.31