The National Sports Training Centre in Largs hosted the first residential of the Scottish Cycling Young People's Panel. This followed on from an earlier meeting in June where the panel members and their parents met with Scottish Cycling staff to get an overview of what the panel would involve.
The panel members were selected following a rigorous recruitment process which began in March, with applications received from young people between the ages of 14-23 years old from every region of Scotland. Nine young people were selected to be a part of the panel, representative of a range of disciplines from Trials and Downhill, to Track and Road.
Over two days at the residential, the panel members focused on getting to know each other, working through various team building exercises to build strong foundations for the next two years.
They also began to explore some of the areas that they can have an impact within the organisation. Their areas of work will link directly with key objectives outlined within the new Scottish Cycling strategy. Initially their focus will be looking at a number of key projects identified by the Events, Coaching and Regional Development teams – focusing on Young Coaches and Volunteers, boosting youth entries in events and activating Go Ride racing.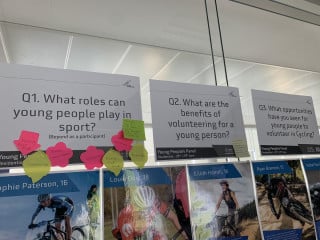 Their role will also have a presence across a range of our Scottish Cycling like our Conference and Awards Weekend and major events such as the Track World Cup. They will be actively involved in the planning and delivery of our contribution to these events, and we look forward to seeing their ideas shaping the future of our work.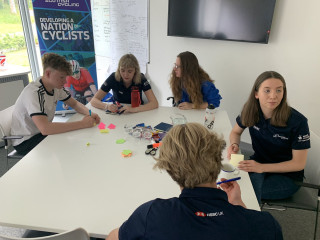 The panel members will be meeting again in September to drive forward their selected projects, and begin to shape further the impact they have within identified events.
Euan who is a young coach and a member of the Young People's Panel said this about the weekend:
"It was great to be able to meet the other panel members and get to know them better. Inverclyde was a great setting as it wasn't too formal so we had time to chat and get to know each other. The workshops that the staff delivered were fun, and I particularly enjoyed the team building one where while we were focused on building a ramp to make a car go down a hill as fast as possible, we actually demonstrated how we could work together as a team to achieve something.
Going forward, I am looking forward to being a part of the project team focusing on getting more young people involved in coaching roles, as that is where my passion lies and I feel like I could make a valuable contribution to this. The residential has made me determined to ensure that I can make a difference in cycling over the next two years".
You can continue to follow the work of the Young People's Panel on Twitter using the #SCPanel.