Midsummer Breeze Sportive
On Sunday 23rd June over 100 women from far and wide gathered in Hawick for the inaugural Midsummer Breeze Sportive, a women-only event organised by three Breeze Champions from the Hawick Belles Breeze group in the Scottish Borders: Lizzie Mitchell, Linsey Renwick and Tracey Sharp.
For some it was their first sportive, for all of them it was an opportunity to cycle in the company of other women in the beautiful Scottish Borders along the 25-mile or 40-mile routes.
This is the first sportive organised in Scotland under the banner, it provided a cycling goal for women to work towards, brought some of the Breeze community in Scotland (and beyond!) together and helped promote the HSBC UK Breeze programme and the wonderful cycling available in the Scottish Borders. Funds raised from the sportive are being donated to the Hawick Community Pump Track initiative.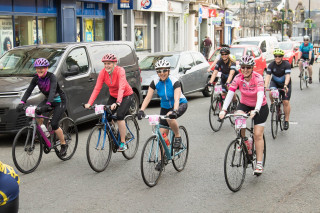 The cyclists were blessed with sunshine as they departed from the 13 Brew in the centre of Hawick, to head along the High Street and cycle out of town into the rolling countryside. A well-earned food stop in Denholm, kindly sponsored by the Co-op, fuelled the riders for the rest of the journey back to Hawick. Finishers gathered again at 13 Brew where they received a Heart of the Borders memento and goodie bag and replenished their energy on tasty soup and traybake treats. There was plenty of laughter and chat as participants shared their stories from a great sportive.
The feedback from participants has been overwhelmingly positive, describing it as a fantastic event and praising the organisers and volunteers for their hard work. One Breeze Champion, Janette Gallagher, who had travelled over from Dumfries and Galloway, said:
"Thank you so much for organising an amazing fun event. From the organisers, marshals, volunteers, photographers it really was superb. Very well organised, lovely choice of foods at food stop and 13brew. The tablet was lovely. And to top it off a lovely goody bag! I can't wait to come back again. Well done!"
The organisers want to give a special thanks to all the volunteers who gave over their time and skills to help run the event, helping to make it the success that it was. Plans are already being hatched to run the Midsummer Breeze Sportive again next year!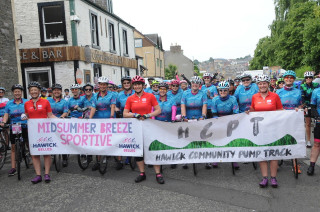 HSBC UK Breeze rides offers women the opportunity to (re)discover the joys of cycling, helping women new to and returning to cycling to build their skills and confidence on their bikes, in the company of other women and led by friendly and supportive ride leaders, our Breeze Champions. For more information and to find a ride near you visit: https://www.letsride.co.uk/breeze