The 2018 Scottish National Champions, Series and Award winners were celebrated at the Roll of Honour and Awards Ceremony on Saturday 9th March 2019.
The event, which was supported by Digby Brown Solicitors, took place at the stunning Stirling Court Hotel as part of the Scottish Cycling Conference and Awards Weekend. Comedian and sports commentator Joe Fisher compered the evening to a full house, and was joined on stage by special guest Joanna Rowsell Shand MBE. Joanna give an inspiring speech about her experience as a double Olympic Gold Medallist and now life as a student and Breeze Champion.
Awards were presented to National Champions and Series winners by Scottish Cycling Board Members, coaches and special guests. As part of recognising the achievements of our members, the Scottish Cycling Awards were presented to those who have made an outstanding contribution to the sport throughout 2019.
Scottish Cycling Awards Winners
Club Coach of the Year – Neil Kininmouth
Club of the Year – Glasgow Gals
Event of the Year - HSBC UK Cyclo-Cross National Trophy Series Round 2: Irvine Beach Park
Volunteer of the Year – Gregor Muir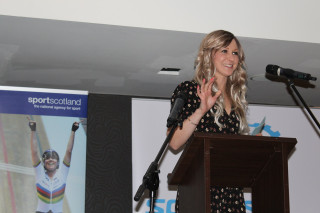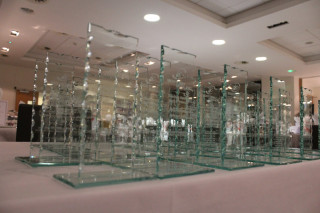 Guests were treated to an insightful Question & Answer session with Team Scotland Commonwealth Games athletes Isla Short, Mark Stewart, Katie Archibald, Louise Haston and John Archibald. They shared what it was really like to experience the Gold Coast Games, and what motivates them to compete at such a high level. Katie Archibald and Mark Stewart kindly donated signed jerseys which were raffled in aid of #rideforcharlie - fund set up in the memory of Charlie Craig.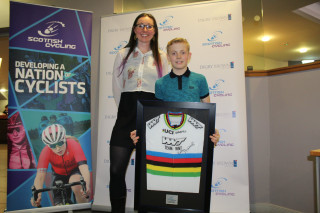 The new Braveheart Cyclist of the Year Award in association with Scottish Cycling was given to Neil Fachie following his exceptional track cycling achievements in 2018. These include winning two Commonwealth Gold Medals, two World Championship Gold Medals and setting the World Record in the 200m Time Trial. Neil's competitive spirit and determination to achieve on the world stage have inspired the next generation of cyclists and this accolade was a brilliant way to acknowledge his accomplishments.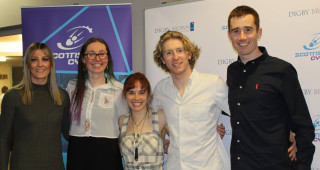 The prestigious Badge of Honour was awarded to the late Ivor Reid. Ivor was a huge personality and very well respected within the sport.
As a coach and team manager he was in charge of the Scottish track riders at the commonwealth games in Kuala Lumpur, Manchester and Melbourne. The Scottish track riders came home from Australia with 6 Commonwealth medals which was an amazing haul at the time.
He was the go-to for track racing, always dispensing wise advice and helping riders out, while maintaining his own racing at a very high level. He won his first British Masters championship in 1999 and went on to win at least one gold but sometimes multiple ones, each year for 10 consecutive years in the sprint disciplines.The high points were team sprint European Champion in 2009 and the ultimate, the World Champion's jersey in the 2006 championships.
The event was brought to a close with an uplifting speech by Chair of Scottish Cycling Kathy Gilchrist, setting the tone for 2019 which promises to be even more exceptional than 2018.
Congratulations to all our champions and award winners. A full list of Award winners can be found below.
A huge thank you Digby Brown LLP for supporting this eventwww.digbybrown.co.uk/