Today (Friday 8th March 2019) is International Women's Day carrying the theme of #BalanceforBetter. It's all about pursuing a more gender-balanced world, celebrating women's achievement, and raising awareness against bias.
For us this means closing the gender gap in cycling to achieve a greater balance across the sport. This doesn't just mean encouraging more women get into cycling, but also to join our volunteer workforce.
This year for International Women's Day, we've asked Commissaire Helen, trainee Commissaie Amanda, Timekeeper Ann, and Event Organiser Juli to give us an insight into their roles and what inspires them to support cycling.
What first inspired you to start your journey towards becoming a Commissaire/Timekeeper/Event Organiser?
Helen: I'm not a cyclist, nor was anyone I knew whilst growing up. Around 2002 and the Manchester Commonwealth Games, I first encountered track cycling on TV, and found it so exciting to watch. Probably a couple of years later I came across coverage of the Tour de France, and was intrigued by the team dynamics and different roles in a stage race. In 2012 I went to the Olympic test event – the London World Cup – my first live event, and what an atmosphere! Then the Olympics came along, and rallying cries to get involved by volunteering. So I did! I'd seen people in blazers standing at the corners of indoor tracks, and a few men (almost invariably men!) poking their heads out of car sun roofs on the Tour de France, and I thought it looked fun. I decided I wanted to learn to be a commissaire.
Amanda: After attending a number of events with my young child I felt there was a lot I could offer as a Commissaire. I work well with children and parents and feel I excel in helping young people and parents understand why rules are there to be respected.
Ann: I've always been involved in cycling and started off as a member of the Heatherbell Ladies Cycling Club in Dundee. I enjoyed helping my dad and uncle to record times at the mid-week events so I guess it stems from there. After moving to Edinburgh, I started volunteering at Meadowbank Track League - but I didn't start timing until my eldest daughter handed me her stopwatches (when she was leaving to study out of town) and told me - "you'll need to do it now mum." That is when I started timekeeping in earnest.
Juli: I had approached my club, Edinburgh RC, to ask if they could run a women's road race. The explained that they were happy to do so, but did not have enough race organisers (ERC run several criteriums, road races and time trials each year). So I offered to take on one of the club events, the Meldons Time Trial, which would enable me to be able to enter the women's road race later in the year.
Helen Probart, Commissaire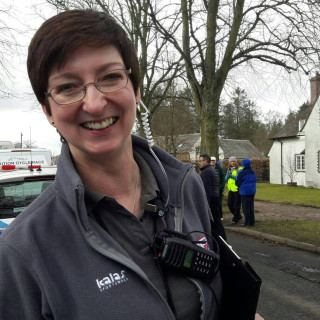 How important is the support of your club mates when organising your event(s)?
Juli: Hugely important, no event organiser could do it without a good team of people behind them. I get loads of support both in the run up to the event and on the day from some really great people, some of whom help out with many of the other club events. I think we are truly lucky in cycling that we have such great volunteers ready to help out.
Tell us a little bit about the process of starting in your role – what did you have to do?
Helen: I got in touch with SC who advised me to come along to Track League at the velodrome on Wednesday evenings. I understood quite quickly that it was something I definitely wanted to be involved in, so I looked up commissaire training courses on the BC website. I headed down to a road course in Yorkshire, then spent the summer trying to get experience at Scottish races - anywhere I felt I could travel to. I continued to gain experience at the velodrome, and eventually attended a Scottish-run track commissaire course in December 2013, which meant I received my training log book and could formally complete my training. I gained my road upgrade at the end of the 2015 season, and have been involved in quite a few events each year since. Just because I wasn't busy enough, I also started training as a cyclo-cross commissaire at the end of 2017, and am currently working through my log book. I've continued to rack up plenty of experience as a track commissaire, and am hoping to be successful in applying for a national level training course this year. Wish me luck!
Amanda: I first attended a training course, delivered by Kelvin Hoy and the next step was to attend events, armed with my logbook. This has been so much fun!! I have met some amazing people along the way and the support I have been given by the other commissaires has been outstanding.
Ann: My forte is Track Timekeeping, so I spent many years staring at front wheels going over the finish line until I was competent at recording times within hundredths of a second using two handheld stopwatches. I had to learn about all the different events that might take place at a track meeting and the times that needed recording for each of them. Depending on the event you might be needed to record half lap, full lap and full distance times while others are 100m or 200m times. To do this efficiently I had to learn to concentrate for long periods of time and make sure I was in the right place at the right time. We record all the times on special sheets for each discipline and if a record is broken a copy of these are sent off with the record claim form. The day before an event I prepare my paperwork according to the programme and make sure it's in my folder in the order required as we don't have time to do this during races. When I did my training there were no log books – just hands on training under the watchful eye of other experienced timekeepers until they were satisfied you were competent.
Juli: It was pretty simple, I just contacted Scottish Cycling to say I would be organising the next Meldons event and it all went from there. They made sure I got the access updated on the British Cycling site (providing access to all the relevant information and support documents) and made sure I knew who to contact if I needed any help.
Have you taken advantage of any of the training or CPD opportunities provided for Timekeepers by Scottish Cycling?
Amanda: Not at this time apart from the commissaire training but do plan to do so in the future.
Ann: Yes - I attended a CPD session in Perth just over a year ago and it was a mixture of timekeepers and commissaires. I've also helped with a couple of timekeeping training courses and am currently involved in mentoring new track timekeepers in training.
Juli: No I haven't, but I do have the support of club mates who have attended event organiser courses and conferences.
Juli Rourke, Event Organiser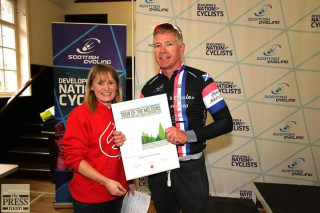 What is the best part of your role?
Helen: I really enjoy getting involved, being an enabler. As commissaires we get some stick sometimes, but without us, racing couldn't happen! There's a great community spirit, particularly in track as you're all together in the same venue: it takes a lot of commissaires and other volunteers to deliver a full weekend of events and Championships. I've made some great friends too, and got to see some great parts of Scotland from race convoy vehicles.
Amanda: Being part of a team that is there to support the well-being of all competitors at an event. To make sure the safety and fairness is right for everyone involved.
Ann: I have the best seat in the track as I'm always on the finish line! Seriously – I love being part of the big team that it takes to put on local, National and International track events.
What impact, if any, does being female have on your role and its contribution to the sport?
Amanda: I have had great fun meeting people at the events. As a female, I have always been treated with respect from competitors, parents and everyone involved in the organisation of an event.
Ann: I think we've reached a stage now where there are often more female officials than male ones and this speaks volumes. There is a great deal of respect amongst all the officials, regardless of gender.
Helen: As a commissaire I have never considered my gender to be of relevance when I'm officiating at an event; I'm there applying my commissaire skills and knowledge to the best of my ability, as - I'm sure - are all appointed officials. The key things, I think, are to learn the relevant regulations, apply them fairly, and be confident in your decisions.
Juli: Being a parent has a big impact on my role. Finding time for organising an event and doing my own training, while being a parent and working full time, which I am sure other parents can identify with.
Ann Urquhart, Timekeeper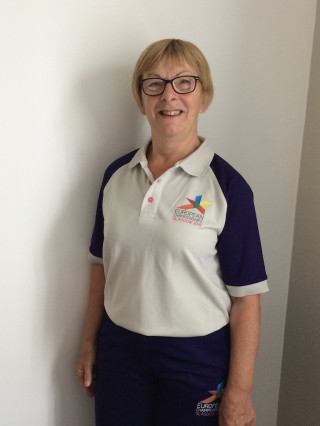 Any events in particular you are looking forward to in 2019?
Helen: We're at the start of a new season and there's so much to look forward to! I've already received some track and road appointments to National series and races taking place through the year, and will enjoy being part of those officiating teams. I'm very happy to be involved once more in the Youth Tour of Scotland - a great event and always a joy to be part of the team of officials over the 3 days of racing. Although I'm not qualified to a level sufficient to put me in the frame for being a commissaire on the exciting new Women's Tour of Scotland, I've blocked out the days in my diary and hope to be involved as a general volunteer. What a fantastic showcase it will be for Scotland, and for women's cycling!
Amanda: Highland Hardline is a new series that started last year for children under 18. WOW, what a series that turned out to be over 100 kids at most of the races. The events team were outstanding and so were all the kids involved. I really look forward to this happening again in 2019 and also hope I get an invitation to the World Cup at Nevis Range in June, again this was a fantastic experience for me and I picked up so much for attending that weekend last year.
Ann: Yes! There's the Youth Omnium next month, the Youth & Junior Championships in June and of course the Track World Cup in November.
What is the best part of your role?
Juli: The best part of my role is seeing everything coming together on the day, with all the volunteers in place and the riders out on the course. I do enjoy the award ceremony at the end, I have tried to introduce some extra prizes and more categories as I like to have lots of winners, originally these were small trophies the riders could keep, last year this progressed to framed award certificates.
Mandy Watson, Trainee Commissaire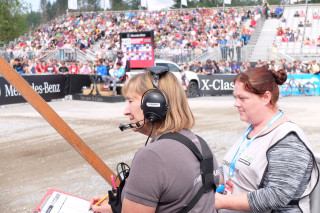 What makes you proud to be a woman involved in sport in 2019?
Amanda: There are not many of us out there and I feel a woman has so much to offer when it comes to being involved in sport. GB has some fantastic female sporting personalities around at the moment and to see female event organisers and commissaires supporting this is great.
Ann: I am proud to be a woman involved in sport as I'm treated as an equal amongst local, National and International officials and always feel valued.
Juli: I'm most proud when I can help other women get more into cycling, whether that's starting to race, or just using a bike on their commute. I have now been cycling for quite a few years, so I am able to give advice on lots of different aspects, many of which I've had to learn because they're subtly different for women - so it's great to be able to share that information.
Inspired by these amazing ladies?
Fancy an International Women's Day bike ride? Breeze are running serveral special rides: