Saturday saw the last indoor Scottish National Championship, and penultimate one of the year, as the track riders gathered at the Sir Chris Hoy Velodrome for the Madison Champs.
Like last year, the championships had been incorporated into a full day of racing as organizer Kenny Steele put on the Festive Flyer with sprint events and time trials…there were even four tandems competing in the Para events and such is Kenny's reputation that he'd even attracted a crack squad from Switzerland!
We've said it before but it never gets old…if some track events are hard to follow, you've got to come and watch a Madison just to see how truly confusing it can get! Riders are in teams of two but only one is ever racing at any given time while the other circulates high or low on the track, trying to recover from their previous effort before being thrown back into the fray as their partner 'tigs' them, or more appropriately gives them a hand-sling back up to speed.
Working out who is actually on, and then trying to compare them to other teams is a task taken on by the Commissaires and with crashes, laps gained, and laps lost, it's never easy.
Starting with the Youth A boys…it's such a strong category that they get their own race and it soon became apparent that there were two teams that would fight it out for the victory. Riding in their last race as Youths, and their last event for Squadra Scozzese, Oscar Onley and Aaron King were up against the talented Adam Mitchell (Scottish Crit' Champion) and Kyle Thomas, with Alexander MacLeod and Matthew Mccullagh forming another team prepared to take on the challenge.
The first four sprints saw the King/Onley pairing swap first and second spot with Mitchell and Thomas…but it wasn't all about the sprints as King and Onley set about taking laps. Thomas and Mitchell weren't too far off the pace but the Scozzese pairing gained a total of three laps to the two of the other team and this would be the deciding feature in the race.
The team of MacLeod and Mccullagh crucially picked up a sprint and gained one lap to lift them ahead of the chasers and they rolled out with a total of 26 points to secure the Bronze medal. Mitchell and Thomas ended the day on 63 points for Silver but King and Onley were just too strong a pairing and came away with 88 points and the Gold medal…not too shabby for their last team race!
The Youth A girls race was incorporated into the senior event but if anyone thought the pairing of Imani Pereira-James and Eva Young would be outshone by their elders, they were in for a very big surprise.
These two riders were simply unbeatable and took out every sprint along the way, Imani finishing well clear ahead of Sarah Walker (Boompods EDCO NRG) in the final dash to the line. It was a commanding performance but they weren't alone as Eilidh Shaw and Kirsty Johnson were also giving their seniors a run for their money. They took consistent points in the sprints but this was wiped back to zero when they eventually had to cede a lap and they finished in the Silver medal position. Imani Pereira-James and Eva Young claimed 35 points from their sprint victories to secure the Gold medal.
In third spot on the podium were Kiera Chan and Morven Yeoman, both representing East Kilbride RC, and they did well to pick up points in four of the sprints but had to concede three laps to the winners, finishing on -52 but taking Bronze in the process.
In the Women's race itself, the Boompods pairing of Ellen McDermott and Sarah Walker proved to be just too strong for the other senior women with Janette Hazlett and Lucie Hrnickova teaming up and bringing the challenge along with the RT23 squad of Anna Fairweather and Aileen Clyde.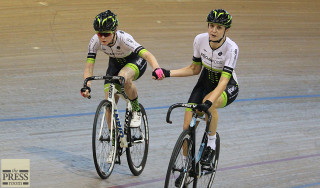 Anna and Aileen picked up some points in the sprints but the final results showed that they had lost 5 laps to the leaders and therefore finished on -97 points. This was good enough for the Bronze medal slot but Janette and Lucie, while not gaining any points in the sprints, only lost 4 laps to end on -80 points and secure Silver in the event.
This sorted out the final women's medals on the track this year and everyone was impressed by the Imani Pereira-James/Eva Young combination and their performance…a true class act.
The Junior men were incorporated into the Senior Men's event and it was fantastic to see older heads pitted against younger ones. This time it was the turn of Matti Dobbins and Alfie George to take the challenge to the senior riders. They were an outstanding combination and romped away with all but two of the sprints, although they placed second in both of those, to show the others a clean pair of wheels.
The decider was when they also gained a lap on the field to take an extra 20 points and they finished on a grand total of 81 points to take the race and pick up the Scottish National Junior title. They weren't alone in being a strong junior squad though as Logan Maclean and Cameron Oliver also teamed up to take on the big boys. They picked up points in eight of the sprints to gain 18 points but they lost a lap and finished on a total of -2 points. This was good enough to tie on points for third overall but it secured them Silver in the Junior category.
So if Maclean and Oliver tied on points for third overall this means that there was a team somewhere between them and the Junior winners…and it was the very experienced Martin Lonie, this time teamed with Andy Brown, who would once again climb to the top step of the podium and take a Gold medal home for the trophy cabinet.
They were a strong team and placed in every sprint but one, eventually finishing with 34 points to claim the championship title. They weren't without their challengers though and Kevin Barclay had stepped in to replace Grant Martin by teaming up with his brother Fraser Martin and taking the fight to Lonie and Brown.
They picked up some points in most of the sprints, winning one, but eventually dropped a lap to the winners and finished on -2 to secure Silver in the senior event. It's been a year of silvers for Fraser but he's looking forward to teaming up with Grant, Finn Crockett and David Lines having signed for Wheelbase for 2019. (More on David Lines in the CX report).
This meant that there was still a final medal up for grabs and it looked like a straight fight between the Dooleys pairing of Ben Norris and Aidan Quinn up against Jason Roberts and Alex Macrae of Team Project-GO. Disaster though for Roberts as a touch of wheels saw him slide to a halt on the apron of the home straight. On his feet straight away, he then discovered that his right pedal had been smashed and it was the help of Torvelo's Doog Carruthers that got him quickly back into the fray.
This meant that young Alex Macrae had to keep plugging away while the others swapped around. It was a superhuman effort but it proved costly in the end as they lost another lap to the Dooleys team. Project-GO finished on a grand total of -35 but Quinn and Norris were on -13 to take the Bronze.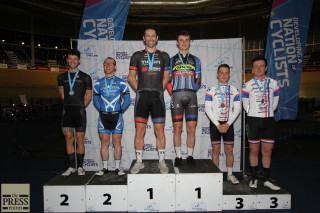 This completed the indoor events of the Scottish National Championship calendar and left only one more to be decided…the Scottish National Cyclocross Championship at Fife College the following day…report follows.