Up the Crow!
Words and Images: The Press Room
After a few days of Storm Callum doing its worst, it was very pleasant to see the weather settle just in time for the Scottish National Hill Climb Championship, this year hosted by Bioracer-Project Go on the infamous Crow Road climb out of Lennoxtown.
For those unfamiliar with the climb, and this included a certain Grant Ferguson (CST American Eagle) who had to squeeze into a small car for his recce' as the race had started, the climbing started straight out of the car park of the race HQ at Campsie Golf Club. A short steep section would punish anyone who went too hard too early but once round the left-hander and onto the exposed section of the hill itself, the gradient settled down to a manageable grind.
Coming around the turn at the locally named 'Car Park in the Sky', any rider that thought that the worst was over, was in for a nasty shock as the next section up past Jamie Wright's Well has a deceptively steep incline. Cresting this and crossing the oddly-named Nineteen Times Burn, the road rolls for another half-mile to the finish just where East Dunbartonshire crosses over into Stirlingshire.
When the wind blows, this hill takes on another character but thankfully there was hardly a breeze. The host club had also enlisted the help of Police Scotland and while the road remained open throughout, drivers were doubly encouraged to be aware that a cycle event was taking place.
The non-championship youths were first onto the climb, showing us who will be the champions of the future but the first medal contenders were the Junior women. In these modern days of plush campervans, rollers and mobile nespresso machines, it was nice to pass Team 22's Anna Shackley cycling along the valley from Blanefield, her rucksack on her back in traditional style, as we made our way to Race HQ.
She was the rider to beat, having claimed a number of titles already this year. Estelle Fuller (Edinburgh RC) was the first junior away with none of the riders catching or passing each other before the car park turn. Estelle's final time of 15:53.35 would set the benchmark for the junior women, with Sprockets CC's Zoe Watters, off two minutes later, catching her minute rider Abby Stewart (Team 22) not far from the finish, and bringing the time down to 15:29.11.
With Ellie Park (Team 22) not riding there was a gap before Anna Shackley, now in race-trim, came around the turn and climbed onwards to finish in 14:35.25 and take the Gold medal in her category, Silver to Zoe Watters and Bronze to Estelle Fuller. Team 22 claimed the Junior Women's Team prize with Abby Stewart backing up her teammate in a time of 17:01.52.
First to show in the Junior Men's race was Harry McGarvie from Ayr Burners CC, more commonly seen at cyclocross events, and he went on to set a benchmark time of 12:43.68. In the middle of the starters was Alex Dent (Spokes RT) who seems to get taller everytime we see him and he put in a storming ride to finish in 11:37.02. Behind him he had the Glasgow Cycle Team duo of Fraser Macdougall and Cameron Oliver but neither could match him, Fraser finishing in 12:21.51 and Cameron doing better in 12:15.08. This only left Tim Shoreman, again more commonly seen racing cross-country, to see what he could do, and he pulled ahead of the Glasgow CT riders to finish in 11:58.80.
A superb ride by the rider from Onich with Gold to Alex Dent, Silver to Tim Shoreman and Bronze to Cameron Oliver. The Glasgow CT riders of Cameron Oliver and Fraser Macdougall took home the Junior Men's Team award.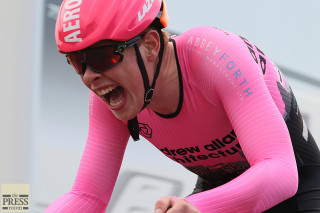 Onto the Women's race and we'd spotted a number of riders recceing the course early on, most noticeably Beth Harley-Jepson (Edinburgh RC) and Lynsey Curran (Dooleys Cycles).
Zosia Martin (Glasgow Green CC) told us later that, with Greig Brown already holding her for the start countdown, it was noticed that her pedal was loose in the crank. Not missing a beat, it was quickly nipped up and she was away, suddenly remembering that she had a badly broken toe as she stood up on the pedal to make her effort. She was all smiles afterwards though, showing everyone a photograph of her black and blue toes!
There were some close times with defending champion Anna Fairweather (RT 23) just losing out to ERC's Juli Rourke, Anna finishing in 14:46.99 to Juli's 14:45.53.
Finishing just ahead of both of them though was Glasgow Nightingales CC's Anna Anderson with 14:42.75. However, there were three riders who went faster…Lynsey Curran came home in a time of 14:35.13 but going almost a minute quicker in 13:42.41 was Beth Harley-Jepson.
There was one rider though who has been flying lately…Beth's teammate Sharon Bird is in spectacular form and flew to the 2018 title in a time of 13:27.81, a superb performance considering she'd ridden and won another hill climb just the day before. Gold to Sharon Bird, Silver to Beth Harley-Jepson and Bronze to Lynsey Curran…and of course this meant that the Women's Team prize also went to Edinburgh RC.
Onto the final category and we had some big names in the mix. With the Crow Road being a longer, endurance type of climb, RT 23's multi-champion Kyle Gordon had been tempted to try his hand but he was up against some stiff competition in the form of Grant Ferguson (CST American Eagle) and the defending champion David Griffiths (Bioracer-Project Go).
First rider to go inside the 12-minute mark, and looking super-skinny was Dean Cunningham (Transition Race Team) with a time of 11:47.60 and this would see him finish in 8th position overall. There were quicker times to come though but he would hold the top spot for over twenty minutes until Ross Thomson from the host club Bioracer-Project Go would take 13 seconds out of him to finish in 11:34.44. This would see Ross finishing within touching distance of the podium in 5th place overall.
Coming up the hill five minutes after Ross Thomson was one of the dark horses of the day. Grant Ferguson looked his usual smooth-pedaling self as he passed but if you looked really closely, you could see that he was digging deeper than normal and using a large part of his endurance reserves to power around the Campsie Glen turn and on up towards the finish.
He set a blistering time of 11:00.15, just a fraction off dipping under the 11-minute barrier. Other riders came close with the Dooleys pairing of Ben Norris and Aidan Quinn in 11:44.69 and 11:46.06, good enough for 6th and 7th on the day.
Alastair Fowler (Glasgow Nightingale CC), off two minutes after Grant Ferguson, bettered Ross Thomson's time in 11:33.19 and this landed him 4th position overall. Now it was just the final favourites to come and Sandy Wallace had an unofficial watch on Kyle Gordon, relative to Grant Ferguson's time at the car park turn…and Kyle was only two seconds down. It was the final pull up past Jamie Wright's Well where Grant began to stretch away and by the time Kyle finished he was just over 23 seconds off the winner's time in 11:23.61…good enough for Silver and another medal to add to this year's haul.
Now, only the defending champion David Griffiths could take the win away from Grant Ferguson but it was a long climb, more suited to Grant's strengths. David would claim the final position on the podium with a time of 11:30.25 to take Bronze but he also had the consolation of another medal in the form of the Team prize with Ross Thomson and Thomas Gelati who had posted a time of 11:51.15 back in 10th spot.
It was a superb day for all the riders and there was a lot of banter as they passed the car park, especially for David Ross from the Falkirk BC as a large contingent of teammates had turned up to heckle/shout encouragement as he went by.
It was back to the Golf Club where copious amounts of tea and coffee were drunk before the awards ceremony was able to take place out in the very welcome sunshine. It was a pleasure to have the prizes and medals handed out by 10-times Scottish National Hill Climb Champion, Sandy Gilchrist, his first of seven straight wins coming on this course in 1970.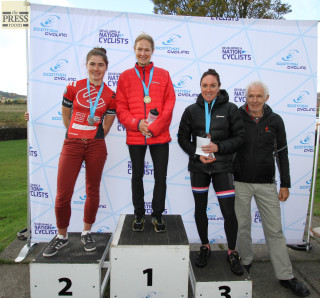 We'll be back with Scottish National Championship coverage from the senior Track Championships at the Sir Chris Hoy Velodrome in November.
Follow #SCNatChamps on Twitter for updates.
Are you racing this weekend? Don't forget to tag @ScottishCycling and #SCResults