Words and images: The Press Room
Last year the fight for mountain bike supremacy was between Dave Duggan and Gary MacDonald (Nevis Cycles RT) and this year saw the same two riders going head-to-head once again. Dave Duggan took a commanding win in Dunoon and crossed the line with a 'Fonzie' style celebration.
In the Women's race, Kerry MacPhee has been at the top of her game all season but she must have felt Sandy Wallace Cycles' Joanne Thom nipping at her heels in most of their races. Super determined she crossed the line well ahead on this occasion to add to her tally of wins this year.
We spoke to Davie Lines before the start of the men's race and he explained that Gary's main target for the year is the Three Peaks, and with the season being so long, he is out of sequence in terms of tapering for events. Davie himself rode but an unfortunate puncture out on course saw him retire after 3 laps and an hours worth of racing.
With riders moving up categories, new racers coming into the sport, and others absent for various reasons, there was going to be the inevitable shake-up in this year's list of champions.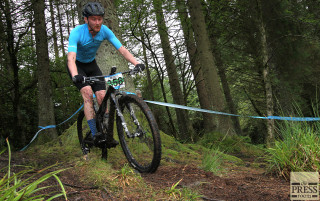 Onto the course first and to quote Scottish Cycling's Go-Ride coach Rab Wardell, "it was mega!"
It consisted of a double-loop, a couple of bridges and a set of steps…not to mention climbing, descending, mud, an off-camber scramble and a run along the side of the reservoir.
Coming back into the technical inner loop on lap1 we already had our first four riders, placed as they would eventually finish. Dave Duggan was 25 seconds ahead of Gary MacDonald, with Dougie Shearer not far behind, himself being tracked by Rab Wardell.
The time gaps would slowly increase over the next four laps and Duggan eventually took the title some 2:02 ahead of MacDonald. Shearer was a further 4 :01 behind him with Wardell another couple of minutes back. It was a comprehensive win once again for Dave Duggan.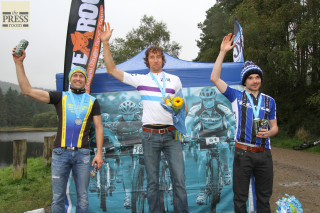 In the women's event there was no stopping Kerry MacPhee, looking super-determined every time she came through the start/finish area. She eventually completed her four laps in 1:30:08 with Natalie Munro (Moray Firth CC) her nearest competitor, finishing in 1:41:23 to place second in the Series race but ineligible for the Championships. Joanne Thom came home in 1:46:48 to place 3rd overall for the Series but also claiming Silver in the Champs.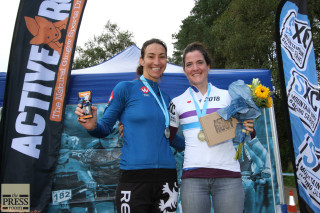 In the Junior Men's race, another shake-up of the names and this time the winner was someone we're more used to seeing on a time trial bike. Kyle Cartmell (RT23) was flying, and he very nearing flew out and did another lap of the course before realizing that he'd finished his allotted 4 laps in a time of 1:30:14.
It was a closer finish to see who would take Silver and Bronze as Conor Stevenson (Perth United) and Gregor McArthur (Stirling BC) both finished 5 minutes back, but separated by only 4 seconds…the silver medal going to the Perth United CC rider.
In the Vet Men's race, no Gary MacRae this year but Chris Buchan was in a class of his own, taking out 4 laps of the course in 1:20:33. His competition came from Greig Walker and Ricardo Parreirinha (Ronde CC), with Walker running his bike in over the line to claim Silver. He'd picked up a puncture out on course, tried gassing it but had to run to claim his prize, finishing 4:51 back and some 41 seconds ahead of Parreirinha.
In the Grand Veteran Men's category, 3 laps of the course meant a tighter placing in the final positions but there was no holding Murray Swanson (Pedal Power RT) as he was tracked by the Leslie Bike Shop pairing of Barry McGuire and Gary Beall. McGuire finished just 17 seconds back to take Silver with Beall coming home 2:55 behind the winner to claim the final step in the podium.
One more category in the race and it was no surprise to see Gregor Grant (Moray Firth CC) dominate the Super Veteran race. In just two laps of the course he pulled out a winning margin of 8:50 over second-placed Michael Graham with Ayr Roads' John Gemmell claiming Bronze some 1:46 further back.
In the Juvenile Male category it was a straight out fight between boys who have been racing each other almost all their lives. Sprockets Cycle Shop RT (Scotland)'s Ben McMullen once again proved what an exceptional all-round racer he is by taking the win in 43:02 over two laps of the course. Ruaridh Johnson (Peebles CC) wasn't far behind with 43:34 to take Silver with Freddie Fuller (Edinburgh RC) a further 1:34 finishing in Bronze position.
The final counting Male category was the Youth Male event and it was a Peebles CC lock-out on the podium. Corran Carrick Anderson completed two laps in 37:22 but hot on his heels was teammate Callum Thornley, finishing just 11 seconds behind, with Jonte Willins claiming Bronze 1:10 behind the winner.
Onto the female races and Anna Flynn (Edinburgh RC) swapped her British National Champion jersey (Youth) for a Scottish one as she took the win having completed 2 laps in 45:08. Next home was Elena McGorum in 47:47 with Glasgow Riderz's Mieke Kalmijn taking Bronze with a finishing time of 48:34.
Working through the categories the Juvenile Female race was another Peebles CC dominated event with Emily Carrick Anderson taking home Gold in a time of 49:40 to win comprehensibly from her teammates, Christina McGorum in Silver with 57:13 and Ruby-Soho Smith, Bronze in 58:46.
In the Junior Female race, Edinburgh RC's Ishbel Strathdee was quite literally in a class of her own, taking the title with 3 laps covered in 1:18:02.
In the two Veteran categories we had two stalwarts of the racing scene claim popular individual wins with Anne Murray (Ben Wyvis CC) taking Gold in the Vets race…3 laps in 1:22:56 while Gil Barnes (West Highland Wheelers) took the Grand Veteran category with 3 laps in 1:46:59. Great to see both riders in their National Champions jerseys on the podium together.
This concluded all of the Championship-counting races and each and every winner deserved their medals and the very generous prizes for braving the course conditions and the deteriorating weather. The team from the SXC, and their many helpers, deserve a huge round of applause for once again pulling off a successful Scottish Mountain Bike Championships amid the beautiful scenery of the Cowal Peninsula.
Did you race this weekend? Don't forget to tag @ScottishCycling and #SCResults