On a Record Roll!
Words and images: The Press Room
On a day when the conditions were less than perfect, Debbie Greig and Kyle Gordon (RT23) ripped up the roads of Northeast Scotland to take the Scottish National 100-Mile Time Trial Championship of 2018, both of them bettering the previous records.
From 4km pursuits at the start of the year, how does a rider end up not only riding 100-mile time trials in August, but also smashing the previous record by ten minutes? Well, it all starts with a dare and a belief both by his coach Peter Ettles and the man he would supplant as the record holder. Jon Entwistle had not only encouraged Kyle Gordon to test himself out at the distance but had worked out exactly what he had to do to take the record…and it paid off in tremendous style.
We've already seen Debbie Greig on a podium step this year but in the 100 she climbed to the top and took the record with it. She also outdid her husband Kyle who placed second in the Great Aberdeen Run while she was breaking the Scottish record.
Onto the course and it was a change from the usual Fordoun/Fettercairn route because of the on-going roadworks at the turn-off north of the village. Kenny Anderson and his Deeside Thistle team had come up with a challenging route starting at the village of Kinneff and heading north to the Stonehaven junction with the A90 where the riders turned south and took on the usual rolling terrain and exposed sections all the way to the turn at Stracathro. Back north again and onto the minor road with it's steeper climbs before turning and doing it all again. The minor road had a couple of testing rises and for riders with just under 100 miles in their legs, these would prove difficult for some on the final run-in.
We asked about the wind and most riders reported cross/headwind no matter which way you were facing…some sections would be tailwind but just a mile further on and it would be on your shoulder even though you were still going in the same direction. The weather had started out wet but not so bad that riders couldn't be seen through the spray and the northern end actually dried out with the sun making an appearance towards the end of the race.
First away from the starter was the tandem entry of Mark Leadbetter and Donald McLean (Stirling BC) and they were going well when they came past us, tucked in and looking nice and aero. They would eventually finish in a time of 4:28:23.
With four women riding the event, one of them was always going to be off the podium but Michelle Esson (Forres CC) was delighted to post a time of 5:12:25 in her first ever 100 miler.
Two minutes later Sarah Leakey was off and wrapped up against the weather she was looking comfortable when she passed, some 65 miles in. She would eventually finish in 4:53:32 to take Bronze and we're sure there're more time gains to be had there if she ever wants to ride at this distance again.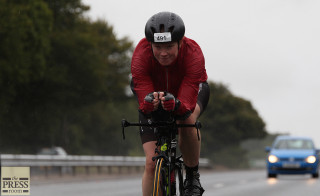 This left Debbie Greig and Christina MacKenzie (Stirling BC) and Debbie had an advantage of approximately 16 minutes at the 65-mile point. She would continue to chip away over the next 35 miles and when she got to the finish, her time of 4:17:56 was a new Scottish Women's record at the distance. Christina MacKenzie posted 4:40:29 to take Silver…and looked as calm and collected as she always does throughout the ride.
Some riders grimace, some stare straight ahead and some can't help smiling when they pass but the effort from all was there to see. There were only three riders who didn't make the start in Kinneff but there was almost a fourth.
Brian Muir (Royal Albert CC) had been suffering from a virus and was unsure if he'd even start but decided to give it a go and see what happened. And he was delighted that he did as he was one of only four riders to go under 4 hours, posting a time of 3:59:42. It had been a personal dream of his to get under the 4-hour mark and the last five miles were hell for him as he had to sprint for the finish to make his target.
Other riders had made valiant efforts, the Fruin CC guys having to make a big detour when they found a closed road after setting off from Helensburgh at 3.30am.
We were watching the last three riders to leave the starter as all three of them have form this year. Kyle Gordon was third from last to set off having only ever ridden one 100-mile race in the past. However, it soon became clear that he was flying. What most people don't know is that Kyle had crashed in training a week and a half before and had required some physio just days before the race. He also overshot the turn by 50 metres so the record could have gone even lower!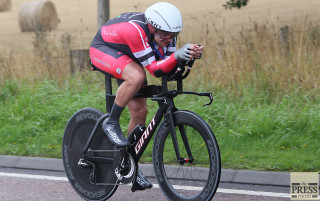 His competition in this race came from the very experienced duo Stephen Williamson (a3crg) and Andrew Underwood (Carse of Gowrie Velo). Speaking to Andrew afterwards, he said that he used a combination of power output and 'feeling' to pace himself, saving some effort for the harder second leg as the wind increased slightly. However, power doesn't always tell the story as at some points he was flying and at others groveling into the headwind. You can never tell with Andrew though as he always looks smooth and composed on the bike. He came home in a time of 3:55:56 and this saw him on the podium in third spot.
This left Stephen Williamson and he was pulling some facial grimaces when we saw him, particularly on the run back to the finish. This is unusual for the rider who usually looks very controlled but he was pulling hard for the line and finished in 3:52:23 to take Silver.
These were all great times but nothing could compare to the time of Kyle Gordon who had posted 3:36:10, exactly 10 minutes better than Jon Entwistle had posted in 2016…and a personal best by over 1 hour from the one and only time he'd ridden a 100-mile TT in the past. Debbie Greig's 4:17:56 was almost 3 minutes ahead of Christine McLean's 4:20:41 set in 2012 and a superb performance from a name we're bound to be hearing a lot more about in the future.
This meant that it was back to the hall to hear Kenny Anderson read out the times and to see the medals awarded, fill up on the superb spread laid on by the volunteers and get ready for the trip home.
A special shout out for Dave Kirton (Kennoway RC) who was safely back at the hall before we set off. It's riders like him that keep the sport alive!