Words and Images: The Press Room
Mireille Captieux and Kyle Gordon produced stunning rides on the lumpy roads north of the Cromarty Firth to land the Scottish 50-Mile Time Trial Championship titles for 2018. National records were broken along the way on anything but an ideal day for racing against the clock (all records are subject to ratification).
When you're standing outside a village hall on the shores of the Cromarty Firth on a sunny Sunday morning, you have no inkling that you're about to witness two of the longest-standing Scottish national records fall. To take any record off Graeme Obree is a major achievement in itself but to take 1 minute and 48 seconds out of him over 50 miles would be almost unheard of…but that's exactly what Kyle Gordon did, and how.
Messrs Steve McCaw, Jim Gladwell and N O'Neil also had to relinquish their team record held since 1996 as RT23 obliterated their senior men's team mark by over 10 minutes.
When Julian Foot set about organizing his first time trial event he was expecting a small, local race however, with the problems encountered on the Fordoun course, all of a sudden his event was ramped up considerably and he found himself organizing a Scottish National Championship…and a Championship that would see three new national records.
The Nigg course hosted the Scottish 10-Mile Time Trial Championship back in May and there was a clutch of fast times then. The 50 builds on that course, starting at Polnicol and joining the A9 at Kildary before heading for Tain and the turn just before the Dornoch Firth Bridge. Then it's all the way back down the A9 to the Cromarty Bridge before returning to Kildary and the short sprint past Milton on the run back to just beyond the hall.
As so often in the past, the wind would play its part in the outcome of the race. The first section of the A9 would fly by before climbing up past Tain but it was on the way back that things would get interesting. Coming off the Nigg roundabout and heading southwest, the riders faced a strong, and gusting, wind…sometimes on their head and sometimes coming across the front wheel. With some rougher sections of tarmac beyond Dalmore, this battling would begin to take its toll on most of the riders. Once around the Cromarty Bridge turn and it was tailwind home…well until they turned off onto the B road and met the wind for one final crushing blow as they fought towards the finish line.
We set up near the Dornoch Bridge end and the first rider to come past was Michelle Esson (Forres CC)…she was the first rider to leave the starter and was holding her position at that point. Next was Amanda Wagstaffe (East Sutherland Wheelers) followed by Mary Eagleson (Ross-Shire RCC). There was a bit of a gap now caused by some non-starters but soon enough Jennie McColl (Aberdeen Wheelers CC) came flying down towards the turn. She would eventually finish in 2:20:27 to Amanda Wagstaffe's 2:25:45…but this would only fill second and third places.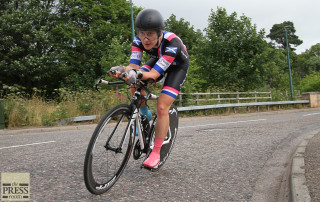 Last woman off was Dooley Cycles' Mireille Captieux and she meant business. No sticking brake this time meant that she caught and passed all of the other women in the field on her way to winning the title in a time of 2:10:54…a superb performance and one that bodes well for the Team Time Trial at Forfar in September.
Onto the Juniors and first to push past was Kyle Cartmell (RT23). He was looking calm and had time to give a small nod as he went past. He would eventually post a time of 2:06:13 giving him the Silver medal…well, just one of two medals he would take home. His teammate Alasdair Munro was off some 15 minutes later and was looking very powerful as he passed. His dad was there to give him a shout later on when he raced down the A9 towards Invergordon and he would eventually finish in 1:56:56… a stonking time for a junior and one that placed him 9th overall on the day. His Gold medal around his neck, he and his teammate Kyle Cartmell were called back to the podium to collect the Junior Men's Team prize…and then they were told that their combined time of 4:03:09 was a new Scottish national record. There hadn't been a time set for this category before so their time sets the benchmark for all future junior male racers.
Fastest of the early starters, and good enough for 10th on the day, was Colin Duncan (Elgin CC) in 1:57:25. This would hold until Alasdair Munro's time but next to sit in the hot seat was Ewen Macgillivray (RT 23) who returned an excellent time of 1:51:07. This would see him finish just off the podium in 4th spot but all the more remarkable as he was just one second ahead of GTR's Chris Smart. Chris Smart was last man off and was the highest placed competitor from the last time the championship was contested, with Jon Entwistle not racing at the moment.
Not to be outdone though, GTR-Return To Life would make it onto the podium. We'd had a watch on the fast men at our first set up and Douglas Watson was motoring…so much so that it looked to be a three-way fight between Watson and the RT23 pairing of Kyle Gordon and Alan Thomson. Kyle had ridden the course a couple of weeks ago and had unofficially finished just 40 seconds off the national record but he put today's success down to his highland games efforts since.
At the final turn back off the A9 at Kildary we clocked Douglas Watson as he came round but no sooner had he passed us when Kyle Gordon shot by… a man on a mission! Alan Thomson had also turned himself inside out and produced a stunning time of 1:45:52 to claim Silver. We bumped into Alan Thomson, Ewen Macgillivray and Kyle Gordon before the event got underway and we'd joked that maybe we should just take the picture of the winning team then…that turned out to be correct, although they'd all looked a lot more sprightly before the race than they did as they repeatedly climbed the podium to collect individual and team medals…and a new national record along the way.
For Kyle Gordon to smash the 26 year old record held by Graeme Obree…well, they don't come better. Any record held by Graeme, and for so long, is a serious sign of talent and Kyle has it in spades!
RT23 made it a day to remember with so many fine performances and with the Scottish Cycling President Tom Bishop there to present the medals (after he'd recovered from posting a time of 2:24:02) it was a day to remember. Julian Foot can't promise that all his events will be quite so successful but he's off to a flyer so far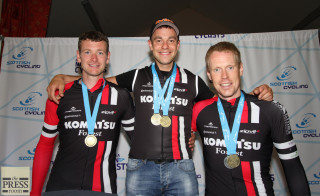 We're back up this way in a few weeks for the Scottish National Road Race in Cromarty, and the Youth TT the day before in Ellon, but until then we'll be watching all the action form the European Championships in Glasgow. See you there!