On quite possibly the hottest weekend of the year we gathered inside the Sir Chris Hoy Velodrome for the Youth and Junior Track Championships 2018...and the organizer Carole O'Hare had ensured the air-con was turned up to the top position.
On Friday evening there were some excellent performances: Rowan Andrew (Glasgow Riderz) winning the Junior Women 500m TT in a time of 39.600 and Rebecca Saunderson (Studio Velo) taking Gold in the Youth A Girls 500m TT in 41.910.
In the Youth B 8km Scratch Race the boys and girls were run together and the East Kilbride RC took the first two steps of the podium with Michael Goodfellow and Daniel Cutler, with Keir Gaffney of the Johnstone Wheelers claiming Bronze. Kirsty Johnson (Edinburgh RC) won the girls event from another EKRC rider, Fiona Hay.
A fantastic race in the Youth A Boys 12km Scratch produced a worthy winner in Ross Birrell with Alexander MacLeod (Grampian Tigers) taking Silver ahead ofSorley Johnson (Glasgow Riderz).
Zoe Watters (Sprockets CC) took the win in the Junior Womens and Youth A 10km Scratch ahead of the Team 22 pairing of Abby Stewart and Anna Shackley.
Jack Cruden (Glasgow CT) is the sprint king and won the Junior Men's title ahead of his teammates Jamie Penny and Matti Dobbins.
In the Junior Women Sprint it was Rowan Andrew ahead of Georgia Young (Glasgow CT) and Elizabeth Winton (Stirling BC).
In the Youth A Boys 500m TT it was the turn of Squadra Scozzese to shine with Aaron King posting a time of 36.100 to win ahead of Daniel Kain in 36.270. All very close as Hamish MacLaren took Bronze in 36.620.
With two wins and a second place the win in the Youth B Boys Omnium went to Michael Goodfellow ahead of Daniel Cutler and Keir Gaffney.
In the Junior Mens 25k Points race it was consistent wins in the sprints and a fantastic win in the final dash for the line that won the race for Cameron Oliver,one point ahead of his teammate Matti Dobbins and Jamie Penny in Bronze...a podium lock-out for the Glasgow Cycle Team.
Wins in all of the events brought Youth B Omnium success to Kirsty Johnson (Edinburgh RC) ahead of Eilidh Shaw (Stirling BC) and Fiona Hay (East Kilbride RC).
In the Youth A Boys 15k Points consistent wins in the sprints, and the final double-counting one in particular, brought Gold to Daniel Kain ahead of his teammate Aaron King, with Adam Mitchell rounding out the podium in third spot.
In the Junior Women and Youth A Girls 15k Points race Zoe Watters won three ofthe sprints but it was a crucial second spot in the final sprint that secured success ahead of Anna Shackley (Team 22) but just a single point. Team 22 rider Abby Stewart was third to take Bronze. The Youth A title went to Rebecca Saunderson ahead of Grace McCabe (East Kilbride RC) by managing to stay with the Junior girls for longer.
On Saturday everyone stopped for a minute's silence to honour the memory of our own Ivor Reid, a true stalwart of Scottish cycling. We also remembered John Kerr, one of the volunteers familiar to everyone who has ever attended track events. They'll both be sadly missed.
Coming out of the velodrome on Sunday afternoon into the blistering heat we were suddenly grateful of the air conditioning but it didn't stop some very hot performances...and one very special one as Kirsty Johnson set a new Scottish record in the Youth B Girls Standing Start 500m with a superb time of 39.830. She took half a second off the previous mark set by Kayleigh Brogan in 2007, a fantastic effort!
Ivor would have approved!
---
Sunday dawned bright and sunny for the final day of the Youth and Junior Track Championships at the Sir Chris Hoy Velodrome...ready to go racing!
Youth A Boys Sprint:
Fastest qualifier in the first event of the day was Squadra Scozzese's Daniel Kain in 11.910. He was the only rider to go over 60kph with 60.4kph but Sprockets CC's Hamish MacLaren wasn't far behind with 59.7kph in a time of 12.050.
In the heats Daniel Kain overcame Alexander MacLeod (Grampian Tigers) to progress while Hamish MacLaren had to push a bit harder to beat Cameron Brown (Discovery Junior CC).
In the third and final heat, involving Kyle Thomas and Ross Birrell (both Edinburgh RC), along with Adam Mitchell (Sportcity Velo), Mitchell had to goearly in order not to be mugged by the ERC riders. However, the Edinburgh boys overhauled him with Thomas winning out to go through.
Mitchell and Birrell went again in the repechage with Alexander MacLeod and Cameron Brown.
And Birrell was not to be denied, leading all the way and in no danger of being caught...through to the semis then. And it was Daniel Kain up against Ross Birrell with Hamish MacLaren against Kyle Thomas.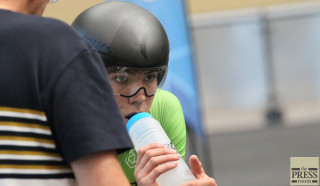 Kain led from the front in Heat 1 to beat Birrell but a cagier match in Heat 2 withThomas trying to force MacLaren to the front...however, the Sprockets rider was having none of it. He tracked him all the way coming around in the final straight and just edging the decision on the line. One win to Kain and MacLaren each...
In the second match, Birrell refused to be drawn and closed down the home straight but Kain had half a wheel's advantage and progressed to the final.
Thomas forced MacLaren high on the banking but the Sprockets rider had enough in hand to win by a wheel and progress to the final with Kain.
In the run-off for bronze it was an all red affair with Birrell and Thomas fighting it out. It was close but Thomas had the edge in the dash for the line to go one up.
In the second match Thomas stayed high and took the lead and stayed there despite Birrell narrowing the gap as they came to the line. Third overall for Kyle Thomas.
In the Final pairing MacLaren kept Kain high but the Squadra Scozzese rider dived down and led out to win their first match.
In the second match, Kain led it out with MacLaren closing in on him but Kain managed to hold on and take the win. First spot to Kain, and second to MacLaren.
Junior Men Kilo TT:
Faster and faster for the Junior men in the Kilo TT with Glasgow Cycle Team locking out the podium. The only question was who would come out on top...and it was Matti Dobbins by a whisker...or 0.05 of a second to be precise. Dobbins posted 1:09.700 to Cameron Oliver's 1:09.750 with their teammate Jack Cruden picking up bronze in 1:09.820.
Youth C Girls 500mm TT (Omnium Event 1):
There were only two riders in this category and Molly Evans (Grampian Tigers) overcame Arabella Blackburn (Deeside Thistle CC) in a time of 44.150 and an impressive speed of 40.7kph. Arabella posted a time of 46.060 and a speed of 39kph.
Youth C Boys 500mm TT (Omnium Event 1):
Small frames make it difficult to use the gate so the riders had to go back to theold-fashioned hand starts with Oliver Kelly (Johnstone Wheelers CC), sporting socks straight from The Broons comic strip, the fastest in a time of 44.510. It was close though with Adam Murray (East Kilbride RC) coming home with 44.960 and Reubens Thomson (Grampian Tigers) in 45.180.
Youth C Girls Keirin (Omnium Event 2):
Once the derny pulled off, both riders swapped places over the next couple oflaps but eventually Molly Evans stretched out the gap and came home ahead of Arabella Blackburn.
Youth C Boys Keirin: (Omnium Event 2):
Six riders fought this out: Fraser Anderson (Glasgow Riderz), Oliver Kelly, Adam Murray, Struan Shaw (Stirling BC), Ben Terris (Johnstone Wheelers CC) and Reubens Thomson.
We had to have a restart as one of the riders fell on the start line but they were soon up and on their way. Fraser Anderson took up the running but with a lap to go Oliver Kelly made his move and led Struan Shaw, Adam Murray and Reubens Thomson home.
Junior Women Keirin:
Three riders in this event with Rowan Andrew (Glasgow Riderz) taking the win. Elizabeth Winton (Stirling BC) crossed the line in second place but was judged to have impeded Hannah Paton-Harris in the sprint and was relegated to third spot.
Junior Men Keirin:
Another Glasgow Cycle Team affair with only Callum Lyall (Discovery Junior CC) taking on Jack Cruden, Jamie Penny and Matti Dobbins. Cruden was easily the fastest but the others took him on with Jamie Penny claiming silver and Matti Dobbins bronze.
Junior Women 2000m Pursuit:
In the first heat Abby Stewart (Team 22) was matched against Glasgow Cycle Team's Georgia Young. A fast start from the Team 22 rider saw her stretch a lead which she added to little by little to take a convincing win in 2-47.620 to Young's 2-50.680.
In the second heat Zoe Watters (Sprockets CC) was up against another Team 22 rider, Anna Shackley with the two riders separated on the line by 0.03 second with Watters in 2-40.280 and Shackley in 2-40.310.
This set up a final ride between Zoe Watters and Anna Shackley once again with Abby Stewart and Georgia Young to go again to decide bronze.
It was close all the way between Georgia Young and Abby Stewart but the Team 22 rider took the win by a small margin to earn bronze.
In the Gold medal ride Zoe Watters took a small lead but there was never very much in it. Anna Shackley began to pull her back, little by little, and by the end of the race had the slightest of margins and took a fine Gold medal in 2-40.310 to Zoe's 2-40.410. Two excellent performances.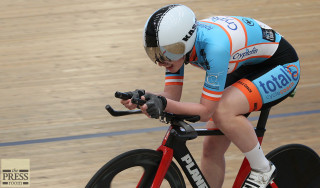 Youth A Girls 2000m Pursuit:
Grace McCabe (East Kilbride RC) was matched against Lauren Davis (Stirling BC) with Iona MacDougall riding on her own. The first match had to be restarted after McCabe pulled out of her pedals, with both riders taking a couple of laps to realize the race had been stopped.
On the restart, the EKRC rider began to pull ahead but it was close as she tired towards the end with Lauren Davis overhauling her and finishing in a time of 3-04.350. Grace McCabe finished in 3-05.950 but this was enough to give her another run against Lauren Davis for the Gold medal ride as Iona MacDougall posted 3-10.620 riding on her own against the clock...never the easiest of prospects.
In the Gold medal ride Lauren Davis pulled ahead early on but Grace McCabe pulled her back almost level before beginning to tire; there wasn't much in it as the Stirling BC rider took the win and the Gold medal in 3-04.210 to Grace's 3-06.500. Gold to Lauren Davis, Silver to Grace McCabe and Bronze to Iona MacDougall.
Youth A Boys 2000m Individual Pursuit:
The fastest time in the qualifiers was set by Squadra Scozzese's Aaron King in 2-22.560 with his teammate Daniel Kain next in 2-24.780. Next in line was Adam Mitchell with 2-27.370 and Kyle Thomas rounded out the run-offs in 2-32.540.
This set up a Bronze ride off between Mitchell and Thomas. It was close all the way to the line but Mitchell edged it in 2-27.560 to take Bronze with Thomas finishing in 2-28.640.
In the final, Daniel Kain looked to have the edge as the riders covered the distance but a mighty effort by Aaron King on the last lap saw him overhaul his teammate and win Gold in a time of 2-23.230 with Kain finishing in 2-24.340, claiming Silver in the process.
Youth C Boys and Girls 8km Omnium Scratch:
The Youth C riders were all pitched together with 8 riders on the track, The race stayed together for pretty much the whole distance but that doesn't really tell the story. Oliver Kelly kicked the pace up initially with Arabella Blackburn yo-yoing off the back.
As the pressure eased she would come back in and move to the front and then attack and drag them all around for a couple of laps. However, Oliver Kelly and Molly Evans were attentive to everything and were keeping their powder dry.
With a lap to run, the Johnstone Wheelers rider shot off the front and was never troubled on his way to the line. Scrabbling in his wake the other riders shot round but Molly Evans was in her comfort zone and finished just a short distance behind Oliver Kelly to take second overall and win the girl's title.
This gave Molly Evans a win in all three counting events and she took the Omnium Gold medal with Arabella Blackburn in Silver.
Oliver Kelly's win in all three events gave him Omnium Gold. Struan Shaw came second in Events 2 and 3 to end on 8 points to Adam Murrays 9 points and in the process took Silver with Adam Murray in Bronze.
Junior Mens 20km Scratch:
Final race of the championships was the Junior Mens 20km Scratch, covering 80 laps of the velodrome. It could have been a training session by Glasgow Cycle Team as they had five riders in the 8-man field. They set about attempting to destroy the field and pretty soon Callum Lyall was in trouble, getting lapped before pulling out. Next to go was EKRC's Scott Moffat but he played a clever game by losing a lap and sticking back in before eventually accepting the inevitable. There was no shaking Edinburgh RC's Louie Doig though and he lived with everything the GCT boys could throw at him.
Matti Dobbins went off the front and although he got up to half a lap ahead he never looked fully committed and was eventually brought back. Into the final 10 laps and Douglas Crawford put in an attack but Doig was not to be beaten so easily and the result was that Jamie Penny and Crawford were shed from the group when it came back together.
Smashing towards the final lap of the track Matti Dobbins made the race his but only just with Louie Doig finishing just behind him and Cameron Oliver just behind the ERC rider. Gold to Matti Dobbins, Silver to Louie Doig and Bronze to Cameron Oliver.
This tied up a fantastic weekend of racing and there's now a little Summer break until the rescheduled 50-Mile TT on July 22nd.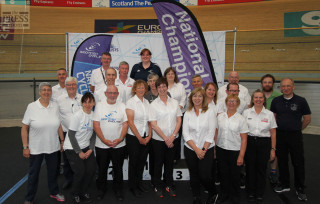 Follow @ScottishCycling for event updates #SCNatChamps