Published: 6 June 2018
Words & Images: The Press Room
It was a day of fast times and more personal bests than you could shake a stick at, as Forfar and Dundee Thistle RC played host to the Scottish National 25-Mile Time Trial Championships 2018.
Returning Commonwealth Games rider, Kyle Gordon (RT23) took time off his personal best to take the senior win in a scintillating time of 48:38, unusually for him, using gears on this occasion.
In the Women's race though we witnessed a new Scottish record as Vicky Smith (AeroCoach) set a superb time of 54:52 to win her race by over three minutes. All records are subject to the usual ratification but another three dropped on the roads above Forfar.
Douglas Watson (GTR-Return to Life) came home in a time of 49:01 to break the Veteran Men's record while the Men's Team record fell to Bioracer-Project Go (David Griffiths, Rob Friel, Ross Thomson) in a time of 2:30:29. In fact, the record had already been broken by RT23 but it was bettered by Bioracer. It was a good day though for RT23 as their Junior riders Alasdair Munro and Kyle Cartmell set a new Junior Men's Team record in a time of 1:50:49. The riders must have known that the supreme keeper of the record books, former Scottish Cycling President Jock Shaw, was there to witness their efforts.
Despite the rain of the previous day the early riders were greeted with bright sunshine and pleasant temperatures. It clouded over a little for the later starters but that was maybe no bad thing as it stopped it getting too hot. The wind was light and was reported by some as quite odd…headwind and cross, turning to tailwind and back again, all in the same direction.
We'd positioned ourselves at our favourite wildlife-watching spot about 9 miles in and the first rider to come past was the Youth A rider Daniel Kain (Squadra Scozzese). It had been a busy weekend of riding for Danny but he looking good. Not too far behind was Kyle Cartmell (RT23) but he was being chased down by his teammate Alasdair Munro. Munro would finish in 54:25 and Cartmell would post 56:24. This would give the RT23 duo a new Scottish record but they were split on the podium by Kain who finished in 55:30.
Onto the Women's race and a whole load of riders posted personal bests but it was the top three who set the pace as they all came home under the hour. Fourth woman off was Debbie Moore and she set the pace with a time of 58:07. Rider after rider tried to unseat her but none could manage it and the penultimate starter Mireille Captieux (Dooleys Cycles) set a time of 59:10. That only left Vicky Smith (AeroCoach) but she was more than up to the task, powering her way around the course in a super time of 54:52, beating Moore by over three minutes and smashing the Competition Record in the process. A superb performance!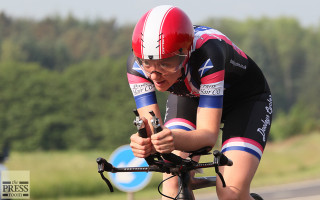 Finishing fourth was Captieux's teammate Laura Nicolson in a time of 1:00:16 and this secured the Women's Team prize.
First man off was David Kirton (Kennoway RC) though by the time he passed us he had been passed by seven other riders…but Dave's a real gent. Some riders smile, others wave, and yet more give thumbs up but Dave always shouts out "thank you" as he passes, even on the way back and from the other side of the road.
So many riders were going fast that almost 40 broke the 55-minute barrier. Riding a little out of sequence was Wilson Renwick (Java Partizan Pro Cycling Team) and he set the first sub-50 time, finishing in 49:18. This would set the pace until the final riders returned to the timekeeper and would end up being good enough to secure 7th overall.
Next to come close was Angus Claxton (Wheelbase Castelli MGD) in 51:06 which would see him end in 9th with the host club's Stewart Irving (Dundee Thistle RC) finishing in 51:16 to secure the final top-ten position.
Fast men now with Alan Thomson (RT23) unseating Renwick with 49:03 and ending in 5th position. His supremacy was short-lived as Liam Beaty (Hawick CC) blasted home in 48:50 and this looked unbeatable. But he was up against tough competition and would finish the day on the second step.
Rob Friel (Bioracer-Project GO) failed to unseat him finishing with 49:08 to end in 6th place just behind Thomson. Hotly tipped Jamie Davidson (Aberdeen Wheelers) finished just three seconds behind Beaty in 48:53 to take the third step of the podium.
A few minutes later, Douglas Watson (GTR-Return to Life) returned in a time two seconds quicker than Thomson to post 49:01 and finish just off the podium…although he did break the Competition Record for Veterans at this distance.
This left just Commie Games rider Kyle Gordon (RT23) and David Griffiths (Bioracer-Project GO) and the deep-sea diver was in sparkling form. Giving it everything he had as he approached the finish line, he posted a time of 48:38 which was superb as it bettered Beaty's time by 12 seconds. Griffiths just couldn't compete and finished in 49:59, ending the day in 8th spot.
It was back to the HQ where the times were read out and medals awarded, tea drunk and cakes eaten. A fantastic day of records being broken and personal times being set. Well done to everyone from Dundee Thistle RC for an excellent event.
Follow @ScottishCycling for event updates #SCNatChamps