It was a day of fast times for the victors but mechanicals and punctures for those less fortunate at the annual running of the Edinburgh Road Club's Tour of the Meldons based in Eddleston in the Scottish Borders, and incorporating once again the Scottish National Olympic Time Trial Championships 2018.
We've had excellent weather in the two previous years and initially it looked as if this year might just get away with bucking the forecasted rain as the sun was out. It's Scotland though and at precisely 10.01am as the first rider was rolling away from the starter, it began to spit with rain at the top of the Shiplaw. Fortunately the occasional shower didn't really come to much but the same can't be said of the wind…and boy was it blowing!
The Meldons course is roughly rectangular in shape, heading north out of Eddleston and then turning left up the Shiplaw hill, a long drawn-out climb with a few twists and turns with varying pitches, and then a grind to the top where the little white dog at a local farm barked at each and every rider as they went past.
Down to the bottom of the hill and a sharp left for the long pull down the valley with its exposed sections and a wind that was switching around, one minute in the riders' faces, the next trying to snatch away the front wheel. The climb up from Lyne is normally very difficult but riders were reporting a strong helping slap on the back from the wind and speeds were fast, leaving just the nasty sting-in-the-tail climb up to the top car park finish at Barony Castle Hotel.
First away was the host club's Hollie Begg and the junior rider would post a respectable 1:26:32 for the 25-mile course. Sarah Williams (West Lothian Clarion CC), off a minute later, would better that time by five minutes while the Glasgow Nightingale's Donna Clayton would reduce that by another 3 minutes. Joanne Clark from the Royal Albert brought the standard down again but now we had RT23 teammates Anna Fairweather and Aileen Clyde trying to better each other. Aileen Clyde posted 1:08:40 and Anna Fairweather, off ten minutes later, returned a time just one second slower than her clubmate.
The times were getting serious now and Sharon Bird from ERC came home in 1:05:51 which would be good enough for second in the women's race, and she also took home the prize for first vet. Mireille Captieux, looking fast despite only wearing one shoe cover, posted a time of 1:06:07 to take Bronze and now all eyes were on the rider who has won this title for the last two years. Lynsey Curran (Dooleys Cycles) knows this course well and finished nearly two and a half minutes to the good in a time of 1:03:24, a superb time and performance which belies her smooth style on the bike.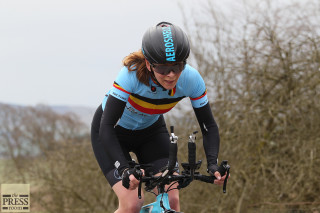 Onto the Men's race and the first rider to come in under the hour was Graham Smith (Law Wheelers CC) in 59:43.
We were looking for a decent time from Bioracer-Project GO's Jason Roberts but we later learned that he punctured four miles in and had to make his way back to the base. The benchmark was set though some 10 minutes later when Andrew Underwood (Carse of Gowrie Velo), climbing seriously fast, would return in a time of 56:40.
This would hold the top spot until Wilson Renwick, now riding in the colours of RT23, returned in a scintillating time of 55:04 and this would see off challenges from Bioracer-Project GO's David Griffiths (56:46), Metaltek Kuota RT's Andy Brown (56:52) and RT23's Ewen Macgillivray (56:54).
The only rider to get close to him was Jamie Davidson (Aberdeen Wheelers CC) in a time of 55:06. Davidson's 2-minute man, James Cusick (Dooleys Cycles) couldn't avoid the catch but his time of 58:29 would see him take the Vets title.
Next home should have been RT23's Alan Thomson but as luck would have it, he punctured his front wheel with 1km to go and couldn't continue as he would have ruined the wheel…he's got fancy tubs for next time so that shouldn't happen again.
Much is expected of Bioracer-Project GO's Rob Friel, mostly by himself, but, riding in a hastily purchased tri skinsuit, he couldn't do anything about the times of the top two and posted 56:03 to finish in the Bronze medal spot…and pick up another medal as part of the winning team with David Griffiths and Richard McDonald.
And then there was one rider still to come in…last man off was GTR-Return To Life's Chris Smart but when he failed to show at the finish we learned that his chain had snapped out on course so the times were now set and we had our winners. A fantastic performance from Lynsey Curran once again and she'll be reluctant to ever give that trophy back now. She also took the team award with Mireille Captieux for Dooleys Cycles. And a great performance from Wilson Renwick as an introductory race for RT23.
It was back to the hall for tea and sandwiches provided by Sonya Drummond and Jonny May!
A quick mention for Johnstone Wheelers rider George Donnelly who crashed on the descent back to Eddleston. The organiser, first aider and Chief Commissaire were quickly on the scene. We understand he's not too bad and we wish him well in his recovery.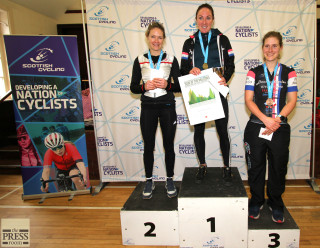 We'll see you at Invergordon for the 10-Mile Championships on May 6th where the riders will be hoping for some fast times.
Follow @ScottishCycling for event updates #SCNatChamps