Team Scotland's cyclists headed to the Mountain Bike trails at Nerang today as Grant Ferguson and Isla Short raced the cross-country.
In Mountain Bike cross-country, riders power up steep climbs, navigate treacherous terrain and hurtle down decents. It demands a huge amount of skill, balance, speed and nerves of steel!
The Women's race set off first with 21-year old Isla Short representing Team Scotland in her first Commonwealth Games. Having triumphed in the 2018 UK National Cross-Country Series recently she was showing great form.
Short rode a brilliantly, holding third position for much of race and looking in control throughout. She slipped back slightly to finish fifth, just 3.32 behind the winner Annie Last of Team England, celebrating with an raised arm and a huge smile. We have definitely not seen the last of Isla Short!
The Men's event followed with Grant Ferguson racing his second Commonwealth games for Scotland. He finished fifth at Glasgow 2014 and 17th at the Rio 2016 Olympic Games.
The racing was fast from the start with riders whipping through the Nerang forest at breakneck speeds. Supporters lined the course cheering and creating an electric atmosphere. Ferguson worked hard, showing immense skill and determination to take 9th overall. Meanwhile, there was drama in the battle for medals as Kiwi Sam Gaze outsprinted team mate Anton Cooper to win after being forced to make a stop in the technical zone during the final lap.
The action continues with the Women's and Men's Road Race taking place on Saturday 14th April, starting with the Women's at 22:45 (UK time) 07:45 (Oz time).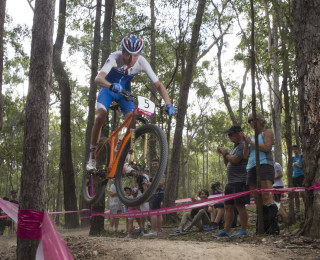 Feeling Inspired? Check out our new MTB workshop
The Science of XC Mountain Bike Performance:a workshop organised by Scottish Cycling and delivered by the Scottish Institute of Sport (SIS). The SIS provides high-performance expertise to sports and athletes throughout Scotland and the UK.
The workshop will be delivered by Dr Len Parker Simpson and Kurt Rumley who are Performance Physiologists with the institute.