Posted: 09 June 2012
---
An exciting morning of racing today for the Scottish Cycling Youth Mini Downhill Final at the UCI Mountain Bike World cup in Fort William. The competition was tough with 70 of the countries fastest riders having qualified from over 200 entries at the 5 regional qualifying rounds, taking place in Fort William, Perth, Newmilns, Stirling and Innerleithen.
The World Cup event village was complete with team trucks, music, live commentary and the chance to stand on the same podium with the worlds best riders, the atmosphere was electric. An early start for a quick practice session on the course and then it was straight into two timed runs with the fastest run deciding the finishing places.
Shona Robison Minister for Commonwealth Games and Sport, Greg Minnaarr, 4 x Men's Downhill winner , Josh Bryceland, 2008 Junior men's World Champion and Katie Curd, Downhill and 4X rider presented our Mini Downhill winners with there medals!!
Results
Under 10 Men
1st Luke Mumford
2nd Corran Carrick-Anderson
3rd James Elliott
Under 10 Women
1st Emily Carrick-Anderson
Under 12 Men
1st Jamie Edmondson
2nd Adam Beaty
3rd Luke Birkett
Under 12 Women
1st Polly Henderson
2nd Megan Daynes
Under 14 Men
1st Matthew Macdonald
2nd Jack Wilson
3rd Aaron Nathan
Under 14 Women
1st Millie Hanlon Cole
2nd Chloe Mclean
3rd Katie Allen
Under 16 Men
1st Neil Stewart
2nd Calum McGee
3rd Jamie Stewart
Under 16 Women
1st Elena Melton
2nd Erika Allen
3rd Lauren Beaty
Also Happy Birthday to Ryan Brannen who is 9 years old today!! He was asked onto the podium and lucky enough to have the whole crowd sign happy birthday to him!!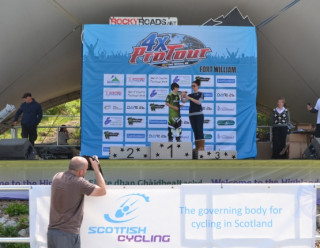 Scottish Cycling would like to say a huge thank you to all the clubs, volunteers, riders, parents, Developing Mountain Biking in Scotland and supporting partners who supported each of the regional rounds and today's final. We would also like to say an extra special thanks to the Fort William Mountain Bike World Cup organising team for all their support and help with the series and letting us be part of an award wining world class event.