Location: Pickburn, near Doncaster, South Yorkshire
Event: 14 August 2013
Report: Richard Mellen/Snowdon Sports
Photos:
---
Local pro Graham Briggs led Team Raleigh to a one-two in the Doncaster Wheelers Summer Road Race at the village of Pickburn, near Doncaster on Wednesday evening.
Briggs, from the village of Rossington near to the course, finally took victory after several second placed finishes in races over the last couple of weeks, and he held off team-mate and fellow Doncaster-based rider Tom Stewart for the win.
It was a humid night, and 27 riders lined up to start with many top elite riders missing due to the Hitters Grand Prix elsewhere in the country, and Team Raleigh started as favourites with five riders in the mix.
With only two laps covered, Raleigh hit the front and as they crossed the start line Briggs and Stewart shot out of the bunch, followed closely by Tom Murray (Metaltek Knights of Old).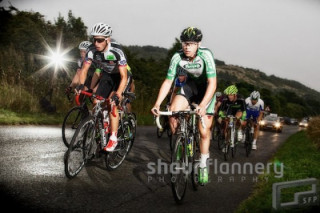 For the next eight laps the three riders built a steady lead over the bunch, and as the rain started to come down Briggs struck out on his own with 11 laps still remaining. Looking like a man with something to prove he set about making sure no-one could get back to him.
His lead soon grew from 11 seconds to almost 1:30 to Tom Stewart and Tom Murray, with the bunch more than three minutes further back. The race was in status quo until Ali Rutherford (Wheelbase Altura) and Dave Shackleton (Wilson Wheels) made a great attempt to bridge to the two riders up the road. Sadly, this wasn't to be and they only got to within nine seconds.
On the last lap, Graham Briggs made it to the back of the bunch on the start/finish straight. Being the consummate pro, he chose to stay behind the bunch in space to take the applause from the large crowd waiting in the fast-fading light to see him take a well-deserved victory on a dark and wet evening.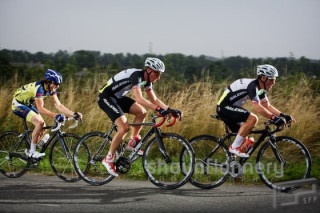 Results:
1 Graham Briggs – Team Raleigh
2 Tom Stewart – Team Raleigh
3 Tom Murray – Metaltek KOO
4 David Shackleton – Wilson Wheels
5 Alistair Rutherford – Wheelbase Altura
6 Matt Holmes – Team Raleigh
7 Hugo Humphreys – Leeds UNI CC
8 Tom Neale – Spalding CC
9 Adam Duggleby – Wheelbase Altura
10 Conor Swift - Bikebox
11 Alistair Hepworth – Clay Cross RT
12 Damian Shilman – Bolsover CC
13 Mark O'Brien – Team Raleigh

Please credit www.britishcycling.org.uk and link back if you use any of our race results.
---
British Cycling would like to thank the organising team, officials and everyone else who helped promote this event. Our sport could not exist without the hundreds of people, many of them unpaid volunteers, who put in many hours of hard work running events, activities and clubs.