|
---
The final round of the British Cycling Premier Calendar Series takes to North Yorkshire roads on Sunday 28 July for the annual Ryedale Grand Prix.
Above: Evan Oliphant (Team Raleigh) began his winning habit back in April at the Tour of the Reservoir. Oliphant's only title rival in Ryedale will be his own teammate Tom Stewart.

In its nine year history the event has on three occasions been run as the National Championship and the 2013 edition uses much of the 2012 Championship course.
Ahead of the final round Evan Oliphant of Team Raleigh heads up the standings; the Scot has been a model of consistency since his win in the opening round at the Tour of the Reservoir Stage Race. He holds a 52 point lead over team mate Tom Stewart and a 76 point lead over third place man; the on-form New Zealander Mike Northey, who ironically won't be at Ampleforth to take up the challenge having been scheduled to ride on the Continent that weekend.
Looking back at the results from last year's Championship for a guide Oliphant might appear to have the edge; he is also a former winner of the Ryedale Grand Prix back in 2006 albeit on a different but nevertheless still rolling course.
Stewart in contrast is very much new on the scene; the university student from Doncaster having crossed over to Team Raleigh at the early part of the season. This followed a storming ride in round one of the Premier Calendar, the Tour of The Reservoir Stage Two Day; since then his progress has been impressive. So it might be interesting to be a fly on the wall at the Team Raleigh pre-race briefing.
Course Map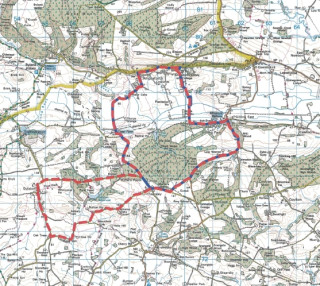 Slightly reduced in length from last year's Nationals course, the race will nevertheless feature 93 miles of unrelenting challenge with climbs of Yearsley Moor and the tough drag through Ampleforth Abbey grounds to be faced with each lap of the race around its two circuit configuration. With the natural terracing of the Abbey grounds spectators are ideally placed to see the race develop as well as taking in the impressive backdrop of one of North Yorkshire's gems.
The event is once again organised by British Cycling Yorkshire Region's Events Group working with York based clubs and will again incorporate the Peter Longbottom Memorial in tribute to the former Malton Olympian. Sponsorship comes again from Grass Concrete Limited via its Grasscrete brand and from Ryedale District Council. Welcome to Yorkshire will be on hand with their Grand Depart information stand.
The race begins at 1.15pm with an estimated finish of 5.26pm. Report and results will appear on the British Cycling website.