Location: Tur Langton, Leicestershire
Event: 2 June 2012
Report: Snowdon Sports
Pictures: Heather Barnett
---
Grimsby's Joe White proved strongest from a leading group of 17 riders who contested the finish of Welland Valley CC's 60-km AA Brown Engineering Road Race on a damp and overcast afternoon in Leicestershire.
The 23-year-old pulled clear on the kilometre-long drag to the finish to score his first road race win ahead of Matt Barrett (Run & Ride Events) and Steve Thompson (Clay Cross RT).
A field of 62 riders rolled away from picturesque village of Tur Langgton, which was decked out in Union Jacks for the weekend's Golden Jubilee celebrations, on a damp and overcast afternoon to cover 13 laps of a 4.6-km circuit.
By the end of the first lap a three-man break of Barrett, Paul Cox (Pedal Power Loughborough) and Lee Wiggington (Bio Cadenza RT) had slipped off the front, and their lead was 25 seconds when a touch of wheels brought down a number of riders in the bunch.
James Worley (Bio Cadenza RT) and Chris Limberger (Mercia HBM CC) came off worse, suffering facial injuries, and were treated by the paramedic team of Gerrard and Maria Brooks, and with the field of third and fourth categories blown apart, commissaire Rowland Summerlin took the decision to stop the race at the end of the third lap and allow the bunch to regroup behind the leading trio who restarted with their 25-second advantage intact.
Barrett took the first prime ahead of Cox after Wigginton had dropped back to the bunch, before the field came back together and then split into two distinct groups with 17 at the front and Cox taking the second prime.
Jon Norton (Lichfield CRC) made a brave bid for victory going into the last two laps, but he was never allowed to get out of sight and – ten seconds clear coming to the final climb – was overhauled with 700 metres to go before White made his winning move.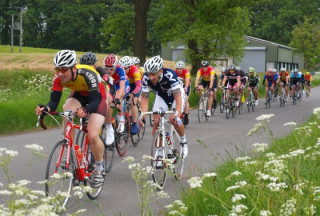 Result:
1 Joe White (BC Private Member)
2 Matt Barrett (Run & Ride Events)
3 Steve Thompson (Clay Cross RT)
4 Paul Bennett (Bio Cadenza RT)
5 Andy Parr (BC Private Member)
6 Callum Deakin (BC Private Member)
7 Neil Taylor (Coalville Wheelers)
8 Ronald McWilliam (VC Lincoln)
9 Robert White (Birmingham University CC)
10 Lee Wigginton (Bio Cadenza RT)
---
British Cycling would like to thank the organising team, officials and everyone else who helped promote this event. Our sport could not exist without the hundreds of people, many of them unpaid volunteers, who put in many hours of hard work running events, activities and clubs.