Location: Builth Wells, Powys
Event: 27 May 2012
Report: Snowdon Sports
Pictures: Peter Hamer -
Video: Malwyn Ransom
Full race report
---
Gareth McGuiness of Energy Cycles powered away from a break of four riders to open up a 42 second gap and prevail in the Welsh Road Race Championships in Powys.
The 43-year-old Caernarfon man was part of a group that had made a break in the 78-mile race before making his move to win comfortably.

Winner: Gareth McGuniess of Energy Cycles
The rest of the group - Dan Pearson (Willier/Live to Ride), Ed Laverack (Team Tredz) and Glyndwr Griffiths (Urban-Cyclery.co.uk) fought it out for second place with Pearson quickest.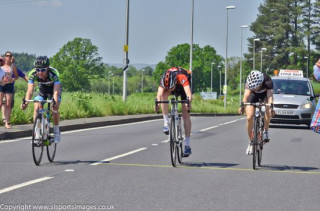 2 Junior riders claimed 2nd and 3rd place: A Close sprint, Dan Pearson left pips Ed Laverack
Russell White of Forza Cycles was some 30 seconds down on the top four and had to settle for fifth place with the rest of the field trailing behind him.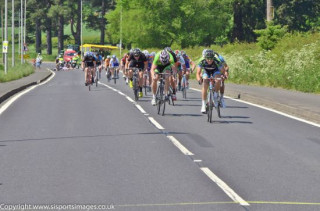 Hugh Wilson won the bunch sprint for 5th as a number of riders crashed with 200mtrs to go
Gareth said after the race: "It was a fast race and from the start there were a few riders that clipped off the front and six got away.
"It ended up being a gap of about a minute so I decided I was going to try and bridge over it and Hugh Wilson came with me. We worked together and then four guys joined us and made quite a big group.
"I kept pushing at the front with some of the junior riders and I was encouraging the young lads to push and they did.
"But then with about six miles left I saw that they were starting to weaken so I just attacked, got my head down and rode the last five miles on my own.
"I think it was a gap of about a minute behind me. The course really suited me and I was comfortable over the climbs.
"It was tough after 70 miles in the heat, my bottle was dry with about 10 miles to go but the legs were still good. I just had a good day at the office!"
The race organiser would like to extend his thanks to all riders who took part, the marshals, motorcycle escort, commissaires, service cars and all others who helped to put on an excellent event on a testing course on a beautiful day in mid Wales.
The organiser would also like to take this opportunity to remind all riders to pre-enter the Welsh
Criterium Championships on August the 4th, which this year are being held on the Royal Welsh Showground in Builth Wells and includes racing for all categories from Under 8 through to the Veterans (Masters C+) – link here: Welsh Circuit Race Championships

Results:
E/1/2/3/4/J:
1 Gareth McGuinness (Energy Cycles)
2 Dan Pearson (Willier/Live to Ride)
3 Ed Laverack (Team Tredz)
4 Glyndwr Griffiths (Urban-Cyclery.co.uk)
5 Russell White (Forza Cycles)
6 Hugh Wilson (Willier/Live to Ride)
7 Matt Rowe (Scott-Metaltek)
8 Rowan Marshall (Urban-Cyclery.co.uk)
9 Robbie Westwood (M&D Kinetica RT)
10 Bevan Humphreys (Urban-Cyclery.co.uk)
---
British Cycling would like to thank the organising team, officials and everyone else who helped promote this event. Our sport could not exist without the hundreds of people, many of them unpaid volunteers, who put in many hours of hard work running events, activities and clubs.