---
Tom Murray is a professional bike rider with IG-Sigmasport. The 26 year old wiry Yorkshireman from Huddersfield is a vastly experienced racing cyclist. Excelling at criterium racing he won bronze at the 2011 British Cycling National Circuit Championships in Beverley. Later in the season he displayed his range of skills by winning silver at the Madison championships on the boards of Manchester Velodrome.
A crucial road team member for IG-Sigmasport, Tom can always be relied on to give everything during a race. A hard man, a battler, never giving up whatever the conditions or adversity suffered, that's just the sort of rider we needed to give us insight into the 2012 edition of the Tour Doon Hame. Our man on the ground Andrew Kennedy spoke to Tom after every stage and recorded his thoughts on Team Endura, the rain, Scottish race officials and biscuits!
Sunday 8 April, 80 miles road stage from Castle Douglas to Girvan.
It was a bad day for our team today, Simon Richardson was our only rider to get into the early break, we made a mistake in not getting enough riders up there, we missed it, so had to get everyone on the front to try and bring the group back. IG-Sigmasport spent most of the day driving the peloton. Then disaster for me, I hit a big pot hole and my back wheel collapsed. I had to wait for our team car to get a spare, then chase back on. I can honestly tell you I was knackered from the effort of riding on the front then having to chase back on.
Team orders were when we got close enough to bridge to the leaders me, Dan Lloyd and Steve Lampier had to jump across to the break. I didn't have the legs for that but some of our riders did manage to get close to the leading group.
All credit to Erick Rowsell, Richard Handley and Mike Northey for staying away, we could see them just up the road but couldn't quite get them back before the finish in Girvan. Steve Lampier was our best finisher in 19th, but that result didn't reflect the work we put in as a team.
Now for a rest for a couple of hours, just need to keep dry and warm, maybe watch Boonen win the Paris-Roubaix if I can find a TV or internet connection. The crit this afternoon is going to be very fast, it's only about 40 minutes, but I think it's going to be wet and cold. We should do well in the crit, we have some fast guys in our team.
Sunday afternoon criterium stage, Victory Park, Girvan.
That was very wet, and very fast. The rain was heavy at the start and just got heavier. But it doesn't really affect the riders as much as the spectators think. If you have a race cape on, good gloves and waterproof overshoes then you can stay warm.
The race went pretty much as I thought it would, I like the Girvan circuit. The roads are wide and open and it doesn't just suit the crit specialists. The format of the race with the intermediate sprints makes it very competitive.
We paid for our big effort on the front of the peloton during the first stage this morning and our riders just didn't have the speed to get up there. Wouter Sybrandy put in a few attacks, but got brought back. I think it was always going to be a big bunch gallop at the end.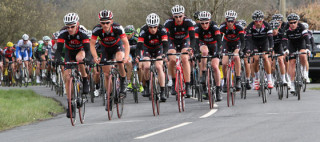 You know you only have one pack of biscuits and we used all our biscuits this morning. We should have saved a few for the crit.
The Endura team are very strong and we have got to take the race to them. Road racing in this country is now about team racing and if we are going to have any chance of beating Endura in this race then we need to work as a team. All our guys know that and that's what we're trying to do. Tomorrow is going to be the hardest stage, 104 miles over some pretty big hills, with a bit of luck Endura will have to work hard to defend their jerseys and it might give us a chance to exploit them.
Double bad luck for me when the crit results were published, the commissaires fined me £10 for not signing on, I thought we'd done it this morning in Castle Douglas, then I found they'd added three minutes to my time. I tried talking to them explaining which group I was in but they wouldn't have it. Very strict in Scotland, have you seen the list of fines they dish out every day, sometimes I wonder what's going on, it's hard enough already without having to pay fines and get time added. Oh well, I'll keep my head down tomorrow and hope for a bit of better luck.
Monday 9 April, 104 mile road stage from Moffatt to Annan.
I started and finished in my race cape, that tells you everything you need to know about today. It was cold but not unbearable. I raced here last year and knew the conditions can be really bad, and that was the case today.
I enjoyed the racing though, there was a natural selection of the best riders on the climbs, that's how it should be. I knew the main climb of Talla Linns because we did it in reverse in the Tour of Britain last year, it's narrow and very tricky in places, I think the severity caught a few of the guys off guard. Only 83 finishers today, with a lot of abandonments during the stage.
After that early break went, everything settled down. Scott Thwaites had missed the break and was still in the main field, he jumped across on his own, that was pretty impressive riding by Scott. From our team Steve Lampier and Wouter Sybrandy made the break, so for me it was just a case of riding in the main field and trying to stay warm. The pace in the main group is not as fast as the break so you can suffer with cold if you're not careful.
Steve Lampier and Wouter Sybrandy rode well in the break and both managed to move up on GC, so at the end of the three stages we had two riders in the top 10 of general classification. That's not bad considering how strong Endura are but we've got to work out how to beat them in the future.
I had better luck keeping away from the commissaires today, no fines or time added, better than Matt Cronshaw who I heard felt their full force with a disqualification.
Back to Huddersfield now, I bet it's been sunny in Yorkshire all Easter. A wind down and a steady week ahead and then preparations begin for the Tour Series and National Circuit Series which are my big objectives for the year.
Tom finished 72nd overall on general classification after the three stages,13 minutes 16 seconds behind the winner but would probably dispute the final time. Thanks for the insight Tom and enjoy the rest of your season.