Location: Monmouth, South Wales
Event: 1 April 2012
Report: Snowdon Sports
Pictures: Peter Hamer

---
Dale Appleby of Metaltek Scott took victory in the Abergavenny Spring Handicap Road Race held in Monmouth on Sunday.
It was Appleby's first race back after breaking his collar bone in the Evesham Vale Road Race, and he only had it plated the week before the race.
The lead was exchanged a number of times between riders with a number of breaks being made throughout the race.
Two junior riders, Zak May of Cardiff JIF and Scott Davies of M&B Cycles raced out in front on the final lap but were eventually caught by the bunch, resulting in a sprint finish.
Appleby managed to cross the line first with Matt Beckett of Cardiff JIF in very close proximity.
A pack of other riders raced through within a split second to make for a dramatic end to the race.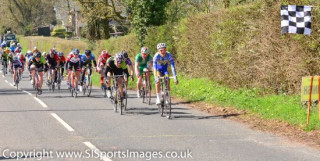 "Me and team-mate Matt Rowe were taking it in turns to have a go and make sure nothing got away," said Appleby afterwards. "I was supposed to be leading him out for the sprint as my doctor told me not to get out of the saddle, but it didn't work out that way!"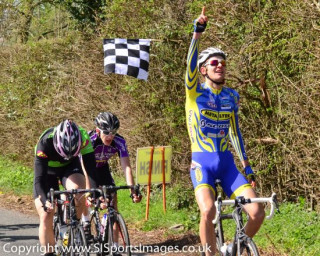 The quickest woman on the day as Elinor Barker of Scott Contessa. The 17-year-old Cardiff rider also had to be strong in a bunched sprint finish but managed to fend off challenges from Lowry Bunn (Abergavenny RC) her Scott Contessa team mate Molly Weaver.
Results:
E/1/2/3/4:
1 Dale Appleby (Metaltek Scott)
2 Matt Beckett (Cardiff JIF)
3 Daniel Harris (Halesowen A&CC)
4 Gerry Bowditch (Mapledown Racing)
5 Graham Boswell (Cardiff Ajax)
Women:
1 Elinor Barker (Scott Contessa)
2 Lowry Bunn (Abergavenny RC)
3 Molly Weaver (Scott Contessa)
---
British Cycling would like to thank the organising team, officials and everyone else who helped promote this event. Our sport could not exist without the hundreds of people, many of them unpaid volunteers, who put in many hours of hard work running events, activities and clubs.