---
In a reversal of the positions in the second round, Sheffield-based Adela Cater (Hope Factory Racing) took victory in the third and final Croft Season Starter, staged at the North Yorkshire motor racing circuit by Clifton CC on Saturday.
Carter, 29 and originally from Durham just a few miles north of the course, had to settle for second spot behind Vicky Annis (VC Bradford) in the previous week's event. But she edged ahead of Whitby-based Annis by around a bike length this time.
A sunny day was spoiled somewhat by a strong wind blowing over the exposed course as the riders tackled the handicap event which was split into two groups, but the longmarkers did well to stay clear for around 26 minutes of the 46-minute race.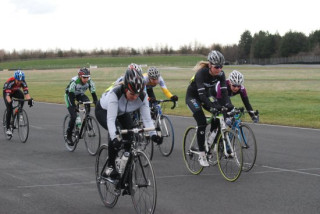 The scratch group started two and a half minutes behind, and once they had caught up the strong riders took their time before putting the hammer down and forging on to victory.
With three laps to go the large bunch finally began to show signs of fragmenting, and a large group of ten clipped off the front of the bunch.
However, with a sprint in prospect, Britt Tate (Dirt Wheels) attacked on the finishing straight on the penultimate lap in search of a solo victory.
However, she was caught on the final circuit, and had to settle for fourth.
Carter and Annis came round her first, and went on to finish in that order, while Durham University CC's Katharine Broadbent finished third for the second week running, around ten seconds further back and just ahead of Tate, while the remains of the leading group came in another 30 seconds back.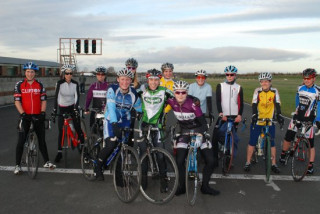 Results:
1 Adela Carter (Hope Factory Racing) 46:00
2 Vicky Annis (VC Bradford) @ same time
3 Katharine Broadbent (Durham Univ CC) @ 10sec
4 Britt Tate (Dirt Wheels) @ same time
5 Helen Jones (unattached) @ 40sec
6 Alice Grieve (Stockton Wheelers)
7 Heather Tuffs (Clifton CC)
8 Kerry Gowland (Infinity Cycles)
9 Victoria Hood (Team Swift)
10 Brenda Hare (unattached)
---
British Cycling would like to thank the organising team, officials and everyone else who helped promote this event. Our sport could not exist without the hundreds of people, many of them unpaid volunteers, who put in many hours of hard work running events, activities and clubs.