---
Jon Tiernan-Locke put in another superb performance on Sunday to clinch the second stage and the overall classification at the Cycliste International du Haut Var (UCI 2.1) in Provence, France.
Tiernan-Locke makes contact with the leaders on the final climb - he then rode through them to claim the win

Lying in third spot after the previous day's opening stage, Tiernan-Locke showed real class in Sunday's 205km stage between Frejus and Freyence. Despite losing two team-mates to illness (Rene Mandri was unable to start stage one and Alexandre Blain succumbed early on stage two), the Endura Racing team worked hard to keep Jon in the right place on the road and their efforts were rewarded as he jumped clear of the bunch with 1km to go to catch and pass a lead group of four riders on the final brutal climb into Freyence.
Tiernan-Locke took the stage by one second from Julian El Fares (Team-Type 1) and Julian Simon (Saur-Sojasun) and the overall classification from the same riders by six seconds and nine seconds respectively.
Jon Tiernan-Locke enjoys his moment on the podium
Jon Tiernan-Locke was understandably pleased with the result: "It's perfectly suited to me round here, punchy climbs that sap legs. I could actually enjoy it today because at the Tour Méditerranéen I felt a lot of pressure, but here I was confident coming into the race that I could actually win this and I could relax a bit. To be honest I'm quite glad I didn't win yesterday even though I thought it might be my only chance.
I knew yesterday I could probably win this, I struggled on the fast bits but when it became a slogfest I knew I would be strong, plus of course I knew I would have some strong team mates up with me looking after me. They did a great job. I'm so happy that my form has come good this early."
Endura's manager Julian Winn paid tribute to the team and Tiernan-Locke: "Just an unbelievable ride from JTL & the boys today. We were a man down to start, and then Alex was ill early on so we were down to six. The five that were with Jon, really stepped up today and I think they did a tremendous job. I am really speechless with regards to Jon, that was incredible, he's just put himself into a completely different league. The team should all be proud of what they did, Rob Partridge and Ian Bibby did some awesome riding for him closing the gaps, it's just amazing, been an incredible start to the season - JTL has now established himself as a major player and put Endura firmly on the map."
Video
There's a rather good video of the last 10 minutes of the crucial last stage on Youtube, which shows JTL's race-winning move up the final climb.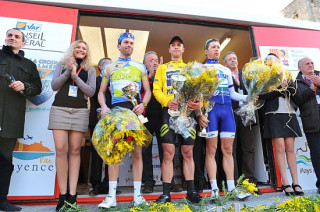 Jon Tiernan-Locke - two great wins in two weeks for the Endura star