Matt Winston: "Before The Championships We Would Have Taken Anything"
---
British Cycling's Olympic Development Programme coach Matt Winston has had his dream World Championships, taking two medals in a week where he claims the junior team would have taken anything.
Following Elinor Barker's silver in the junior time trial, Winston admitted a quiet confidence within the British camp before the junior women's road race - but it was one fading quickly at the crucial stage of the event.
With two riders away, no Briton in the move and apathy from the peloton, Winston's concerns were compounded by an unplanned attack by sprinter Lucy Garner five kilometres from the finish.
However, Garner's attack would prove fundamental in encouraging an organised chase, ultimately bringing the bunch back together and creating Britain's first junior World road race champion since Nicole Cooke in 2001, sealing a pair of fantastic results and Winston's delight.
"At the start of the Championships I would have taken any kind of medal, so to get two is obviously special. We went in with a plan and executed it well and following Elinor Barker's silver earlier in the week I was quietly confident going into the road race and discussed the possibilities of winning the event with the girls.
"I was quietly confident of a top five at least and maybe a medal. We went in with a plan which worked well; there was no one leader on the team, but in a sprint we would work to protect Lucy Garner and Hannah Barnes.
"Early on Amy Roberts and Elinor Barker did a great job, forcing all the other teams to chase. For a time Amy was away for around 10km, while Lucy got involved in a crash which left her off the back and chasing."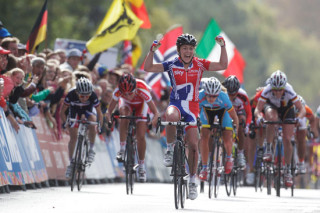 However, at the point when the German and Italian rider went up the road and gained a significant lead Winston admitted he was concerned.
"Yes, I thought we missed the big move and especially when Lucy went of the front of the bunch alone, I thought she was panicked and maybe making a mistake."
However, that possible error served to transform the race, lifting the heads of those in the peloton and forcing the race to be closed down for a sprint finish, a place where the correct tactics were essential.
"I told Lucy to be patient on that final climb to the finish, it was quite hard and selective and you could not go early. She rode it perfectly and became the World Champion. The Olympic Development Programme is about progression - not winning - but when you secure the World Championships with a first year rider it's very satisfying, both for the individual and for the Programme."