│
Event: 29th-31st July 2011

Photo: Champion Ed Clancy (centre) will be looking to retain his crown
The annual East Yorkshire Classic Cycling Weekend, running from the 29th-31st July 2011, will incorporate the 2011 National Circuit Race Championship and East Yorkshire Classic Premier Calendar Road Race.
Friday (29th July 2011) evening's National Elite Circuit Race Championships, in the medieval town centre of Beverley, has 80 entries with Olympic gold medallist Ed Clancy defending his title.
Six hundred and fifty leisure riders have entered the Saturday (30th July 2011) rides around the Yorkshire Wolds.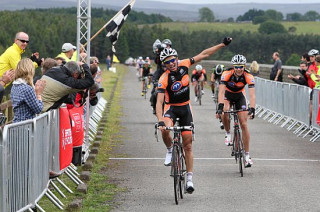 Photo: Ian Bibby is currently top of the Premier Calendar after a win at the Tour of the Reservoir
The Sunday (31st July) East Yorkshire Classic road race is the latest 2011 Premier Calendar Series race with Motorpoint Pro Cycling's Ian Bibby currently on top after winning the Tour of the Reservoir. The race has attracted all the big UK teams, with 140 racers from many nationalities lining up.
Michael Boyle, race media chief, said: "This is a wonderful example of East Riding of Yorkshire Council, EY Events, Beverley Town Council, the police and Hull Thursday Road Club, as well as numerous local sponsors, working in partnership to deliver a free sporting spectacular."
East Yorkshire Classic - Rider List
31st July 2011

1 David Clarke Endura Racing
2 Robert Hayles Endura Racing
3 James Moss Endura Racing
4 Evan Oliphant Endura Racing
5 Robert Partridge Endura Racing
6 Scott Thwaites Endura Racing
7 Callum Wilkinson Endura Racing
8 Ian Wilkinson Endura Racing
9 Thomas Moses 100% ME
10 Steven Guymer Active/CPCycles RT
11 Chris Snook Banjo Cycles.com
12 James Thompson Boneshakerbikes.com
13 Matthew Williams Boneshakerbikes.com
14 Anthony Moye CC Luton
15 Harry Grey Club Member
16 Andrew Hastings Club Member
17 Colin Parry Club Member
18 Dale Appleby Cyclepremier.com - Metaltek
19 Tom Barras Cyclepremier.com - Metaltek
20 Ross Creber Cyclepremier.com - Metaltek
21 Ashley Finn Cyclepremier.com - Metaltek
22 Stephen Gallagher Cyclepremier.com - Metaltek
23 Simon Wilson Cyclepremier.com - Metaltek
24 Liam Cowie Endura/Pedalpower Development Team
25 Gary Hand Endura/Pedalpower Development Team
26 Robbie Hassan Endura/Pedalpower Development Team
27 David Lines Endura/Pedalpower Development Team
28 Scott McCrossan Endura/Pedalpower Development Team
29 Dougie Young Endura/Pedalpower Development Team
30 Jack Adams Forme Procycliste Sanlamere
31 Will Fox Forme Procycliste Sanlamere
32 Dexter Gardias Forme Procycliste Sanlamere
33 Alex Coutts Giant Kenda
34 Simon Baxter Herbalife/Wheelbase.co.uk
35 Jack Cutsforth Herbalife/Wheelbase.co.uk
36 Alastair Kay Herbalife/Wheelbase.co.uk
37 Ian Taylor Herbalife/Wheelbase.co.uk
38 Milan Sihelsky Kuota-Spinergy-GSG
39 Matthew Fostun Langdale Lightweights Racing Team
40 Paul Fostun Langdale Lightweights Racing Team
41 Russell Falder Mammoth Lifestyle Racing Team
42 Pete Vincent Mid Devon CC
43 Will Berjgfelt Motorpoint Pro Cycling
44 Marcin Bialoblocki Motorpoint Pro Cycling
45 Ian Bibby Motorpoint Pro Cycling
46 Malcolm Elliott Motorpoint Pro Cycling
47 Tobyn Horton Motorpoint Marshalls Pasta
48 Johnny McEvoy Motorpoint Marshalls Pasta
49 James Sampson Motorpoint Marshalls Pasta
50 Pete Williams Motorpoint Marshalls Pasta
51 Matthew Pilkington Progressive Cycle Coaching Development
52 Edward Clancy Rapha Condor Sharp
53 Dan Craven Rapha Condor Sharp
54 Zak Dempster Rapha Condor Sharp
55 Ben Greenwood Rapha Condor Sharp
56 Kristian House Rapha Condor Sharp
57 Tom Southam Rapha Rapha Condor Sharp
58 Andrew Tennant Rapha Condor Sharp
59 Jonathan Tiernan-Locke Rapha Condor Sharp
60 Adam Duggleby Science in Sport.com
61 Alistair Rutherford Science in Sport.com
62 Stephen Adams Sigma Sport Specialized Cycling Team
63 Kit Gilham Sigma Sport Specialized Cycling Team
64 Russell Hampton Sigma Sport Specialized Cycling Team
65 Steve Lampier Sigma Sport Specialized Cycling Team
66 Tom Last Sigma Sport Specialized Cycling Team
67 Tom Murray Sigma Sport Specialized Cycling Team
68 Simon Richardson Sigma Sport Specialized Cycling Team
69 Wouter Sybrandy Sigma Sport Specialized Cycling Team
70 Mark Baines Spirit Racing Team
71 Kevin Dawson Sportscover Strategic
72 Collin Humphrey Sportscover Strategic
73 Duncan Moralee Sportscover Strategic
74 John Tanner Sportscover Strategic
75 Christopher Daddy Star Bikes RT
76 Daniel Keena Star Bikes RT
77 Richard Cartland Team Corley Cycles/Cervelo/Alpha R.C
78 Roy Chamberlain Team Corley Cycles/Cervelo/Alpha R.C
79 Ashley Cox Team Corley Cycles/Cervelo/Alpha R.C
80 Jake Hales Team Corley Cycles/Cervelo/Alpha R.C
81 Matthew Higgins Team Corley Cycles/Cervelo/Alpha R.C
82 Ian Knight Team Corley Cycles/Cervelo/Alpha R.C
83 James Millard Team Corley Cycles/Cervelo/Alpha R.C
84 Michael Smith Team Corley Cycles/Cervelo/Alpha R.C
85 Dieter Droger Team Cystic Fibrosis
86 Luke Dunbar Team Qoroz
87 Scott Law Team Qoroz
88 Ben Stockdale Team Qoroz
89 Mike Thelwell Team Qoroz
90 Matt Ullmer Team Qoroz
91 Matt Cronshaw Team Raleigh
92 Dan Fleeman Team Raleigh
93 Richard Handley Team Raleigh
94 Liam Holohan Team Raleigh
95 Jeroen Janssen Team Raleigh
96 Gael Le Bellec Team Raleigh
97 Ryan Parnes Team Raleigh
98 Jamie Sparling Team Raleigh
99 Marloe Rodman Team Sportscover Strategic Altura
100 Tom Bustard Team Sportscover Strategic Altura
101 Magnus Backstedt Team UK Youth
102 Steven Burke Team UK Youth
103 Niklas Gustavsson Team UK Youth
104 Freddy Johansson Team UK Youth
105 Gruff Lewis Team UK Youth
106 James Lowsley-Williams Team UK Youth
107 David McGowan Team UK Youth
108 James Stewart Team UK Youth
109 Ben Simmons Team Wiggle
110 Robert Crampton Teamwallis CHH Racing Team
111 Daniel Davies Teamwallis CHH Racing Team
112 Ben Dean Teamwallis CHH Racing Team
113 James Gullen Teamwallis CHH Racing Team
114 Calum Nicholson Teamwallis CHH Racing Team
115 Jacob Tipper Teamwallis CHH Racing Team
116 Mike Cuming Twenty3c-Orbea
117 Andrew Griffiths Twenty3c-Orbea
118 Joseph Perrett Twenty3c-Orbea
119 Rafa Rodrigeuz Segarra Twenty3c-Orbea
120 Robin Sharman Twenty3c-Orbea
121 Jack Pullar Vanillabikes.com
122 Joe Norledge Velo 29
123 Conor Ryan Velo Club Montpelier
124 Rob Carter Velo29 Cycling Team
125 Michael Dales Velo29 Cycling Team
126 Christopher Mark Velo29 Cycling Team
127 Jack Rees Velo29 Cycling Team
128 Daniel Smith Velo29 Cycling Team
129 Mike Rudling Wightlink Cycle RT
130 Hugh Wilson Wilier/Goselfdrive.com
131 Sam Ward Wills Bros Racing
132 Jack Cousins Wills Wheels CC
133 David Shackleton Wilsons Wheels Race Team
134 Nathan Wilson Wilsons Wheels Race Team
135 Callum Sewell York Cycleworks
For full details of race routes, timing and riders visit www.eastyorkshireclassic.co.uk/nationals.
National Circuit Race Championship - Rider List
Friday 29th July 2011
1 Edward Clancy Rapha Condor Sharp
2 Graham Briggs Rapha Condor Sharp
3 Dean Downing Rapha Condor Sharp
4 Ben Greenwood Rapha Condor Sharp
5 Kristian House Rapha Condor Sharp
6 James McCallum Rapha Condor Sharp
7 Tom Southam Rapha Condor Sharp
8 Andrew Tennant Rapha Condor Sharp
9 Jonathan Tiernan-Locke Rapha Condor Sharp
10 Thomas Moses 100% ME
11 Dale Appleby Cyclepremier.com - Metaltek
12 Tom Barras Cyclepremier.com - Metaltek
13 Stephen Gallagher CyclePremier.com - Metaltek
14 Anthony Gibb CyclePremier.com - Metaltek
15 Richard Hepworth CyclePremier.com - Metaltek
16 Robert Smail CyclePremier.com - Metaltek
17 Jason White CyclePremier.com - Metaltek
18 Simon Wilson CyclePremier.com - Metaltek
19 David Clarke Endura Racing
20 Robert Hayles Endura Racing
21 James Moss Endura Racing
22 Evan Oliphant Endura Racing
23 Robert Partridge Endura Racing
24 Scott Thwaites Endura Racing
25 Callum Wilkinson Endura Racing
26 Ian Wilkinson Endura Racing
27 David Lines Endura/Pedalpower Development Team
28 Lewis Craven Herbalife/Wheelbase.co.uk
29 Jack Cutsforth Herbalife/Wheelbase.co.uk
30 Andrew Hawdon Herbalife/Wheelbase.co.uk
31 Alastair Kay Herbalife/Wheelbase.co.uk
32 Stuart Reid Herbalife/Wheelbase.co.uk
33 Will Berjgfelt Motorpoint
34 Ian Bibby Motorpoint
35 Malcolm Elliott Motorpoint
36 Tobyn Horton Motorpoint
37 Johnny McEvoy Motorpoint
38 James Sampson Motorpoint
39 Pete Williams Motorpoint
40 Robert Watson RVO Racing
41 Gary Adamson Science In Sport.com
42 Adam Duggleby Science In Sport.com
43 Alistair Rutherford Science In Sport.com
44 Stephen Adams Sigma Sport Specialized Cycling Team
45 Thomas Copeland Sigma Sport Specialized Cycling Team
46 Daniel Duguid Sigma Sport Specialized Cycling Team
47 Kit Gilham Sigma Sport Specialized Cycling Team
48 Russell Hampton Sigma Sport Specialized Cycling Team
49 Steve Lampier Sigma Sport Specialized Cycling Team
50 Tom Last Sigma Sport Specialized Cycling Team
51 Tom Murray Sigma Sport Specialized Cycling Team
52 Simon Richardson Sigma Sport Specialized Cycling Team
53 Tom Bustard Sportscover Strategic
54 Kevin Dawson Sportscover Strategic
55 Collin Humphrey Sportscover Strategic
56 Duncan Moralee Sportscover Strategic
57 John Tanner Sportscover Strategic
58 Christopher Daddy Star Bikes RT
59 Simon Gaywood Team Corley Cycles/Cervelo/Alpha R.C
60 Jake Hales Team Corley Cycles/Cervelo/Alpha R.C
61 Matthew Higgins Team Corley Cycles/Cervelo/Alpha R.C
62 James Millard Team Corley Cycles/Cervelo/Alpha R.C
63 Jamie Newall Team Corley Cycles/Cervelo/Alpha R.C
64 Michael Smith Team Corley Cycles/Cervelo/Alpha R.C
65 Matt Cronshaw Team Raleigh
66 Matt Gee Team Raleigh
67 Richard Handley Team Raleigh
68 Liam Holohan Team Raleigh
69 Matt Jones Team Raleigh
70 Matt Kipling Team Raleigh
71 Steven Burke Team UK Youth
72 Gruff Lewis Team UK Youth
73 James Lowsley-Williams Team UK Youth
74 David McGowan Team UK Youth
75 James Stewart Team UK Youth
76 Ben Simmons Team Wiggle
77 Dean Shannon Twenty3c-Orbea
78 Jack Pullar Vanillabikes.com
79 David Shackleton Wilsons Wheels Race Team