| | | | | | | | |
| --- | --- | --- | --- | --- | --- | --- | --- |
| | Follow britishcycling.org.uk on | | | | | | |
French invasion! BC members enjoy cycling success
5th July 2011

Photo: Charlie leads the pack
Most people move to France to get away from the rain, the over-inflated house prices and the endless repeats of Midsomer Murders. But some have an entirely different motivation - the cycling.
Ian and Emma Cushway and their three boys, Charlie (9), Max (7) and Rafe (3) took the plunge in 2007 and bought a house in Brittany. Two years later they had sold their house in Worthing, and moved out lock, stock and barrel.
The initial attraction was a big zero on their mortgage statement, but living in France - and Brittany in particular - held something much more important. A thriving environment for the two elder boys to get involved in competitive cycling.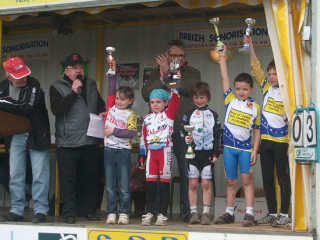 Photo: Max enjoys his first podium finish
A bit of research revealed that there was an 'Ecole de Velo' based in the nearby town of Josselin, about 40km north of Vannes and it wasn't long before Charlie and Max were enlisted. Having undergone a medical to obtain a racing licence the boys were kitted out in club shorts and jerseys, resplendent with sponsor's names - just like the pros!
A couple of secondhand 25in wheel Decathlon road bikes were obtained from the local classifieds, and they were ready to roll.
Their first road event in February contained a field of around 40 riders on a hilly course on closed public roads and served as a rude introduction to riding and racing in France.
However, with twice weekly training sessions with their club (one on Wednesday afternoon, there being no school in France on that day!) the boys soon found their form with Max gaining his first podium finish (coming third) in his 'Poussins' age group in March.
Charlie followed with a second place in April, and took his first overall 'Pupille' victory in May. In fact, the two brothers soon got used to seeing their photographs in the local papers.
With races locally every weekend, it's been an action packed racing calendar in their first season and their good placings have already gained the attention of the local French riders.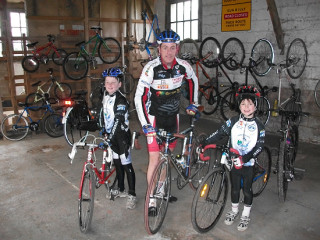 Photo: Dad Ian, Max and Charlie show off their bikes!
"They're starting to mark us out, it's got quite tactical," commented Charlie who has now enjoyed four outright wins so far this year.
The beauty, of course, is the open car-free roads and the culture of cycling in Brittany, which has served to nurture their enthusiasm. And the great thing is that all of the races take place on public roads.
Said Charlie: "It's a real party atmosphere, just like a mini Tour de France with music, barriers and plenty of local spectators so it's brilliant if you get up on the podium at the end."
Now coming towards the end of their first road season, Charlie and Max are already looking forward to 2012 and using the experience they've both gained to further improve upon their results. Indeed, things have moved up a gear with Charlie having acquired a new Trek 1.2 bike and interest in them being shown from bigger clubs.
"What started off as just a bit of weekend fun has now become a real passion," said dad Ian who has also joined a local sponsored club, rediscovered his old fitness and takes part in Pass Cyclisme races.
"The boys have been poached by a club in Vannes which is good because they have their own velodrome and used to act as a filter club for some of the pro teams, so they will get experience riding on the track as well next year."