Follow britishcycling.org.uk on
Report: 2010 Tour of the Reservoir
Sunday 28 March 2010 | Report & Images: Andrew Kennedy
Preview & Start List | Andrew Kennedy's Photo Report
Supporter-to-Reporter Video

Please take time out to back our "Keep Racing on the Roads" campaign to save Road racing by becoming a fan of our dedicated facebook page
Former mountain biker Simon Richardson (Sigma Sport - Specialized Cycling Team) overcame extremely windy conditions to win the Tour of the Reservoir, the opening round of British Cycling's Premier Calendar road race series. He was one of 20 riders to make a break from the main field mid-race and, after that group had been whittled down to nine, he attacked and won alone with just over a lap to go.
From the start, it was the wind which was to dominate the the 87 miles race, sponsored by Northumbrian Water. It gave the riders little chance to escape as they tackled six laps of the roads around the huge Derwent Water reservoir.
Andrew Kennedy's slideshow of the event
An big turnout of the country's top teams promise an excellent race, though the big talking point at the start was the enforced absence of race radios, a new rule making its national level debut at the race. As it happens, the windy conditions threw this new rule into stark relief as the field frequently broke up, leaving team mangers unable to contact their riders. The debate about whether it improves racing or not will no doubt continue for some time, but it certainly threw a new variable into the already volatile tactical world of Road racing.
Sigma's Kit Gilham was the first rider to attack, going away on the first lap into the wind. He soon looked uncomfortable, despite building a lead of 25 seconds and with no other riders keen to join him he soon drifted back into the main peloton.
The race was content to stay together for the next couple of laps, but suddenly, on lap 3, a big split in the field came on the circuit's signature short sharp prime climb. There was an acceleration on the climb and going over the top into the headwind the race split. Some twenty riders joined together as things began to settle down and were soon working together and pulling away from the bunch.
The Rapha Condor Sharp team was the big loser, with no riders in the break and the Motorpoint Marshalls Pasta boys were little better off with only Peter Williams up the road. However, Endura Racing with Ian Wilkinson, Jack Bauer and Scott Thwaites were suddenly in a great position, along with Sigma Sport Specialized Cycling, who had two riders representing them, namely Simon Richardson and Wouter Sybrandy.
The following couple of laps saw the break continue to build their lead, but there was also a whittling down of the group of 20, which eventually became just nine: Wilkinson, Bauer, Thwaites, Richardson, Sybrandy, Williams, Nicolas Gustavsson (Team Sprocket ProCycling), Marcin Bialoblocki (Willier/Bigmaggys.com/Prendas Cycloismo) and Tobyn Horton (Team Sprocket ProCycling).
Two former mountain bikers, Simon Richardson (left centre) and Ian Wilkinson (right centre, leading) played leading roles in this tough series opener - lots more images in Andrew Kennedy's Photo Report
Throughout, the break worked well together and these nine riders had a maximum of 10 minutes over the chasing field, who seemed to lose interest in the wind. The Endura riders were naturally doing a lot of the work and Wilkinson and Bauer in particular looked very strong as they ploughed into the headwinds. Bauer was noticeably comfortable on the circuit's climbs, often moving effortlessly clear of his companions before re-grouping with them at the top.
Finally, Simon Richardson attacked approaching the dam wall section, approximately a lap and a half out from the finish. He went across the wall with 20 seconds lead and this was soon extended top half a minute on the following climb - even in the block headwind at the highest point on the course, he was looking comfortable, tucked down low and driving along smoothly.
Behind him, the group predictably broke up, with Wilkinson, Bauer, Williams and Gustavsson the only riders able to chase.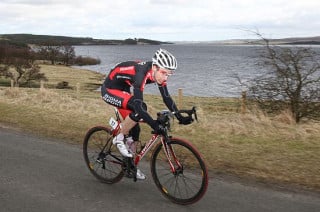 Simon Richardson battles into the wind on the shores of the Derwent reservoir - lots more images in Andrew Kennedy's Photo Report
The final lap saw Richardson gradually consolidate his lead until it stood at about a minute. With regular updates from the motorcycle blackboard, he at least knew how the race was shaping up and could measure his effort. And he duly held on to win by 54 seconds, receiving a big round of applause from a sizeable crowd, including a big group of youngsters who has spent the day riding a Go-Ride event at the finish area.It was Richardson's first Premier Calendar win.
Richardson's Sigma Sport - Specialized Cycling team manage Matt Stephens was jumping up and down with excitement at his man's win, no doubt delighted to have won against some tough opposition from the biggest domestic teams.
Ian Wilkinson, who had looked a likely winner for much of the second half of the race, came in second at 54 seconds, with Gustavssen and Bialoblocki. Horton led in Thwaites, Bauer and Williams at 2 minutes ten seconds, with Sybrandy six seconds further back. Even Oliphant was the first of the remaining riders, coming in at 9 minutes 15 seconds.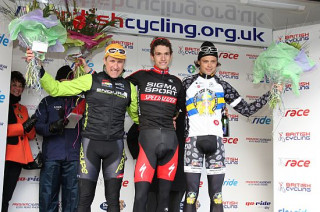 From the left, Wilkinson, Richardson and Gustavsson - lots more images in Andrew Kennedy's Photo Report
Rider Reaction:
Ian Wilkinson: "It was hard, savage, it was brutal in the wind. We're disappointed not to have won it with three riders in the break but all credit to Simon - he attacked with one lap to go and we all looked at each other. We were playing a team game and today it didn't work out for us.
Simon Richardson: "This is my best win - not bad for an ex-mountain biker. We had a team talk last night with Matt Stephens, our manager. We knew it was going to be a hard race. It's a very testing circuit - the wind today was so bad that riders were nearly standing still at times. We've worked well as a team. Wouter worked extremely hard in the break. I'm delighted that we've taken this win today and we've started our Premier calendar season off with a win."
Nicolas Gustavsson: "I'm 20 years old and from Sweden. I rode the Lincoln GP last year. Today was very hard in the wind but I felt very comfortable. Our team manager (Magnus Backteadt) will be delighted with our performance."
Results

1 S Richardson Sigma Sport ( E ) 03:57:08
2 I Wilkinson Endura Racing ( E ) 54 secs
3 N Gustavsson Team Sprocket ( E U23 ) st
4 M Bialoblocki Willier / Bigmaggys ( E ) st
5 T Horton Team Sprocket ( E U23 ) 02:10
6 S Thwaites Endura Racing ( 1 ) st
7 J Bauer Endura Racing ( E ) st
8 P Williams Motorpoint ( E ) st
9 W Sybrandy Sigma Sport ( E ) 02:16
10 E Oliphant Endura Racing ( E ) 09:15
11 A Wetterhall Team Sprocket ( E ) st
12 K Gilham Sigma Sport ( E ) 10:40
13 Y Barker Pendragon ( E ) st
14 A Brown Team Sport Cover ( 1 ) 11:09
15 F Johansson Team Sprocket ( E ) 11:28
16 C Wilkinson Endura Racing ( E ) 11:57
17 A Magnier Cycle Premier ( E U23 ) 14:59
18 J Stewart Raleigh ( E ) 15:18
19 I Bibby Motorpoint ( E ) st
20 R Partridge Endura Racing ( E ) st
21 W Bjergfelt Willier / Bigmaggys ( E ) st
22 J Sampson Motorpoint ( 1 ) st
23 D Shannon Orbea/For Goodness ( 1 ) st
24 R Handley Raleigh ( E U23 ) 15:32
25 D Shand Raleigh ( 1 ) 15:40
26 P Smith Raleigh ( E ) 15:43
27 J Tanner Team Sport Cover ( E ) st
28 D Appleby Raleigh ( E ) st
29 R Bott Herbalife / Wheelbase ( 1 ) st
30 J Moss Endura Racing ( E ) st
31 S Baxter Adept Precision ( 1 ) st
32 J McEvoy Motorpoint ( 2 U23 ) st
33 R Hepworth Cycle Premier ( E ) st
34 A Kay York Cycleworks ( 1 ) st
35 D Stockdale Team Qoroz ( 1 ) st
36 G Montgomerie Sigma Sport ( E ) st
37 D Clarke Pendragon ( E ) 15:47
38 M Elliott Motorpoint ( E ) st
39 L Holohan Raleigh ( E ) st
40 J Skipper Cycle Dauphine ( E U23 ) st
41 T Barras Raleigh ( E ) st
42 T Murray Sigma Sport ( E ) 15:54
43 J Williamson Sigma Sport ( E ) st
44 R Cartland Team Corley ( E ) 15:58
45 S Gaywood Team Corley ( E ) st
46 M Wordsworth Team Corley ( 1 ) 16:25
47 J Millard Cycle Premier ( E ) 16:51
48 S Wilson Cycle Premier ( E ) 18:36
Primes
No 1 Team Sprocket
No 2 Team Sprocket
No 3 Team Sprocket
No 4 Team Sprocket
No 5 Team Sprocket

First North East Rider/ First U23 / First 2nd Cat
J Moss / N Gustavsson / J McEvoy
Premier Calendar Standings After 1 Round
1 Simon Richardson Sigma Sport Specialized Cycling Team 100
2 Ian Wilkinson Endura Racing 85
3 Niklas Gustavsson *** Sprocket Procycling 75
4 Marcin Bialoblocki Wilier/Bigmaggs.com/Prendas Ciclismo 66
5 Tobyn Horton Sprocket Procycling 58
6 Scott Thwaites *** Endura Racing 51
7 Jack Bauer Endura Racing 45
8 Peter Williams Motorpoint - Marshalls Pasta RT 39
9 Wouter Sybrandy Sigma Sport Specialized Cycling Team 34
10 Evan Oliphant Endura Racing 29
11 Alexander Wetterhall Sprocket Procycling 25
12 Kit Gilham Sigma Sport Specialized Cycling Team 21
13 Yanto Barker Pendragon - Le Col - Colnago 18
14 Ashley Brown Sportscover Strategic 15
15 Fredrik Johansson Sprocket Procycling 12
16 Calum Wilkinson *** Endura Racing 10
17 Andrew Magnier www.Cyclepremier.com - Metaltek 8
18 James Stewart Team Raleigh 6
19 Ian Bibby Motorpoint - Marshalls Pasta RT 4
20 Rob Partridge Endura Racing 2

*** Under-23