2009 Smithfield Nocturne Circuit Races

June 6, 2009; London
By Larry Hickmott


Above: Geraint Thomas (Olympic Gold medallist) Tony Gibb, Russell Downing and Ben Swift on the podium after the 2009 Nocturne's final event of the night for Elite men.

The third Smithfield Nocturne was held on Saturday evening and for the first time the weather was dry and mild which helped attract a record crowd who lapped up the comprehensive menu of events from a fixed wheel competition with plenty of thrills and spills to fast and furious circuit races concluding in the Elite mens one at 9pm as darkness fell over London.

The evening's entertainment started with heats for the Folding bike challenge followed by a circuit race for category 2/3/4 riders won by Cam Austin from Chas Hollosi and Gavin Ryan. More Folding bike racing followed as well as a Women's circuit race where three young future stars showed the rest the way round Smithfield and fought out the victory between them.

The women's race began with the likes of Charlotte Blackman and others trying to break the field up which they did quite quickly as many a rider found themselves losing the wheel in front and drifting backwards. That left a select group from which Dani King attacked and took with her two more young stars in Lucy Garner and Hannah Barnes.

They continued top open up a gap on the rest and in the sprint, Hannah Barnes had time to throw both arms in the air to celebrate yet another victory as she beat Dani King and Lucy Garner to the line.



Above: Hannah Barnes wins the Women's race.

Afterwards we spoke to Hannah Barnes who said "It was on/off early on and then Dani went and I was in a good position to go with her with Lucy on my wheel and the break was made. For a while it was really hard but with a few laps to go my legs felt alright." One the final lap, we could see them coming up the straight as we were going down it so we knew we had plenty of time to use our tactics and slow down. I went out of the final corner and it was just a drag race between the three of us".

The fixed wheel skid competition was then held and this saw many interesting efforts which may not may not have been skids but there were certainly many a crash as those locking their rear wheel lost control of their bikes much to the appreciation of the crowd who loved it all.

The final race of the evening was the one for Elite men and headlining the event was a rider who was third on stage 2 of the Tour of Italy this year, Ben Swift. He was joined on the line by Olympic Gold medallist Ed Clancy as well as a host of the best British riders. Watching with a hand still strapped up after surgery recently was last years winner Geraint Thomas.

The team of the race sponsor Rapha Condor were out to try and break the race up and Tom Southam led their strong riders in making many an attack and getting a move going only for it to come back. The crowd were treated to the sight of the peloton racing past them at speed all lined out with gaps opening up between riders showing just how fast the racing was. The field was soon down to half its size as lapped riders were taken out and darkness well and truly fell over London.

Ben Swift got the crowd banging the boards a little harder as he tried a solo effort but that failed to stick as did a promising break of Malcolm Elliott, Kristian House and Jereon Janssen and it came down to a bunch 'kick' with Russell Downing back to his best and winning by lengths from Tony Gibb and Ben Swift.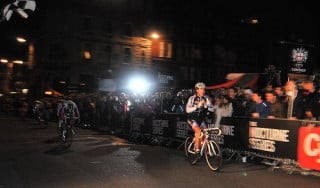 Above: Russell Downing has plenty of time to celebrate his victory in the Elite mens race.

After the podium presentation, Russell Downing explained "the race was good tonight with a brilliant crowd. It was very very fast and there were groups going away and Malc and Graham were covering things and then after halfway through, I started to have a play and open the legs up a bit. I always thought it would come down to a bunch kick."

"When Rob (Hayles) and Ed (Clancy) took it up with two to go, I got on Rob's wheel and it was perfect. I wasn't sure if I wanted to come off Rob on the last corner or hit him early. Malc was riding shotgun behind on the last lap and Dean was trying to battle through and I felt the arrow coming up on me so I hit it into the first right, took brilliant lines round the bends and came out well clear. You get a feeling when you're sprinting that no-one is near you."

"That is what I have been struggling with. At the RAS I was never quite there, positioning was wrong, timing was wrong, luck was wrong, but that was a brilliant win tonight. I took a long time to recover from the RAS. I was battering myself all day every day trying to get in the moves but it was good for me. And then it was straight into the crits and the travelling has been quite hard. Now I have to try and stay relaxed in between and chill for the races."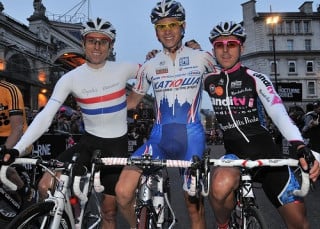 Above: The Rotherham (South Yorkshire) mafia -- three very classy bike riders in Dean Downing (left), Ben Swift (centre) and Russell Downing (right)

Ben Swift: "This is the first time I have been back since January and the British crits are always pretty tough. It was great fun out there though. Rapha was a really strong team out there tonight and it was good that nothing stuck and it was a really hard race. I was a bit too far back with two laps to go for the sprint. I was always on the back foot after that. I tried to coming down the outside to attack but the bunch swung over and blocked that move. Now I'm going to do Otley and a local road race probably before the Nationals."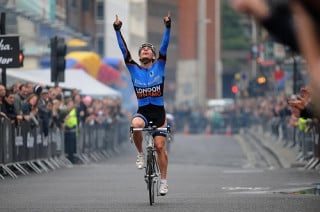 Above: Winner of the 2/3/4 race Cam Austin.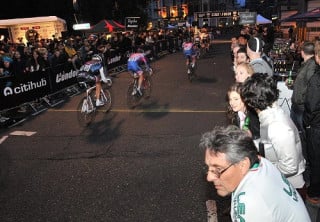 Above: The Elite men's race speeds through the finish area.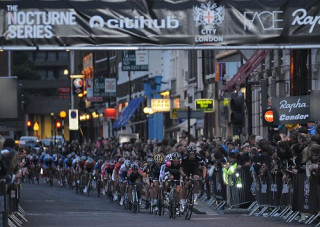 Above: Tom Southam in the fading light, drills it down the finish straight between thousands of people lining the barriers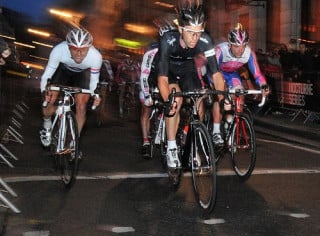 Above: British circuit race champion Dean Downing dives underneath RAS winner and Rapha Condor teammate Simon Richardson to launch an audacious attack in the closing laps.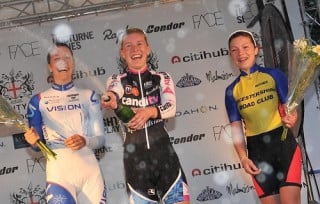 Above: Hannah Barnes, still not old to drink it, gets to grips with spraying a crowd with champagne. On the podium with her are Dani King (left) and Lucy Garner (right).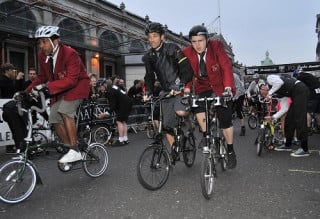 Above: The racing with the folding bikes was shoulder to shoulder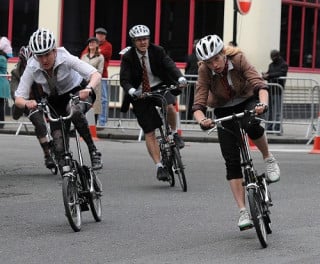 Above: Two of the ladies fighting to be the best in the Folding Bike race



Above: Winner of the ladies category in the Folding Bike race.



Above: Designer, Sir Paul Smith, presents a folding bike to the winner of the Folding Bike race.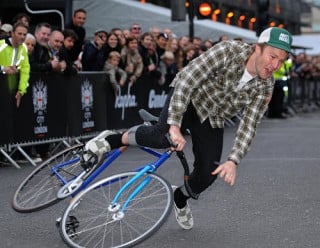 Above: Oops -- a competitor in the fixed wheel skid competition comes to grief

Results

Elite Men
1. Russell Downing, CandiTV/Marshalls Pasta
2. Tony Gibb, Madison.co.uk
3. Ben Swift, Katusha Pro Team

Elite Women
1. Hannah Barnes, CandiTV/Marshalls Pasta
2. Dani King, Vision 1
3. Lucy Garner, Leicestershire RC

2/3/4 Category Race
1. Cam Austin
2. Chas Hollosi
3. Gavin Ryan