| | | | | | | | |
| --- | --- | --- | --- | --- | --- | --- | --- |
| | Follow britishcycling.org.uk on | | | | | | |

Road to 2012: Para-Cycling Road World Cup
Segovia, Spain 10-12 June 2011
GB Para-Cycling Team Takes Eight Medals in Spain
Report: Iga Kowalska-Owen
Images: Yuko Sato / UCI
The British Team picked up eight medals at the Para-Cycling Road World Cup in Spain this weekend, a vital qualification event for the London Paralympic Games - three golds, four silvers and a bronze.
There were two golds, two silvers and a bronze in Time Trials on Friday and a gold and two silvers in Road Races held over the weekend.
Shaun McKeown (above), who won bronze in the C3 TT at the 2010 World Championships and has been on top form this year, produced a brilliant ride against a world class field to clench his first World Cup gold for Britain.
Mutiple World and Paralympic Champion David Stone (right) showed his dominance in the T2 TT by finishing one minute ahead of competition and came second in the T2 Road Race, narrowly missing out on gold to Italy's Georgio Farroni.
Hand-cyclists Rachel Morris (H3) and Karen Darke (H2) won silver in the TT in their respective categories on Friday, stepping up to the game against a very strong field. In the 36km Road Race on Sunday, Morris stormed to a sensational victory and Darke snapped up silver, both riding a gutsy race and attacking hard on the last lap to get ahead of their opponents.
There was also a bronze medal for Mark Colbourne, who made a very strong debut for GB at his first World Cup, ranking third in a strong C1 field in the TT and picking up 5th place in the C1 Road Race.
The British team faced some challenges in Spain this weekend - a crash in the women's tandem Road Race left pilot Fiona Turnham with a broken collarbone and stitches to her chin and another crash in the men's Road Race resulted in Russ White finishing outside of qualification points.
Chris Furber, GB Para-Cycling Coach, said: "With all European nations fielding strong teams, the Segovia World Cup was always going to be a tough competition but we managed to take respectable eight medals against a world-class field.
"Our most experienced road riders delivered and we are particularly pleased with performances from our new talent including Shaun McKeown's brilliant TT win and Mark Colbourne's impressive World Cup debut for the team."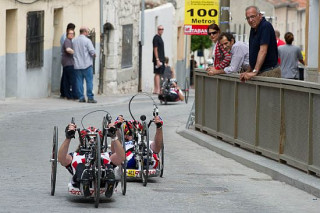 "We missed out on a few qualification points this weekend and we will be looking to claw them back at the final round of the World Cup in Canada next month."
Over 280 riders from 35 countries, including a 15-strong GB squad, competed at the Segovia Para-Cycling Road World Cup.
The British team picked up 10 medals at the first round of the World Cup series in Sydney in May and will be sending more riders to the final round of the series in Canada next month.
GB Medal Tally
Gold
Men's C3 Time Trial - Shaun McKeown
Women's H3 Road Race - Rachel Morris
Men's T2 Time Trial - David Stone
Silver
Women's H2 Time Trial - Karen Darke
Women's H3 Time Trial - Rachel Morris
Women's H2 Road Race - Karen Darke
Men's T2 Road Race - David Stone
Bronze
Men's C1 Time Trial - Mark Colbourne
For full results from the Segovia Para-Cycling Road World Cup go here