| | | | | | | | |
| --- | --- | --- | --- | --- | --- | --- | --- |
| | Follow britishcycling.org.uk on | | | | | | |



Joolze Dymond's 2010
A look back at some of the top UK cycling 2010 moments as seen through the lens of photographer Joolze Dymond.
It's been an exciting year for UK cycling with both on and off road with some very memorable moments, I can't admit to being at all of them but I've followed with great interest and cheered, on learning the fabulous results. None more so than Downhiller Tracy Mosley who finally grabbed a well deserved World Championship title. After a long and industrious career where she has certainly been more than influential to many a young rider's ambitions, she finally put the cherry on the top much to the delight of all her loyal friends and supporters!
Another young lady who has reached for the stars and is certainly living up to expectations is mountain biking's Annie Last. In her first year as a full time rider, finally putting her studies aside to concentrate on cross country racing, Annie delivered up some stunning results, non more thrilling than her exciting ride in the World Championship under 23 event, where she led for most of a demanding race, leaving us all on the edge of our seats. Unfortunately, despite riding out of her skin she was denied that elusive gold, coming home with a non the less stunning silver, an excellent result that bodes well for the future: the grit and determination we've seen since she was a juvenile rider will drive her on in pursuit of gold!
Annie in action at the National Championships where she took the senior women's title
For me, 2010 was an incredibly varied year, with a chance to venture out of my muddy ditch and wander over to the 'dark side' just to have a peek or two at those fast moving roadies. It was also a chance to witness some incredible racing whilst taking me out of my 'comfort zone', pushing me to think fast and come up with some interesting images that would sum up at least a small percentage of the vast number of experiences I encountered throughout the year!
In 2009 I'd gotten the taste for crit racing, with my appointment as the official tog of the exciting Tour Series. In 2010 I got the gig again, my chance to visit 10 very different towns, each providing very different gladiatorial arenas of approx 1.5kms, enabling thousands of spectators to witness ten top teams battle it out for supremacy over the series.
The fast pace and team format meant the racing was electric throughout with some epic battles being played out week after week. It ended up a three-way battle between the men in black, Rapha Condor Sharp, Endura Racing and Motorpoint Marshalls Pasta. It was all to play for in the final round and Motorpoint did the job: just 5 points separated the 3 teams in the final analysis.
A firm favourite from the series with a Raleigh rider leading the peleton through in Kettering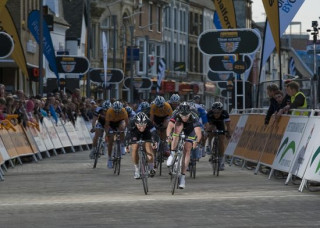 Just one of the many battles for points throughout the series. Here Rob Hayles of Endura Racings fights for the line with Graham Brigg, Rapha Condor Sharp
In-between these epic tarmac battles, I did slope back to my 'proper' job, back in the ditch, to capture many of the endurance and cross-country races taking place across the UK. The racing may seem slower after the fast paced action of the road but it is still packed with intrigue and some of most heartbreaking passion-packed battles you could ever wish for.
Maybe I am biased after spending so much time watching race after race but take for example the classic battle that unfolded over an epic 24 hours at the new endurance kid on the block, the 24 Hours of Exposure. Open just to soloists, this event attracted the cream of UK endurance racing, from the young pretender Josh Ibbett, through to the seasoned campaigners Rich Rothwell and Anthony White with everybody who's anybody in endurance terms in-between!
Ibbett threw down the gauntlet taking an early lead with near cross-country speeds. The seasoned riders wrote the youngster off, figuring he would fade in the hours to come. By Midnight, they started to sit up and take notice, as Ibbett seemed to draw further and further away with no signs of stopping!
In the early hours of the morning, one of the pre race favourites Matt Page started to go backwards, his rivals thinking this was the end for his challenge, leaving Rothwell and White fighting to get Ibbett back in their sights. However Page wasn't done and after a longer than usual pit stop, he was back!
Seventeen hours in, Ibbett was still leading, but only just. His fast pace started to wane, the head started to nod, each pedal revolution seemed to be slower and slower and his rivals took full advantage. Breaths were held as the race progressed, could he do it? Had he built up enough of a lead? The answer after 24 gruelling hours was no: Matt Page surged through to take the win, leaving Ibbett to cling on for 3rd. Truly the most epic battle of the year!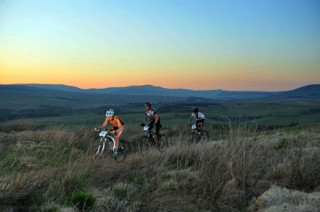 Matt Page, Anthony White and Rich Rothwell continue the hunt for Josh Ibbett as the sun sets
Rickie Cotter on her way to win her first ever 24 hour race
Another major highlight of the year had to be the return of World Cup XC racing to English soil, with hundreds of the world's elite XC riders converging on one point in North Yorkshire to put on a brilliant display in front of thousands of supporters. It was another epic. After years of work, Dalby lived up to the hype, providing a testing technical course that the riders along with the spectators loved so much the event was voted best World Cup of 2010. The crowds were even treated to an awesome display of racing by UK riders with junior Steve James showing his talent, grabbing a stunning 3rd podium spot in the juniors, which Annie Last replicated in the under 23 women's race the next day.
Junior Steve James taking his well earned spot on the World Cup podium in Dalby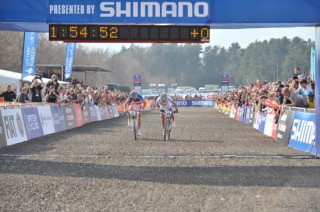 A thrilling sprint finish at Dalby between Schurter & Absalon
Funnily enough 2010 has also been a year dominated by the weather! Though if truth be told we British are fixated by the stuff. I'd given up a long time ago relying on weather forecasts: I just pack everything (including the kitchen sink) in order to be prepared for all eventualities.
It always seems to rain in the end, but then those rain sodden images make some of the most emotive of the year and certainly bring back memories. None more so than the 10th anniversary of Dusk til Dawn. A much loved 12 hour race that for years has basked in its own microcosm of weather whilst all around are knee deep in mud, D2D is a dust bowl oasis. Well apart from 2008, oh and 2010!
It was epic. Everything was crossed that the forecast rain would hold off for just 12 hours.... and it did. Well, until the race began. Then the rain began, gently at first: a pitter patter of moisture as the field dispersed with a flash and bang of fireworks. Then, as the light fizzled out, the rain got steadily worse and worse and the battle began.
Fast 40 min laps were reduced in some cases to hours as riders pounded, pushed, slid, slithered their way round. Bless 'em, they persevered till the very end, well most of them anyway. By 3am, the heavy rain did eventually stop, but by then I'd given up after spending a few rain-drenched hours in the trenches, my job done for another year....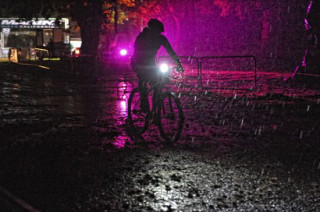 Dusk Til Dawn ... it rained!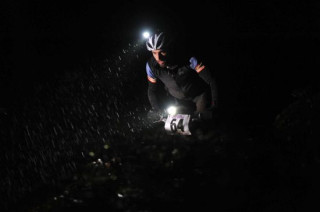 Photo 8: Steve Webb - solo winner at D2D stuck it out to take the win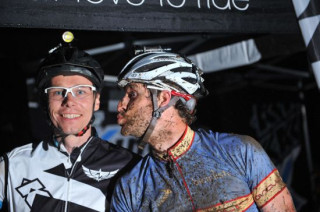 It rained at Twentyfour12 too! This pic just highlights a returning rider greeting another ready to set out!
Return to the dark side, I ventured over to watch the National Road Race Champs, as it was just a stone's throw from home and well I'd sort of got the bug. As it turned out I watched in awe as mountain biker turned road rider Simon Richardson did what I though was the ride of the day. Mixing it with pro continental riders. The race was dominated by Sky riders, with Geraint Thomas taking the win, but Richardson coming home in 5th over a punishing circuit was a sight to see.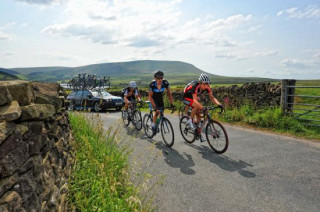 Simon Richardson at the head of the race at the National RR Champs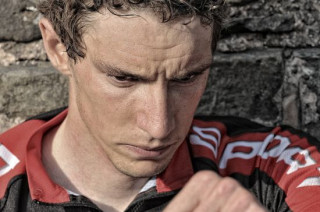 Simon Richardson - A spent force, after the race

2010 was also a year where I was lucky enough to get the gig as official tog at the Tour of Britain. I'd seen stages over the years and had always been interested but I had enough on my plate working in my ditch. But curiosity got the better of me and working with the team behind the Tour Series fed my obsession to get involved with the Tour of Britain.
It exceeded my expectations, despite the gruelling schedule, lurching from one venue to the next, constantly shooting, processing, evaluating, pursuing: each day the same but oh so different. I was privileged to watch some of the world's road racing masters at work in our country, over what turned out to be the toughest Tour of Britain circuit to date.
The organisation of this event is a sight to behold, a never ending cycle (excuse the pun) of erecting start and finish gantries at each end of the stages, bringing a little piece of cycling glamour to a select number of towns. The crowds, especially the schools that emptied their wards spilling out cheering the passing procession, were a heart-warming site to behold.
Then there's the epic number of police outriders ensuring safe passage and the fast moving caravan of team cars and officials on their whistle-stop journeys behind a tight packed bunch of elite riders fighting for the ultimate goal. I had a ball. It was so far removed from my ditch, though I still got soaked and covered in mud (well as they say you can take the girl out of the mud but....).
It was also a challenge looking at ways to rack up images that did each day justice. I found myself on one of the stages as a guest in the Rapha Condor Sharp team car, which turned out to be a fantastic experience. In the careful hands of DS John Herety, we sped relentlessly behind the fast moving peleton, watching it split, reform, riders spitting out the back, fighting to regain ground, handing out food and drink, never stopping. It was a day that will stay with me for a long time and a day when I racked up some incredible images that for me just summed up the race.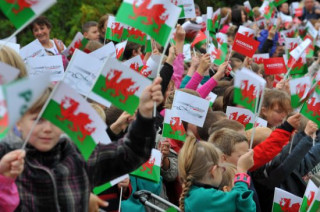 Each stage was lined with hundreds of school children cheering the riders through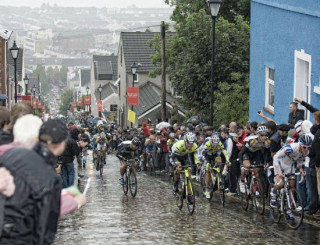 Constitution Hill - one of the toughest stage finishes of the Tour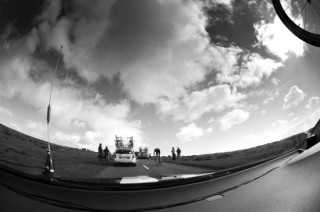 View from the back of the race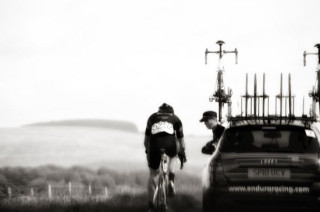 Endura mechanic'Wee B' working on a bike on the move
Rob Partridge best UK finisher on the Tour of Britain coming in at an excellent 8th
So as you can see it's been a varied year both for me and the world of cycling. These images are just a snapshot of all the action that unfolded, making 2010 an epic year for virtually everyone. Dreams were achieved, goals were made and exceeded.
Here's hoping that 2011 is just as rewarding on every level for all involved with the sport. I'll be out there shooting quietly, freezing moments in time that can be re-lived by all....
My final shots of the year, I'd like to title "Unsung Heros"
Lee Williams consistently battling hard at the hard of the UK cross country field. Keep an eye out for the young welsh man as he ups another gear for 2011
A wrist band commemorating the short life of talented and much loved rider Lewis Barry, who tragically passed away in his sleep earlier this year.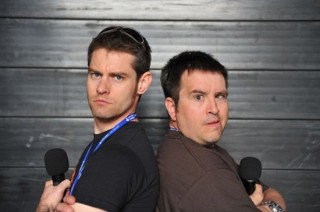 Chris & Dan, possibly the best duo of commentators we've ever had the pleasure of listening to, bring mirth and merriment as well as entertaining commentary on all major event.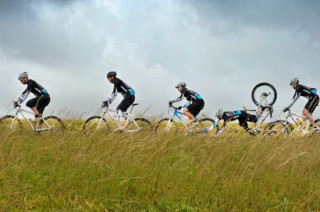 The unsung hero ( or heroine) who took a fall just as the camera snapped away, producing a classic.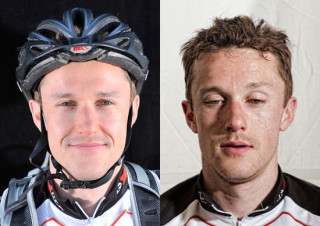 A picture tells a thousand tales - to all the unsung heros who compete in all conditions in the name of sport - Chapeau!
It's not always muddy in my ditch....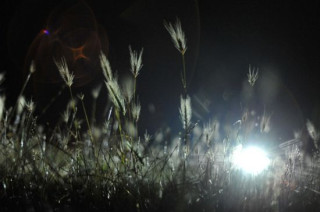 Night time in the ditch