Bristol will be the setting for round two of the 2018 HSBC UK | Grand Prix Series as JLT Condor look to maintain their grip on overall classification.
Bristol will also host the seventh HSBC UK Let's Ride event of the year from 1.30pm until 4.30pm.
About the HSBC UK | Grand Prix Series
The HSBC UK | Grand Prix Series is a five-part race series taking place throughout June, July and August. The series kicked off with the two-day race at the Tour of the Reservoir, before the series turns to one-day events in Bristol, Stockton, Leicester and ending in Ryedale on 26 August.
The course
An entirely different beast to round one, the riders will face a gruelling 130km race around Bristol city centre during round two. The 5.5km circuit is full of corners which will be a defining factor in the development of the race as riders will be jostling for position at the front of the peloton.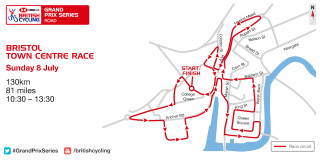 Ones to watch
Newly crowned national road race champion Connor Swift will make his first competitive appearance in the national champion's jersey. The Madison-Genesis rider will be looking to use his confidence to grab a win in Bristol and improve on his fifth place in the HSBC UK | Grand Prix Series general classification.
JLT Condor will be relying on their riders Ian Bibby and Tom Moses to replicate their performance from stage one and two of the Tour of the Reservoir where both won after impressive rides. Moses currently sits first in the general classification, with Bibby in third.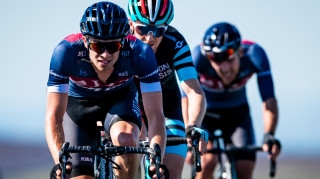 Rob Scott (Team Wiggins), Fred Wright (100% ME) and Gabriel Cullaigh (Team Wiggins), the top three under-23 riders at the national road championships will all take part and pose a threat for the stage win.
Hayden McCormick (One Pro Cycling), second in the general classification will no doubt have the aim of gaining as many points as possible, putting pressure on Moses in first. Second in the time trial at the HSBC UK | National Road Championships, Harry Tanfield will also pose a major threat.
How to follow
Follow @BritishCycling on Twitter for updates from both events throughout the racing.
Video highlights, reports, results, images and reaction will appear on the British Cycling website.