Great Britain Cycling Team's Pfeiffer Georgi and Scott Davies secured top ten finishes in the time trials at the UCI Road World Championships.
Georgi completed the 16.1km junior women's course in 24:42.31 to finish seventh in Bergen on a rain-soaked course.
In sunnier conditions, Scott Davies took tenth place in the under-23 men's time trial in a time of 48:49.50.
Under-23 men
Scott Davies was made to wait to begin his time trial, setting off as one of the final contenders in the 57-strong field.
While Davies prepared himself, Denmark's Mikkel Bjerg was setting the pace, producing a stunning time of 47:06.48 to take the hotseat early on.
With the morning's rain having cleared, Davies set off well, remaining within 40 seconds of Bjerg's incredible time after 11km.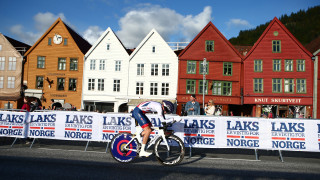 As he progressed through the streets of Bergen, it became clear that the Danish rider's time would not be beaten by anyone, and Davies focused on trying to secure a podium position.
But with the climbs on the 37.2km course taking their toll on Davies, the gap between the Team Wiggins rider and the medal places grew larger.
Davies crossed the line 1:43.02 behind Bjerg to take 10th place - less than 30 seconds off the bronze medal position.
With Bjerg securing the title, silver went to Brandon McNulty of the USA, 1:05.92 behind, with France's Corentin Ermenault winning bronze, a further 11 seconds back.
Junior women
Lauren Dolan got Great Britain Cycling Team's world championships campaign underway as the first British rider to take to the course, in torrential rain.
Dolan crashed in the wet conditions - but recovered to produce an excellent final section time, crossing the line in 25:43.46.
It was particularly unfortunate as Dolan had started well, keeping in touch with the early leaders - but crashed around the halfway mark as the rain poured down on the course.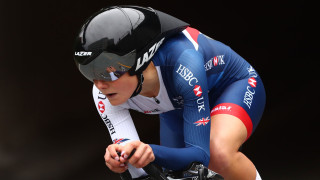 Dolan was forced into a bike change - and bravely continued her effort despite sustaining significant road rash to her right leg, and reduced the arrears significantly in a powerful final few kilometres to finish 27th.
The rain continued as Georgi began her run, completing a terrific second section to put herself in an outside chance of a podium finish.
Georgi - tipped to be a major challenger in the junior women's road race on Friday - rode well to finish in seventh place after a strong and consistent performance.
The gold - and the rainbow stripes - went to Italy's Elena Pirrone in 23:19.72, beating her teammate Alessia Vigilia - the very first rider to set off - by 6.38 seconds.
Bronze went to Australia's Madeleine Fasnacht, 42.32 seconds behind Pirrone.