The North Bucks Festival of Cycling plays host to the latest round of the British Cycling Women's Road Series this weekend.
This Sunday's Women's Grand Prix takes place in Newton Longville, near Milton Keynes, and is round four of eight in the 2016 British Cycling Women's Road Series,
The series has already visited the Isle of Man, Northumberland and Lincoln and following the North Bucks Festival of Cycling, will conclude with the Essex Giro 2-Day, Curlew Cup, Otley Grand Prix and the Rydedale Grand Prix.
Riders are awarded points for their finishing position in each race, with the rider amassing the highest points total winning the coveted title of British Cycling Women's Road Series champion.
The course
Starting at 12.45pm, riders will take on a 75-mile rolling course, that doesn't feature any major hills but also includes very few flat stretches.
Following seven laps of the course, the finish is on the approach to the Buckinghamshire village of Newton Longville.
What happened last year
The North Bucks Festival of Cycling Women's Grand Prix is a new stop on the British Cycling Women's Road Series calendar – although the course played host to the British Cycling National Masters Road Race Championships in 2015, which also take place in Newton Longville this weekend.
Ones to watch
Drops Cycling dominated round three of the British Cycling Women's Road Series, with Alice Barnes leading her team to all three podium places at the Lincoln Grand Prix.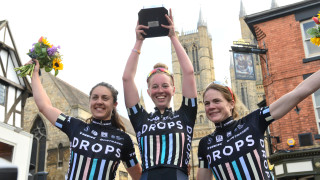 Barnes's victory puts her in third place in the series standings – but she won't have the chance to close the gap on leader Nikki Juniper as she is not racing in Newton Longville.
Juniper has 96 points after three rounds, 29 points clear of newly-crowned National Junior Road Race champion Ellie Dickinson – who will also sit out North Bucks, giving Juniper the opportunity to further extend her lead.
One of Juniper's main challenges will come from Team Breeze's Melissa Lowther. Lowther, currently fourth in the standings on 53 points, has been in consistent form throughout the 2016 season – and will be supported by Team Breeze teammates Emily Kay, Emily Nelson, Dannielle Khan, Manon Lloyd, Abbie Dentus, Megan Barker, Annasley Park and Hayley Jones.
Early series leader Kimberley Ashton (Casp Racing) will also look to return to winning ways, having topped the podium at the first round at the Manx International Grand Prix.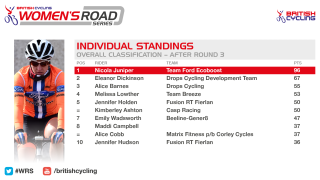 How to follow the racing
Follow @BritishCycling on Twitter for updates.
Video highlights, report, results, images and reaction will appear on the British Cycling website.