The Great Britain Cycling Team has named a squad of six riders for the 2015 Tour de l'Avenir, which takes place from 22-29 August in France.
Gabriel Cullaigh, Jake Kelly, Chris Lawless and Mark Stewart of the Great Britain Cycling Team Olympic Academy will be joined by Alex Peters and Stephen Williams in the British squad for the race, which is the final stage of this year's UCI under-23 Nations' Cup.
The week-long Tour de l'Avenir - which translates to 'Tour of the Future' - is considered the premier race for under-23s, attracting the world's best year-on-year.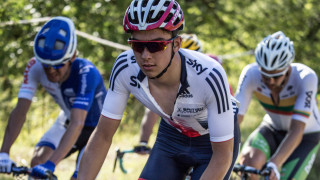 Keith Lambert, Great Britain Cycling Team academy coach, said: "The Tour de l'Avenir gives young riders a fantastic chance to express themselves on a prestigious stage and it is an opportunity we are proud to offer our academy riders.
"It is unfortunate that Scott Davies misses out through injury but he's had a problem with his knee that keeps niggling him so we made the decision to pull him out and make sure he is right for the rest of the year.
"All the riders selected have been able to further their development over the course of this season, and we will be looking to round the Nations' Cup series off with another encouraging performance."
The UCI under-23 Nations' Cup is open to national teams of young riders, giving them the chance to accumulate points over the nine stages. The 20 top teams in the standings are then invited to compete in the Tour de l'Avenir.
Great Britain are currently in eighth place in the standings.
Great Britain Cycling Team for 2015 Tour de l'Avenir
Gabriel Cullaigh
Jake Kelly
Chris Lawless
Alex Peters
Mark Stewart
Stephen Williams