Follow britishcycling.org.uk on
My Cycling Goals for 2010
Posted: 31st December 2009 | Eddie Allen
2010 is going to be a bumper year for cycling in the UK, of that there is no doubt. Right across the board, there's more on offer for riders and spectators alike, whatever your cycling-bent. Not only have we got the fascinating story of the Sky Pro Team developing before our eyes, we've got the excitement of the Dalby World Cup in April and the return of Skyride and Skyride Local in the spring and summer.
However, on a personal level, it's important for me, at this time of year, to look ahead and set out some goals for my forthcoming cycling year. 2009 hurried past in a blur for me, and although I commuted by bike regularly, my only real cycling milestone was Mountain Mayhem in the summer. This year will be different. Here's my list of cycling goals for 2010. Hopefully they will give you a few ideas too.
Carry On Commuting...
Above: Just doing this a few times a week will keep me in fine fettle for more demanding two-wheeled adventures.

Commuting by bike is a great way to maintain a base level of fitness and bike riding skill, so when my attentions turn to more demanding activities, I'll be ready. For hints and tips on bike commuting, tune your dials here: http://new.britishcycling.org.uk/travel
Ride more MTB Enduros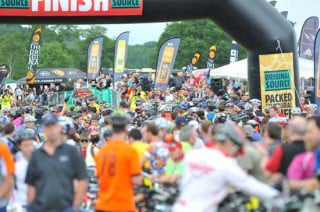 Above: 2009 Mayhem was a real cycling highlight for me and has left me wanting more in 2010 (image: Joolze Dymond)

My MTB was sadly neglected in 2009, apart from the small matter competing as part of a team at Mountain Mayhem. This year I intend to get stuck in to enduros and bring the MTB out of early retirement.
Complete a Coast-to-Coast route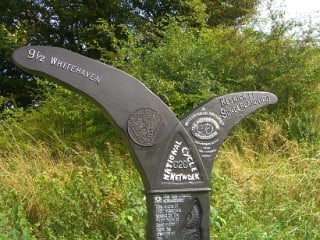 Above: the C2C is one of the UK's great long distance monuments. Shamefully I haven't done it yet...(image: Stuart Wright)

Something I've been promising myself for nearly 10 years. The C2C, Walney-to-Wear, Hadrian's Cycleway and Reiver's Route are all begging to be conquered. All it takes is a few days free and a bit of planning. Check out Stuart Wright's account of his solo C2C experience here.
Ride a 'Roughstuff Fellowship' ride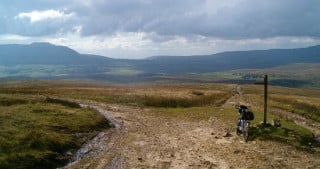 Above: Epic and old-school - the Roughstuff Fellowship's inspiring angle on off-roading. (image: Derek Fouracres)

Dragging a laden touring bicycle across some of the country's remotest off road routes sounds like so much fun (to me anyway!), and an antidote to too much trail centre riding, full suspension, and conformity. It's been on my radar for a while, and 2010 is the year to do it. http://www.rsf.org.uk/index.htm
Complete a big sportive, or three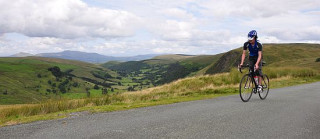 Above: Scaling the Bwlch y Groes from Llangower in 2009 - the scene of many a sportive high point over the years.

Shamefully, 2009 saw no sportive notches on the Allen belt. This year, it's going to be different. There's more choice than ever out there and the quality of the rides just continues to improve.
Ride a 10 mile time trial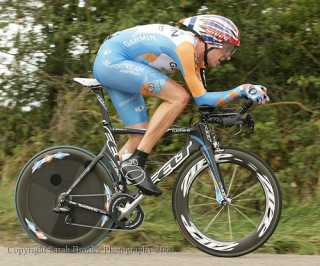 Above: OK, so I'm unlikely to trouble the likes of Brad, put I can still have a go! (image: Sarah Brooke)

Every cyclist likes to lay down a benchmark and setting a PB for a 10 is to me, the Gold Standard. I've never done it before, will no doubt be lucky to scrape under half an hour. But it looks like cycling at it's purest. one of the sport's basic rites of passage. And with a '10', the pain is over relatively quickly - indeed, the harder you pedal, the quicker the pain goes away!
Ride more with my family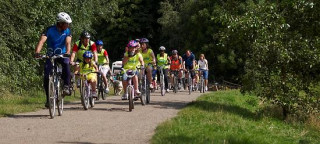 Above: Skyride Local on a balmy summer's day in 2009 - a great way to introduce the family to the joys of cycling. Expect more in 2010. (image: Luke Webber)

From the ridiculous to the sublime. It's too easy to use the bike as an 'escape pod' - a way to snatch back a bit of 'me' time. But there's a great deal of pleasure to be had riding with your partner or your kids. There are so many great traffic free trails and family-friendly MTB centres out there that it's always easy to find somewhere new and inspiring to ride. Plus there's the return of Skyride and Skyride Local - the perfect way of spending a great day with the family on the bikes.
Go and watch a big event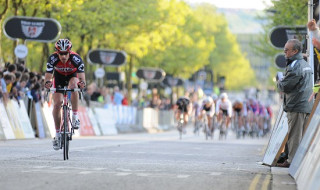 Above: Crowds line the barriers at Milton Keynes to watch the Tour Series during summer 2009. Be one of the crowd in 2010.

There's nothing quite like the buzz of a big bike race coming into town. On the road, the Tour Series will return for its second year, taking over towns up and down the country and treating thousands of spectators to an evening of completely free entertainment. Off road, we've got the excitement of the Dalby World Cup in April, a rare opportunity to see the world's top Cross Country mountain bikers in action. Not to be missed.
Time to walk the walk...
I'm going to pin this list up on my desk at work and tick off each item as I've completed it. No doubt these words will come back to haunt me as the year rolls by!
Why not make your own list and do the same? Remember, cycling primetime is now...