First launched in 2021, our Elite Development Team status recognises those elite road teams that go above and beyond to support talented British riders on their journey to success on the world stage, bridging the gap from club teams to UCI Continental level.
To achieve Elite Development Team status teams are required to demonstrate a high level of support for their riders, providing them with a platform to develop, a comprehensive race programme and race day support. You can find out more about the criteria for selection .
Applications for this season opened in December 2021, and we're now delighted to be able to share the names of six women's teams which have been successful in securing the status for 2022.
Alba Development Road Team
The Alba Development Road Team is a new addition to the scene for 2022, hailing from Scotland, with the aim of providing a platform for development within the sport and supporting their riders to progress onto the sport's biggest stages.
The team also compete on the track, featuring at March's British National Track Championships, and they will benefit from the support of a broad range of high-calibre partners and the team at Scottish Cycling.
The team is currently represented by Victoria Smith, Sophie Lankford, Sophie Enever, Kate Richardson, Beth Maciver, Erin Murphy, Arianne Holland and Emma Smith.
Follow the team: Instagram @albaroadteam // Twitter @AlbaRoadTeam // Facebook Alba Development RT.
Brother UK - Orientation Marketing
Brother UK - Orientation Marketing are a club team with a racing attitude. Established more than five years ago, they are a development team with a focus on supporting new riders gaining experience in the sport.
Working with riders of all categories and ages that they identify potential in, the team – led by Mark Botteley – has seen three riders over each of the last three seasons progress to the CAMS-Basso UCI Continental Team, which the team has a link to. They are a multi-discipline team with riders competing in road, track, cyclo-cross and MTB.
The team is currently represented by Izzy Sharpe, Grace Lister, Holly Ramsey, Ellen Bennett, Daisy Barnes, Imogen Chastell, Jessie Carridge, Maddie Verdegaal, Laura Pittard, Sannah Zaman, Abi Cooper, Amy Harvey, Hope Inglis, Ellen Inglis and Freya Eccleston.
Follow the team: Instagram @teamonform // Twitter @cycleteamonform // Facebook teamonform.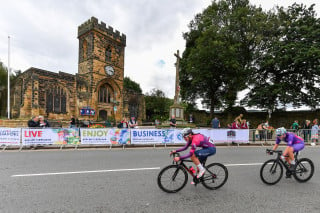 Loughborough Lightning – TRG
Despite being relatively new on the scene, Loughborough Lightning – TRG is already the number one female cycling team in the East Midlands, competing in elite national road events.
The team has been developed with the investment of The Recruitment Group and have the support of Loughborough University experts. The team benefits from research and development across the Loughborough University campus from the School of Sport to their engineering department, and the team itself is made up of experts in coaching, nutrition, performance analysis and physiology.
The team is currently represented by Frankie Hall, Emily Tillett, Hannah Lancaster, Flora Knight, Roisin Lally, Megan Smith, Chloe Vickers and Sophie Coldwell.
Follow the team: Instagram @lightningcyclingtrg // Twitter @LightningCycle // Facebook LightningCycling // YouTube Loughborough University Cycling.
Saint Piran WRT
Saint Piran WRT took to the start line for their debut season in 2021, following the success of their UCI Continental men's team counterparts.
The team has significantly grown its roster for 2022 after an impressive start to life in the peloton, and when they're not riding in the National Road Series or even further afield, you'll find them entering local races in Cornwall and working alongside clubs in the area to encourage more women and girls to get involved.
The team is currently represented by Hannah Bayes, Jenny Bolsom, Lucia Bruton, Emily Chilton, Sophie Earl, Rachel Galler, Maddie Gammons, Melissa Greaves, Gaby Homer, Gwenno Hughes, Elizabeth Sanders, Gemma Sargent, Christina Wiejak and Libby Harman.
Follow the team: Instagram @saintpiranwomen // Facebook Saint Piran Women's Team.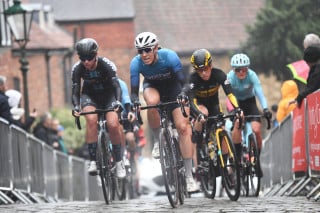 Team Boompods
Based in the North East, Team Boompods is an elite women's cycling team. Established in 2017, the team is managed solely by women for women riders, competing nationally and internationally.
The team is currently represented by Hannah Farran, Ellen McDermott, Lauren Watson, Georgia Hilleard, Amy Graham, Lauren Humphreys, Mary Wilkinson, Sian Marsh, Keri Parton, Louise Hart and Nikki Metcalfe.
Follow the team: Instagram @TeamBoompods // Twitter @TeamBoompods // Facebook Team Boompods.
Team LDN – Brother UK
Team LDN – Brother UK was launched to enable London-based cyclists to race at a national and international level, and now has a roster of 15 riders. In 2021 Brother joined the team as a title partner.
Equality is at the heart of the club, and they have close ties with the local cycling community.
The team is currently represented by Francesca Cutts, Sian Botteley, Harriet Dodd, Lauren Higham, Ione Johnson, Lucy Lee, Amy Marks, Heather Mayer, Kerry Middleton, Jenni Millmore, Molly Patch, Ruth Shier, Sammie Stuart and Dannie Watkinson.
Follow the team: Instagram @cycleteamldn // Twitter @cycleteamldn // Facebook cycleteamldn.