Women's HSBC UK | National Road Series winner Rebecca Durrell paid tribute to her Brother UK – Tifosi p/b OnForm team-mates after she collected her winner's jersey at Ryedale this weekend.
Durrell and her team have enjoyed a dominant series, winning four of the eight races to wrap up the overall team standings convincingly.
Of the team, Durrell said:
"A lot of the success is down to the dynamics of the team. The whole team helps each other out and we ride as a team, which is brilliant.
"Cycling is very much a team sport, and I think our team has got it right this year – we've got the right blend of people, so when one of us wins we're all really happy about it, and it's nice to be able to share that success. There's been a really good feeling in the camp."
Durrell has had a fantastic summer overall, with her series victory coming after race wins at Lincoln and Stockton, while she was also crowned champion at the HSBC UK | National Circuit Championships in Rochester.
She admitted that the level of success has surpassed even her own expectations, saying: "It has actually; it's been a great season.
"It's been down to a combination of things, really – the team dynamic, being a bit fitter this year and having a really good winter last year.
"That's my target for the next few months as well – to have another solid winter, getting more fitness and then reassessing where I am and what my race targets should be next season."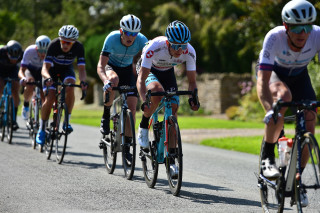 The men's series winners' jersey was claimed by Matt Holmes (Madison Genesis), whose consistency across the season and sprint to victory in the Isle of Man saw him claim top spot ahead of SwiftCarbon Pro Cycling duo Jacob Scott and James Shaw.
Holmes said:
"It feels good. Getting this jersey sort of became the focus halfway through the season when I took the jersey, and in the end it's good to hold on to it.
"The last few races have shown the quality of the riders – it's not east racing in Britain, so overall it's been a good year."