Anna Henderson and Rory Townsend claimed wins at today's East Cleveland Klondike, the opening round of this year's HSBC UK | National Road Series.
Henderson (Brother UK – Tifosi p/b OnForm) beat Joscelin Lowden (Brother.uk Fusion RT) in a sprint finish to claim victory in the first ever women's edition of the race, while Townsend (Canyon DHB p/b Bloor Homes) won a dramatic men's race by outsprinting Scott Thwaites and Connor Swift.
A strong field took to the start line to get the women's series underway, with Elinor Barker and Anna Christian (Drops), Lowden, national circuit race champion Henderson, and Hayley Simmonds (BTC City Lyubljana) among the entrants, while the race also saw Molly Weaver (Orbea Racing Team) make a welcome return to the peloton.
The bunch remained together for much of the gruelling, 111.6km race, until Christina Wiejak (Team Jadan Weldtite-Vive le Velo) mounted an attack at the 80km mark, taking Leah Dixon (Brother UK Tifosi p/b OnForm) with her. The duo were soon caught by the peloton, however the injection of pace led to subsequent counter-attacks, with Henderson and Lowden making what turned out to be the race's decisive move.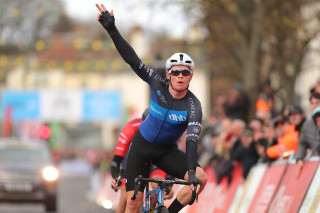 The two worked together to establish a healthy lead on the peloton, ensuring a head-to-head sprint for victory on Guisborough's Westgate, which Henderson won. Her team-mates Dixon, Rebecca Durrell and Jessica Finney claimed third, fourth and fifth respectively.
Afterwards, Henderson said:
"I think that's one of the best courses we've ever done – it was brutal the whole way around, but really fun. I know that Joscelin is good on the hills, so I knew if I held on and held on, I would make it to the end and have a good chance.
"As a team I knew we were strong, but I didn't quite know we were that strong! It's a great start and great for the series to come."
In the men's event, a group of ten riders broke away early on in the 169km race, establishing a healthy advantage over the peloton. The group remained at ten and the gap fairly consistent until well after 100km, when the leaders became drawn out, leaving a group of four: Tom Moses and Matthew Holmes (Madison Genesis), Max Stedman (CanyonDHB p/b Bloor Homes) and George Wood (SwiftCarbon Pro Cycling).
After Wood suffered a crash, the race came right back together in the closing stages, as both national champion Swift and Townsend set the pace at the front. Thwaites joined them at the front at the trio produced a thrilling finish, with the Canyon rider edging out Thwaites (Vitus Pro Cycling p/b Brother UK) and Swift (Madison Genesis) on a packed final straight.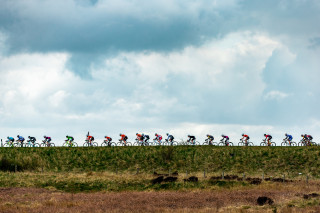 Townsend said:
"There was never a massive gap, so we knew it was going to kick off at the end, and then went it all went I knew that Scott and Connor were the guys to look out for. Connor attacked away from the break that we were in, and I was right on his wheel, so it was a perfect situation."
Both the men's and women's series now move on to round 2 – the Chestnut Homes Lincoln Grand Prix, which takes place on May 12. Full series details are available here.