Danny Hart and Stacey Fisher topped the podium as Downhill National Champions in an action-packed weekend of racing at Revolution Bike Park in Wales.
The venue's reputation as a classic downhill track came to the fore with a perfect blend of bike park open jump sections as well as tight steep technical descents littered with roots and loose rocks to keep all standards of riders on their toes.
But Hart and Fisher were best equipped to navigate the tricky terrain, and got their just-rewards with their respective triumphs
Men's and women's senior
A dominant display by Hart saw the Maddison Saracen rider top the timing sheets in both training and seeding before going on to take the Men's British title by just under a second from fellow World Cup rider Charlie Hatton.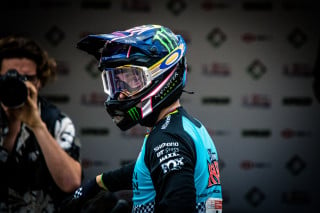 They were closely followed in third by Joe Breeden in what was a high-class men's field.
However, the steep technical root-filled sections of the Revolution track played to Hart's strengths with the Saracen rider appearing to be riding on a different track to his peers.
Elite Men Results:
1) Danny Hart
2) Charlie Hatton
3) Joe Breeden
In the women's race, after some controversy and a re-run, we saw the crowning of a new victor on her first appearance at the Championships.
Fisher took full advantage of the absence of Rachel Atherton, Tahnee Seagrave and Katy Curd to win the women's field by 0.8 of a second from Chloe Taylor, followed by Becci Skelton rounding up the top three.
Clearly debut nerves were not an issue for Fisher as she confidently took her re-run midway through the men's field displaying calmness and a cool head in a difficult situation.
Elite Women Results:
1) Stacey Fisher
2) Chloe Taylor
3) Becci Skelton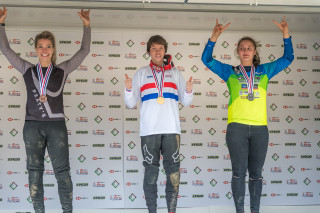 Junior races
The men's junior race mirrored that of their senior counterparts, with an equally dominant Luke Williamson taking the win by nearly 5 seconds over James Elliot in second and Luke Mumford in third.
The Propane Factory racing World Cup rider showed his class, topping the timing sheets in seeding as well as taking his second British National Championship.
The junior women's race was won for a second time by Rosy Monaghan by seven seconds from Tea Jensen in second and Megan Nevard in third.
Junior Men Results:
1) Luke Williamson
2) James Elliot
3) Luke Mumford
Junior Women Results:
1) Rosy Monaghan
2) Tea Jensen
3) Megan Nevard