In September 2017, British Cycling announced Oak as the winner of our young members Design Your Dream Jersey competition.
Youngsters were encouraged to send in their designs to be in with a chance of having their jersey brought to life by the team at KALAS, makers of the Great Britain Cycling Team kit.
Oak beat some tough competition from the hundreds of other entries by our British Cycling members aged 16 and under.
After his design had been chosen and produced by the KALAS team, we then surprised 10-year-old Oak at his local Go-Ride Club session at Herne Hill Velodrome in South London with Velo Club Londres, where he could pull the jersey straight on and ride the track in his new kit.
Oak described the inspiration behind his design: "My first idea was to get a nice, bright, standout colour that would look amazing on a jersey.
"With the 'Go Full Gas', […] my dad often when we're riding and going up a hill – about to get to the top – will shout "go full gas!" at me!"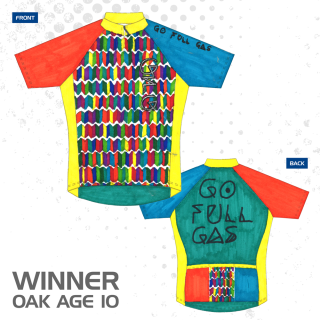 It seems the jersey will see plenty of use across multiple disciplines - with Oak incredibly active with racing, training and riding with friends and family: "I do BMX – it was the first one I got into and I really like that because of all of the jumping and speediness," he said.
"I also do track and road biking and mountain biking with my dad and a bit of 'cross racing. My favourite discipline is track, because it's very social and I do like riding round and round."
Become a British Cycling member to win
If you are reading this and wish you had had the opportunity to enter, it is not too late!
British Cycling are running a second competition with KALAS and all you need to do to get involved is register to become a young British Cycling member by Friday 15 December 2017.
The competition is open to new British Cycling members aged 16 and under as part of an exciting membership pack.
Members have access to some great benefits, including discounted cycling kit and magazines – plus if young riders are already members of a British Cycling affiliated club, membership to British Cycling is free or discounted for the first year.
Go custom with KALAS
Interested in creating custom kit for your club – or simply for a completely unique set for yourself? KALAS are the experts and can work with you to bring your designs to life.
Just contact KALAS' friendly customer service team on +44 (0) 1458 558 291 or email info@kalas.co.uk.
Alternatively, visit their website for a look at our extensive custom product range: www.kalas.co.uk